Vladimir Putin, Not Donald Trump, Knows the Real Art of the Deal
Two heavyweight dealmakers will face off on July 16, when President Donald Trump meets his Russian counterpart, Vladimir Putin, in Helsinki for a one-on-one meeting.
Spy, prime minister, thrice-president, bullish and charming, hectoring and flattering, agile and determined, Russian President Vladimir Putin has more than enough experience and all the right skills to come out on top of this encounter, experts and senior former diplomats told Newsweek.
Trump built much of his business, entertainment and political career on cultivating the image of a master negotiator. But Putin's ability to bargain, strike deals and get what he wants through intimidation and flattery will also be on display in Helsinki. A former KGB agent with decades of experience gathering intelligence, and more than two decades at the top of Russian politics, Putin is adept at figuring out what his negotiating partner wants—and using it to his own advantage.
"Putin can be charming. I saw that at the Bush-Putin meeting in Slovenia in 2001. He is a master of detail, he is quick on his feet, he is articulate, he is very good at sizing up his interlocutor," Ambassador Daniel Fried, who served as assistant secretary of state for European and Eurasian affairs in the George W. Bush administration, told Newsweek. "My guess is he is looking to get unearned gifts."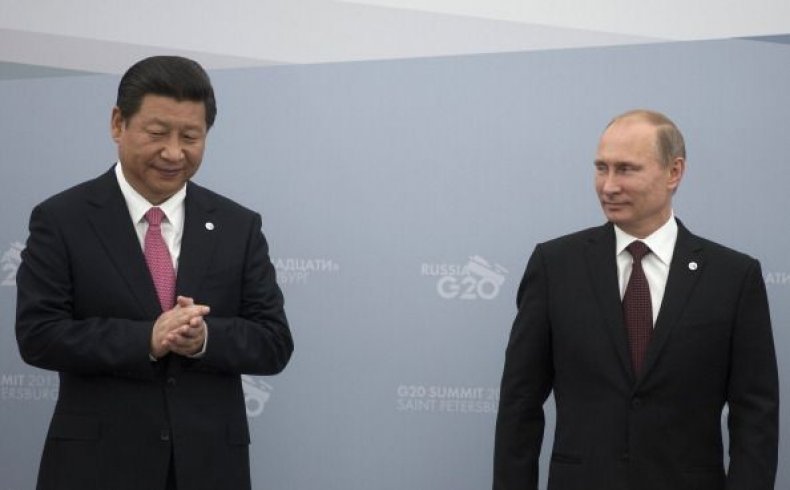 Russia's pro-government media often portrays Putin as a cool and collected leader willing to do what it takes to confront Western aggression and ensure Russia returns to the greatness of bygone centuries. These reports can be hyperbolic: even his notorious habit of arriving hours late for meetings with world leaders, including Germany's Angela Merkel and Pope Francis, is unwaveringly portrayed by Russian reporters as a shrewd psychological game that gives Putin the upper hand. But punctuality aside, his bullish approach to Russia's interests and keen memory for perceived past wrongs can be suprisingly effective, diplomats who have witnessed Putin in action say.
"Putin is extremely immersed in the details of policy; he is very cunning in how he approaches meetings with foreign leaders," Alexander Vershbow, former ambassador to Russia and former deputy secretary general of NATO, told Newsweek. "Obama found this striking in their first meeting, that Putin gave lectures on the Russian version of history to make the other party feel guilty, that all of the problems [between Russia and the West] are about betraying Russia, taking advantage of Russia."
Knows exactly what he wants
Putin already has a very clear idea of what he wants to get from Trump and the United States, experts note. Recognition of Russia's role in Syria and of its claim over Crimea are both expected to be on Putin's laundry list when he sits down with Trump. He is also likely to push back against the increasingly multilateral world that evolved since the collapse of the Soviet Union.
"Putin wants to be let back into the very narrow circle of the top world leaders, like China's Xi Jinping, Trump, etc. He wants them to be the troika, that has not just nuclear weapons, but has the world to run," Ariel Cohen, a senior fellow at the Atlantic Council, told Newsweek.
"He wants sanctions lifted, to the extent that he can get them lifted. He wants the recognition of Crimea as part of Russia, he wants a solution for Ukraine, and he wants Trump to agree that [Syrian President Bashar] al-Assad stays in place and Russia can keep its bases in Syria," Cohen continued.
And it looks like Putin could get at least some of what he wants. During the annual Group of Seven meeting held in Canada earlier this month, Trump advocated for Russia to be readmitted into the group despite the international community's consensus that Moscow violated international law by annexing Crimea in 2014. Reports have also alleged that Trump said the Crimean peninsula should be a part of Russia, simply because people there speak Russian.
Reads people like a KGB officer
Trump has long harbored dreams of striking deals with Russia, even before he turned to politics. He has lobbied unsuccessfully to open a Trump tower in Moscow, and in 1984 he told The Washington Post that he should be in charge of U.S. negotiations with the Soviet Union onnuclear arms control. Analysts also argue that Trump has demonstrated a willingness to make concessions without getting much in return, such as when he canceled joint military exercises with South Korea to appease North Korean leader Kim Jong Un.
"The great skill any KGB officer needs is the ability to read people. Putin as a KGB career officer is something of an expert on this. They will have gamed this out to figure out how to make Trump receptive to Putin's pitch. They understand that Trump is their best hope because Congress isn't receptive to their agenda," Ambassador John Herbst, former U.S. ambassador to Ukraine from 2003 to 2006, told Newsweek.
"Trump is a master of premature concessions, like getting rid of our exercises with South Korea or moving the U.S. embassy to Jerusalem [from Tel Aviv]. With Russia, it's also a danger," Herbst said.
Still, the power of Congress to shape U.S. foreign policy and hamstring Trump means that Russia's options with the president are limited, no matter how good a negotiator Putin is. And Trump might face some pushback even closer to home. When asked during a press conference in Moscow Thursday whether Trump would recognize Russia's annexation of Crimea, national security adviser John Bolton replied that it was "not the position of the U.S."
Donald, Russia is your friend
Some experts also say Trump's apparent affinity for Russia and Putin will do little to quell the simmering resentment of the Russians toward the U.S.
"The animosity against the United States is deep and strong among Russian elites. They are deeply envious of American economic success. They resent our ability to project power in any corner of the world that they don't have. It is a deeply felt resentment. So I don't think concessions by Mr. Trump himself will make much difference," the Atlantic Council's Cohen told Newsweek.
But like Kim Jong Un before him, scoring a meeting with the president of United States could win Putin points at home. And his diplomatic game is a long one, extending far beyond a single summit.
"Putin desperately wants and needs to end Russia's isolation—the sanctions are hurting the Russian economy and Putin's cronies. Putin also longs to be at the same table as the US president and other 'great powers,' so the optics of the summit are already significant," Alina Polyakova, a Russia analyst at the Brookings Institution, told Newsweek.
"In this first meeting, Putin is unlikely to be direct. Rather, he will seek to convey the Russian view of the world to President Trump to convince him that Russia is an ally rather than an adversary to the U.S., which is of course, not true."
The two leaders will have an abundance of topics to discuss, including Russia's interference in the 2016 U.S. presidential election, the Russian intervention in Syria, international sanctions against Russia for its interference in Ukraine, and Russia's annexation of Ukraine's Crimean peninsula.
Trump claims to be a master deal-maker, but during his first year in office he has made few major deals. And while he's been tough on U.S. allies like Canada's Prime Minister Justin Trudeau or the members of the NATO alliance, he has taken a conciliatory tone when it comes to Putin. Trump has repeatedly cast doubt on whether Russia interfered in the 2016 election, despite the unanimous conclusion by U.S. intelligence agencies that Russia meddled, and he consistently advocates for a better U.S. relationship with Russia, giving Putin all the more reason to look forward to the bilateral summit next month.