Putin May 'Expand' Work Abroad with China's Xi as Russia Slams U.S. Moves in Asia
Russian President Vladimir Putin has opened the door to greater cooperation with his Chinese counterpart Xi Jinping, as Moscow's top diplomat slammed U.S. moves in the Asia-Pacific region also deemed provocative by Beijing.
Speaking Tuesday at a plenary session of the Russia Calling! investment forum, Putin lauded the level of joint work between Moscow and Beijing, saying Russia has "many fields of cooperation with China."
"One of them concerns our work in third countries," Putin said. "It is well underway, but it may be expanded further. Why? Because we share roughly the same approaches and principles."
And amid international speculation that China's own growing military power, including its nuclear weapons, could cause concern for the Kremlin, Putin said that given their increasingly intimate relationship, Russia has no such fears.
"Great Britain, France announce their plans to modernize their nuclear arsenals. Does the U.S. suffer from that and does this cause its concern? No," he said. "So why do we have to show any concern over the growing defense potential of our nearest neighbor, with which we enjoy an unprecedentedly high level of inter-state relations? No, this does not frighten us because we are ourselves developing our potential."
The capacity for Moscow and Beijing to broaden their efforts to work together was further elucidated by Russia's second-most powerful figure, Prime Minister Mikhail Mishustin.
"Russia-China cooperation is developing amid a complicated international situation," he said during his 26th regular meeting, held virtually, with Chinese premier Li Keqiang.
"Regrettably, some of our foreign partners continue to take unfriendly actions towards us, using unfair competition and frequently violating the basic norms of the multilateral trade system," Mishustin added. "Both Russia and China have to deal with the challenge of illegal sanctions and political and economic pressure."
Echoing Putin, he said the two nations shared common principles.
"The best response in this situation will be rallying efforts in the interests of joint development based on the principles of equality, mutual trust and respect," Mishustin said, then called for "the alignment of the projects underway in the Eurasian Economic Union with China's Belt and Road Initiative," two international infrastructure initiatives championed by Putin and Xi, respectively.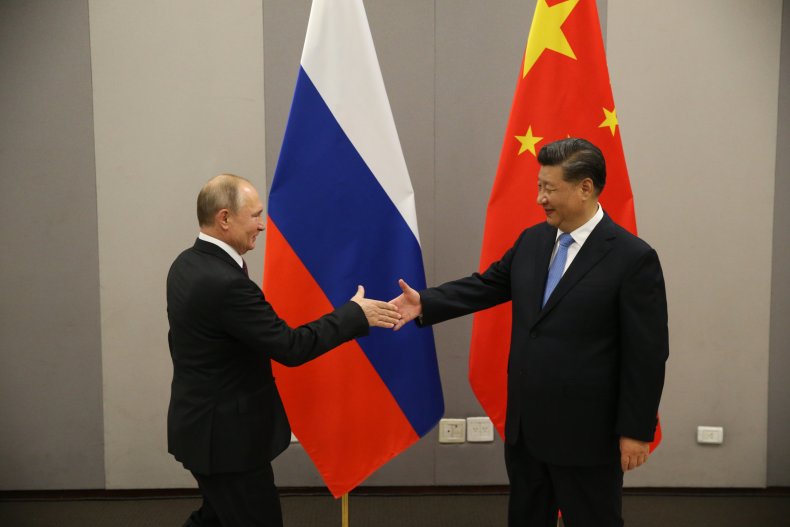 The Russian government's official website also cited Li as saying that "Russia and China are leading and at the same time growing economies, and in this regard, China is ready, together with our Russian partners, to intensify contacts, to improve coordination, to jointly reveal the cooperation potential, and increase the level of interaction."
"We are also ready to work together in the fight against COVID-19, to ensure the resilience of the global supply and production chains, to strengthen green growth, contribute to the sustainable recovery of the global economy, and play a bigger role in promoting peace and stability in the region and in the world," he added.
Moscow and Beijing have increasingly adopted similar stances on geopolitical issues across the globe, especially as they relate to opposing what they perceive to be interference by Washington and its allies and partners.
Last week, Russian Defense Minister Sergei Shoigu and Chinese Defense Minister Senior Colonel Wei Fenghe came together virtually jointly to denounce both U.S. military activity near Russia's borders in Eastern Europe and near China's own territory in the Asia-Pacific, especially around Taiwan.
Russian Foreign Minister Sergey Lavrov doubled down on Moscow's criticism of U.S.-led conduct in spots long deemed sensitive to Beijing during a videoconference with the participants of the Dialogue for the Future 2021 scientific and educational program.
"In the Asia-Pacific region where positive, constructive and unifying tendencies and trends towards consensus-building and compromise prevailed until recently, some countries are introducing outright confrontational schemes to deter other countries," Lavrov said.
Specifically, he blamed "confrontational schemes" being formed outside of the "universal" Association of Southeast Asian States (ASEAN) bloc, including the Quadrilateral Security Dialogue, or Quad, formed by the U.S., Australia, India and Japan, as well as the AUKUS alliance announced earlier this year by Australia, the United Kingdom and the U.S. Both groups are widely seen as responses to mutual concerns among the participating states toward China's broad territorial claims in the region and its efforts to assert them.
Russia and China held their first joint patrol in the Pacific Ocean last month, a move that followed joint maritime drills and a series of other bilateral and multilateral exercises. Russian warships have previously conducted exercises alongside Chinese vessles in the Asia-Pacific, but in 2017, Moscow and Beijing's navies trained for the first time in the Baltic Sea off the shores of NATO states Estonia, Latvia, Lithuania and Poland.
Perceptions regarding Chinese activity in the Asia-Pacific and Russian activity in Eastern Europe were both taken into account as the Pentagon formulated its Global Posture Review, which was concluded on Monday.
Mara Karlin, who is performing the duties of Deputy Under Secretary of Defense for Policy, laid out plans for an enhanced U.S. military presence in what the Pentagon refers to as the "Indo-Pacific" region, described as "the priority region" due to Defense Secretary Lloyd Austin's "focus on China."
"In Australia, you'll see new rotational fighter and bomber aircraft deployments. You'll see Ground Forces Training and increased logistics cooperation," Karlin said. "And actually, more broadly, across the Indo-Pacific, you'll see a range of infrastructure improvements in Guam, the Commonwealth of the Northern Mariana Islands, and Australia. Those will include things more broadly like logistics facilities, fuel storage, munitions storage, airfield upgrades."
She also said the review "strengthens the combat credible deterrence against Russian aggression in Europe and enables NATO forces to operate more effectively."
And while Karlin declined to discuss any matters related to Taiwan, with which the U.S. has only unofficial relations despite providing military assistance, Pentagon Press Secretary John Kirby said that, when it comes to Ukraine, the U.S. would "continue to provide security assistance items, both lethal and non-lethal."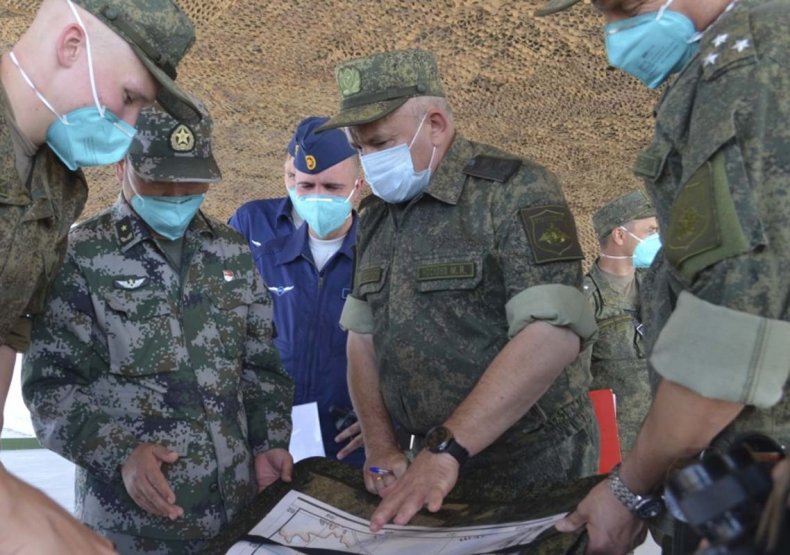 Chinese Foreign Ministry spokesperson Zhao Lijian panned the Pentagon's planned expansion of facilities in the Asia-Pacific region, accusing the report of mischaracterizing China's motivations.
"The relevant Pentagon report fully exposes the true intention of the U.S. to militarize the Indo-Pacific and go all out to encircle and contain China," Zhao said. "The development of China's national defense forces is entirely out of the need to safeguard its sovereignty, security and development interests and maintain international and regional peace and security."
He argued it is the U.S. that is pursuing a destabilizing path.
"This is fundamentally different from the U.S.' flagrant saber-rattling around the world, hegemonic and bullying practices and disruption in regional peace and stability," Zhao added. "We firmly oppose the US side's attempt to justify its moves to increase military expenditure, expand military build-up and maintain military hegemony with the 'China threat theory.' The U.S. side should abandon the Cold-War mentality of creating imaginary enemies and stop words and deeds that threaten international peace and security."
Moscow has also dismissed both Washington and Kyiv's allegations of a Russian military buildup near the border with Ukraine, where war continues between security forces and eastern separatists accused of receiving Russian backing. Putin said Tuesday that it was those living in the two unrecognized breakaway republics that faced "constant threats," and that the Kremlin too "is concerned to an extent over major military exercises carried out near its borders."
These drills include those carried out "in the Black Sea just recently, when strategic bombers were flying just 20 kilometers away from our border, armed with precision weapons and potentially even nuclear weapons," Putin added. "All this poses a threat to us."
Lavrov too warned that "significant units and military equipment of NATO countries, including those of the U.S. and the U.K., are being deployed closer to our borders," and suggested Ukraine may be gearing up for an attack.
"In Ukraine itself, near the line of engagement in Donbass, increasingly more forces and equipment are being accumulated with the support of the growing number of Western instructors," Lavrov said. "Heavy armaments, including drones, directly banned under the Minsk Agreements, are being used against Donetsk and Lugansk. We simply have no right to exclude that Kyiv's regime will launch a military venture."