Putin Has Achieved a No-Fly Zone Over Ukraine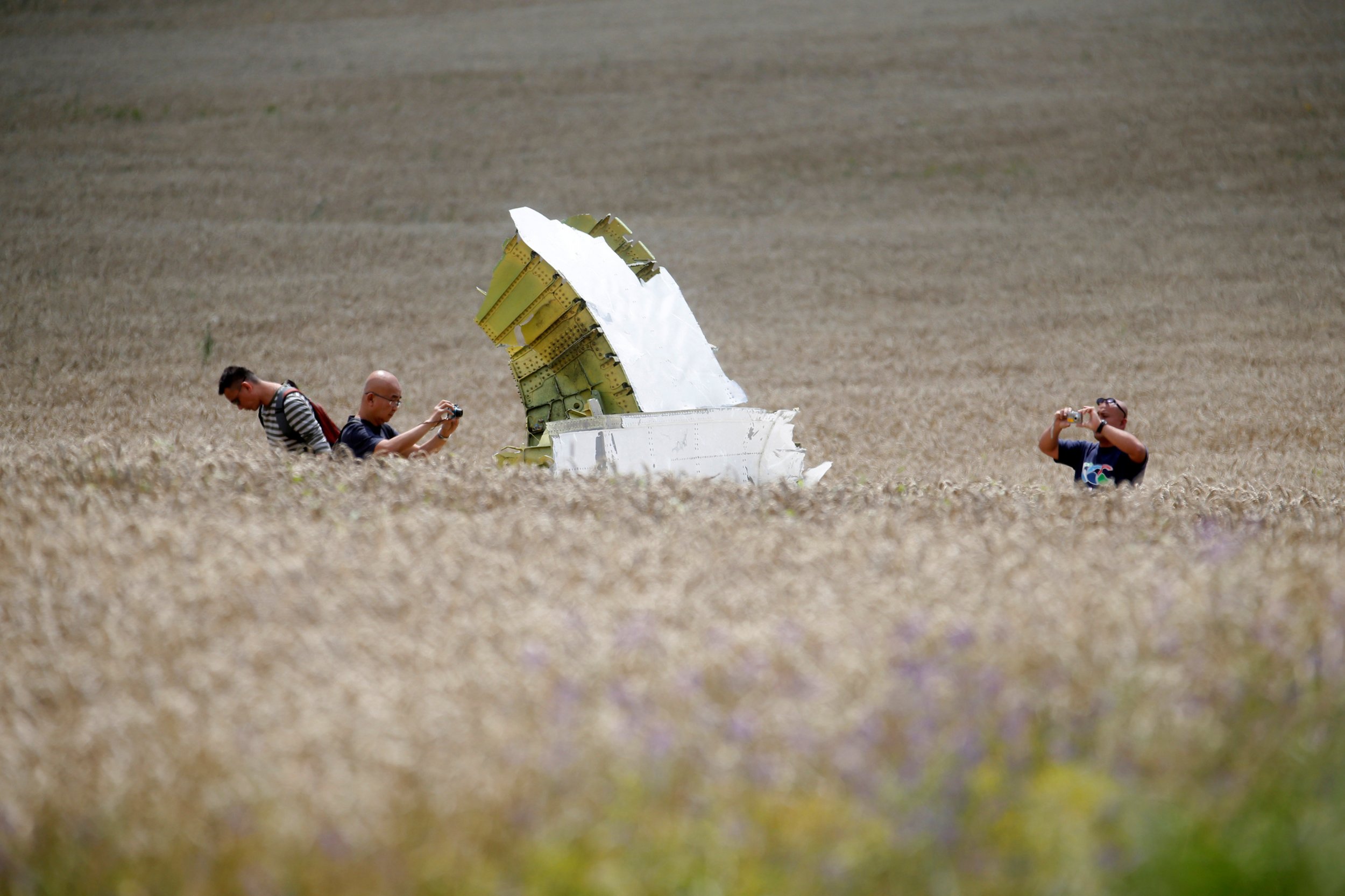 This article first appeared on the Daily Signal.
More than two years after a Russian surface-to-air missile shot down a civilian airliner over eastern Ukraine, the embattled region remains a de facto no-fly zone for both civilian and military aircraft.
On September 28, an international investigative team concluded there was "no doubt" the Buk missile that shot down Malaysia Airlines Flight 17 on July 17, 2014, killing all 298 on board, was fired from within territory controlled by pro-Russian separatists.
The missile's mobile launch vehicle belonged to Russia's 53rd Air Defense Brigade and was sent back to Russia the next day, the report said.
Moscow disputed the report. Maria Zakharova, spokeswoman for the Russian Foreign Ministry, called the findings "biased and politically motivated."
Yet, according to Ukrainian, U.S. and independent civilian intelligence investigations, Russia continues to send surface-to-air missile systems into eastern Ukraine to support a combined force of approximately 35,000 pro-Russian separatists and as many as 6,000 Russian regulars.
On August 20, the Ukrainian Defense Ministry's Main Intelligence Directorate reported that Russia had deployed a new mobile air defense unit to the Donbas—Ukraine's embattled southeastern territory.
Russia's 60th Mechanized Brigade, comprising 12 Tor-M2U short-range air defense missile systems and 170 personnel, redeployed from the Primorsky Krai province in the Pacific region to Ukraine, according to Ukrainian officials.
On September 17, the independent investigative website Inform Napalm published a database of Russian military equipment currently in the Donbas. It listed several surface-to-air missile systems, including the 9K330 Tor, 9K331 Tor M-1 and 9K332 Tor M-2, tactical surface-to-air missile systems, as well as the 96K6 Pantsir-S1 surface-to-air missile and gun system.
The findings are based on open source intelligence, including satellite imagery, videos made by bystanders and personal photos from the social media accounts of Russian mercenaries and military personnel.
Nick de Larrinaga, Europe editor of IHS Jane's Defence Weekly, said there was not enough information available to determine what Russian air defenses remain in the Donbas. But, de Larrinaga said, IHS Jane's previously has identified these Russian air defense systems in Ukrainian separatist territory:
96K6 Pantsir-S1 (SA-22 "Greyhound")
9K37 Buk (SA-11 "Grizzly")
9K35 Strela-10 (SA-13 "Gopher")
9K32 Strela-2 (SA-7 "Grail")
9K38 Igla (SA-18 "Grouse")
9K338 Igla-S (SA-24 "Grinch")
PZR Grom-2
"I believe there is still a surface-to-air threat to commercial aircraft over the conflict area in the Donbas," de Larrinaga told The Daily Signal. "While it doesn't seem that medium-range systems like the Buk that can hit high-flying airliners remain present in east Ukraine, they could be returned to the region with little or no warning."
Underscoring the lingering threat to commercial aviation more than two years after MH17 was shot down, most airspace over eastern Ukraine remains off limits to civilian air traffic.
Ukraine's air traffic control service has banned flights over the conflict area in the Donbas as well as over occupied Crimea.
The U.S. Federal Aviation Administration, or FAA, and air traffic agencies from multiple European countries, including France and the United Kingdom, also have issued restrictions on air traffic over eastern Ukraine.
According to an FAA Notice to Airmen updated in October 2015:
Pro-Russian separatists have access to a variety of anti-aircraft weapons, to include man-portable air defense systems (MANPADS) and possibly more advanced surface-to-air- missiles (SAMs) that have the capability to engage aircraft at higher altitudes.
U.S. defense officials speaking on background said that eastern Ukraine was at one time among the world's most heavily defended airspaces. It is unclear, however, based on unclassified sources, how many of the Russian air defense systems in place at the height of the fighting in 2014 remain in the conflict area.
U.S. officials say the overall flow of Russian weapons into separatist territories has not let up.
"The buildup of Russian heavy weapons and personnel in eastern Ukraine continues," Daniel Baer, U.S. ambassador to the Organization for Security and Cooperation in Europe, said on September 7.
The Organization for Security and Cooperation in Europe, or OSCE, is the multinational organization charged with monitoring the Ukrainian cease-fire.
"The quantity and sophistication of the weaponry and equipment the [Special Monitoring Mission] has reported in separatist-controlled territory can only be explained by Russian support," Baer said. "The Russian military provides command and control for the Russian-led separatist forces."
Grounded
Ukrainian military aircraft stopped flying air support and medevac missions as a condition of the conflict's first cease-fire, which went into effect in September 2014. Ukraine's air forces remain excluded from the conflict.
In the opening months of the war, combined Russian-separatist forces—armed with Russian surface-to-air missiles and man-portable air defense systems—shot down Ukrainian helicopters, fighter jets and transport aircraft at a devastating pace.
According to news reports, seven Ukrainian fighter and attack aircraft, three transport aircraft, and at least nine helicopters were lost prior to the cease-fire.
While Ukrainian air power is no longer a factor in the conflict, the airspace over the Donbas remains defended, and Russian-supplied air defenses still pose a threat to commercial aircraft.
The FAA issued its first conflict-related restriction on flights over Ukraine on April 25, 2014. Reports of conflicting air traffic control instructions from Ukrainian and Russian controllers spurred the measure.
At the time, the conflict was evolving from small-unit skirmishes into larger battles comprising tanks, heavy artillery, and airstrikes. As Russian armor, artillery, troops, and air defense systems streamed into eastern Ukraine, the nature of the threat to civil aviation expanded.
On June 14, 2014, a Ukrainian Il-76 transport plane was shot down near the Luhansk airport in separatist-controlled territory, killing 49 soldiers and crew. A Ukrainian An-26 transport aircraft, flying at 21,000 feet southeast of Luhansk, was shot down on July 14, 2014. The crew survived.
After the An-26 downing, Ukrainian authorities required commercial aircraft to stay above 32,000 feet when flying over the conflict area—an increase from a July 1 advisory, which set the minimum altitude deck at 26,000 feet.
Most man-portable air defense systems top out at 15,000 feet. Yet, more advanced surface-to-air missiles have the capability to engage aircraft at higher altitudes.
Depending on the ground-based radar used in tandem with the missile, the Buk surface-to-air missile system can engage aircraft up to 87 miles away and up to 79,000 feet in altitude. The Tor missile system, which Ukrainian officials say Russia recently moved into eastern Ukraine, can hit targets up to about 32,000 feet.
Despite the attacks on Ukrainian military aircraft, commercial air traffic continued to fly over Ukraine's conflict area in the days prior to the MH17 shoot-down.
Air traffic decreased by about 25 percent in the three days after the 32,000-foot altitude restriction went into effect—with 61 different carriers from 32 countries flying on the same route as MH17.
De Facto No-Fly Zone
On July 17, 2014, a Russian Buk surface-to-air missile brought down the Malaysia Airlines Boeing 777 jumbo jet, which was flying at 33,000 feet inside Ukraine just west of the Russian border.
Consequently, on July 18, 2014, the FAA issued a Notice to Airmen that prohibited U.S. air carriers, U.S. registered aircraft, and U.S. licensed pilots—with limited exceptions—from flying within the airspace region comprising the conflict.
"The FAA determined that the ongoing conflict in the region posed a significant threat to U.S. civil aviation operations," the FAA said in the notice. "The use of weapons capable of targeting and shooting down aircraft flying on civil air routes at cruising altitudes posed a significantly dangerous threat to civil aircraft."
The Notice to Airmen was renewed in October 2015 and is set to expire October 27. The FAA did not immediately respond to The Daily Signal's request for comment about whether the notice would be renewed for another year. According to the text of the existing notice, however, it appears the danger to commercial air traffic still exists.
"There is a continuing significant flight safety hazard to U.S. civil aviation from the ongoing risk of skirmishes in the area," the FAA said in its October 2015 update to the Notice to Airmen prohibiting flights over eastern Ukraine. The notice continued:
There is also a potential for larger-scale fighting in eastern Ukraine involving pro-Russian separatists, which could result in civil aircraft being misidentified as a threat and then intercepted or otherwise engaged, as demonstrated by the shoot-down of Malaysia Airlines Flight 17 on July 17, 2014.
France and the United Kingdom also have issued warnings about overflying eastern Ukraine.
The Ukrainian Aeronautical Information Service maintains a temporary restricted area over sections of eastern Ukraine and Crimea designated as conflict areas. Some air traffic routes in the airspace region on the periphery of the conflict have been reopened to air traffic.
Diversions
A real-time analysis of Ukrainian airspace on FlightAware, a website that tracks flights and plots them on a digital map, highlights how civilian air traffic avoids eastern Ukraine.
Rerouted aircraft consistently stack up in two places—a north-south airspace corridor just east of the Ukraine border inside Russia, and an east-west corridor south of Ukraine over Turkey and the Black Sea.
The restriction on commercial overflights of Ukraine has been a boon to neighboring countries, which charge airlines a fee for using their airspace.
According to Eurocontrol, a multinational air safety organization, Bulgaria's December 2014 transit air traffic went up by 48.3 percent compared with December 2013.
Romania saw an overall 20.4 percent increase in transit flights in 2014, while Turkey's number of transit flights jumped by more than 17 percent.
Before the MH17 crash, about 400 flights overflew Ukraine every day, 150 of which were international commercial flights. Ukrainian officials reported that revenue from transit flight fees decreased by about 160 million euros in 2014—a drop of roughly 80 percent.
Despite the financial cost, de Larrinaga of IHS Jane's Defence Weekly said, the Donbas should remain off limits to air traffic.
"As peace appears elusive in the Donbas, I think it could be dangerous to lift restrictions on commercial air traffic in the area," he said.
Nolan Peterson, a former special operations pilot and a combat veteran of Iraq and Afghanistan, is The Daily Signal's foreign correspondent based in Ukraine.