Putin Has a Plan to Avoid War With North Korea and It Does Not Involve Trump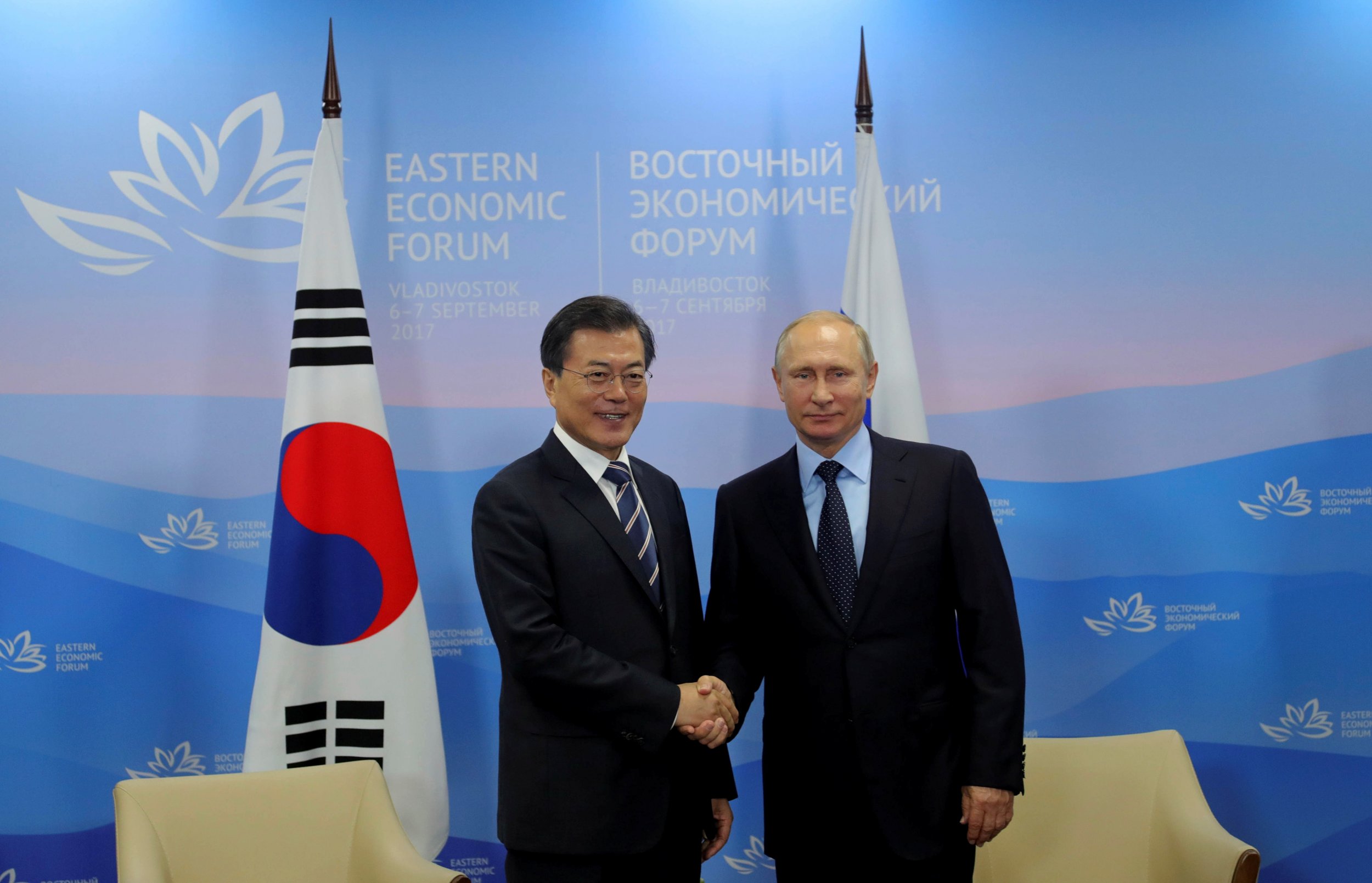 Russian President Vladimir Putin has held talks with his South Korean counterpart, President Moon Jae-In, about a vision for peace in the Korean peninsula that marginalizes the U.S.
Speaking to the press on the sidelines of the Eastern Economic Forum in Russia's Vladivostok on Wednesday, Putin said Russia couldn't accept the possibility of a nuclear North Korea but acknowledged that the standoff could not be resolved by sanctions alone.
The risk of a nuclear confrontation on Russia's doorstep—Vladivostok only lies about 200 miles away from the North Korean missile test site of Punggye-ri—concerns Putin, who has warned about inflammatory rhetoric and supported further dialogue.
Putin called for all parties with a stake in the stability of the Korean Peninsula to support the Russian-Chinese road map, which involves resuming talks that would bring North Korea, China, Russia, Japan, South Korea and the U.S. to the negotiating table.
President Donald Trump and the U.S. top diplomat at the U.N., Nikki Haley, have both repeatedly stated that the time for talking is over. But Putin insisted the road map offered "a practical way, as we see it, to ease tensions and to move gradually toward a settlement on the peninsula."
And Russia isn't only after talks, it is also eyeing infrastructure projects that could be "economically beneficial" to all parties.
"We could deliver Russian pipeline gas to Korea and integrate the power lines and railway systems of Russia, the Republic of Korea and North Korea. The implementation of these initiatives will be not only economically beneficial, but will also help build up trust and stability on the Korean Peninsula," Putin said at a press conference quoted on the Kremlin's website.
Russia is one of a handful of countries that trades with North Korea, mostly in oil, coal and refined products, although Putin insisted Russia's fuel exports to Pyongyang were negligible, Reuters reported.
Unlike Putin, Moon would like to see tougher sanctions on North Korea, but he also champions dialogue with Pyongyang and approved the Russian president's plan to implement infrastructure projects.
"The development of the Far East will promote the prosperity of our two countries and will also help change North Korea and create the basis for the implementation of the trilateral agreements. We will be working hard on this," Moon said at the press conference, quoted in the Kremlin statement.