Rumors about the health of Russian President Vladimir Putin have intensified ever since his country's internationally-condemned invasion of Ukraine.
Putin has led Russia in one way or another for around 18 years collectively, in which time he has been the face of Russia's often cold and now outright hostile attitude to the west, establishing—some would say cultivating—what has been described as a "tough guy" image by multiple observers.
Yet in recent times the leader's health has been thrown into question in part due to the emergence of videos showing a shaky or tense-looking Putin, presented by some media outlets as a suggestion that he might have Parkinson's disease—though some medical experts have dismissed the suggestions.
One such video that was released in April and became popular on social media showed Putin in a meeting with his defense minister, Sergei Shoigu. As the two men talked, Putin appeared to be gripping the side of the table tightly with one of his hands.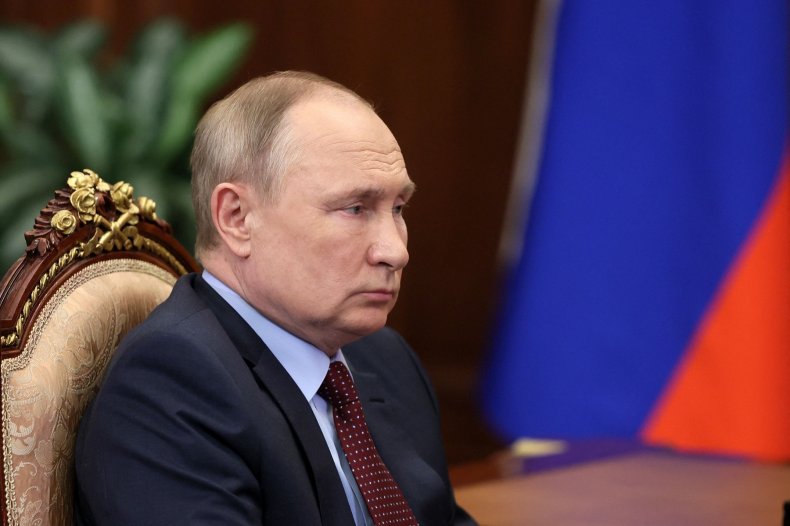 It sparked a flurry of speculation from observers. José Luis Martín Ovejero, a professor of non-verbal communication and public speaking, told Spanish news outlet AS: "It could be due to a health problem. It could also be an involuntary gesture of restraint in the face showing something has made him uncomfortable."
Louise Mensch, a former U.K. politician, shared the video claiming that Putin "has Parkinson's disease"—though it should be noted that Mensch has a history of sharing conspiracy theories online and was once described as "the manic queen of conspiracy" by The Times of London.
Then there was another video circulating on social media that appeared to show Putin displaying what were described as "leg and hand tremors" ahead of a meeting with Belarusian President Alexander Lukashenko.
However, referring to the clip of Putin with Shoigu, U.K. neurogeneticist John Hardy told German news outlet DW that Putin displayed "no sign of Parkinsonism in my view" but acknowledged he "did not look well". K. Ray Chaudhuri, a neurologist at the University of London, also told the outlet that they "can find no evidence" of Parkinsonism in that clip.
Rumors have also been stoked by anonymously-run Telegram account General SVR, which has reported that Putin is due to undergo an operation. The account is purportedly run by a former Russian Foreign Intelligence Service official.
Before all this, there were rumors that Putin had undergone surgery related to thyroid cancer—something the Kremlin denied as "fiction and untruth.
The Moscow Times cited an investigative report by Proekt Media that stated Putin was accompanied by doctors including a thyroid cancer surgeon on trips to his residence in Sochi from 2016 to 2019 and that doctors "may have performed surgery" on him in November 2016.
However, Proekt's report did not directly state whether Putin was diagnosed with cancer or any other illness.
It's worth noting that Putin's health has been a subject of speculation since well before the country's invasion of Ukraine.
In 2020, British newspaper The Sun suggested that Putin may have both cancer and Parkinson's disease and could be about to step down. The tabloid cited Valery Solovei, who allegedly used to be head of the public relations department at the Moscow State Institute of Internal Relations.
At that time, the Kremlin dismissed the reports that Putin was ill and about to quit as "absolute nonsense."