Putin Helps Assad and Erdogan to Rekindle Syria-Turkey Ties in Blow to U.S.
While Russia's war rages on in Ukraine, a flurry of diplomatic activity has brought rivals together in the Middle East, with Turkey and Israel normalizing relations and Iran and the United Arab Emirates resuming diplomatic ties over the past week.
Now, another pair of bitter foes, who once enjoyed something of a friendship, is signaling a potential path toward reconciliation. As Syrian President Bashar al-Assad and Turkish President Recep Tayyip Erdogan consider putting more than a decade of hostility behind them, it's their Russian counterpart, Vladimir Putin, who may be the only person who could actually make it happen.
Erdogan revealed this month that Putin had asked him during their talks in Sochi on August 5 to cooperate more closely with Assad on security matters, something the Turkish leader stated he was already doing on the level of intelligence contacts. That revelation was followed by series of comments from Turkish officials that opened the door to improved ties between the two neighbors, which included Turkish Foreign Minister Mevlut Cavusoglu revealing that he met with Syrian counterpart Faisal al-Mekdad last October in Serbia.
Discussing Syria over the weekend, Erdogan said that "political dialogue or diplomacy cannot be cut off between states," one of the clearest signs yet of the easing of a feud that erupted when Turkey began to back the insurgency that rose up against Assad in 2011, the same year Ankara severed ties with Damascus.
In further developments, Iran's semi-official Tasnim News Agency reported on Monday that Assad and Erdogan may hold a trilateral meeting alongside Putin on the sidelines of the Shanghai Cooperation Organization leaders' summit next month in Uzbekistan. While Cavusoglu denied the reports the following day, he also said there were "no conditions for dialogue" between the two nations, only that such interactions be "goal-oriented."
Sinan Ülgen, a former Turkish Foreign Ministry official who serves as a senior fellow at Carnegie Europe, told Newsweek that the latest remarks offered "an initial sign about the policy shift on the Turkish side, which was [once] very combative towards the Syrian regime."
"Turkey had championed regime change in Syria, and supported the civilian and the armed opposition against the government of Assad," Ülgen said, "and so much so, that this has become even personal between Erdogan and Assad."
He explained that Erdogan's recent change of tone marked "really the first time that the Turkish president has spoken in those terms, by adopting a more conciliatory tone towards the Syrian president."
Ülgen said that a face-to-face meeting between the two leaders, likely alongside Putin, "will be yet another milestone."
"I think this is the consequence, ultimately, of the Turkish government accepting the reality that, in order to address Turkey's core security objectives," he added, "it needs to have a formal dialogue with the Syrian government."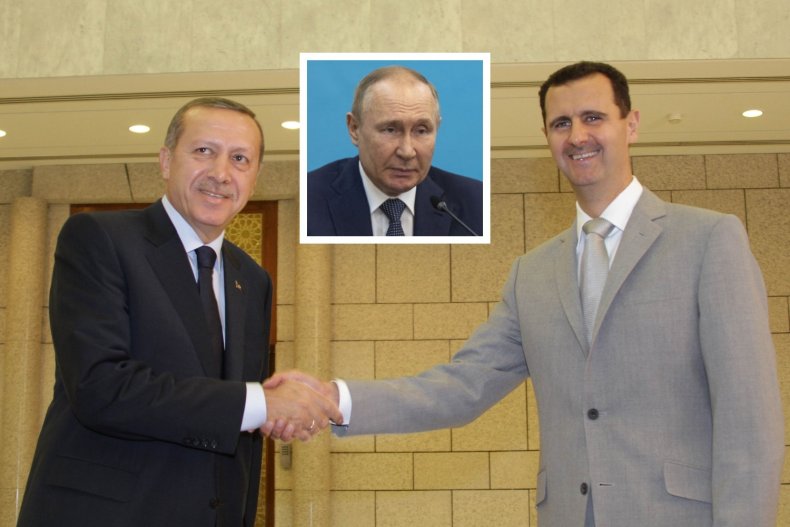 The early years of Syria's civil war saw Assad lose ground nationwide, but support from Iran and allied militias, as well as a 2015 direct military intervention from Russia, helped turn the tide in his favor. Around the same time that Moscow stepped in, the United States shifted its support from the opposition to another faction, the Kurdish-led Syrian Democratic Forces (SDF).
The SDF has alternatively fought with and against the Syrian armed forces, but its main foes have been the Islamic State militant group (ISIS) and other Islamist groups, including those backed by Turkey. The SDF has open ties to the People's Protection Units (YPG), which Ankara has linked to the banned Kurdistan Workers' Party (PKK), a group that has waged an insurgency against Turkey for more than three decades.
The presence of the PKK in Syria has long been an area of contention between Ankara and Damascus. A shift occurred in the late 1990s when Syria — then led by Assad's father, Hafez — forced PKK leader Abdullah Öcalan out of the country, leading to his arrest and eventual imprisonment in Turkey, where he remains behind bars to this day.
The younger Assad came to power after his father's death in 2000 and Syria and Turkey remained on relatively good terms for the following decade, with Assad and Erdogan, who was serving as Turkey's prime minister for most of this time, exchanging several visits. But the outbreak of conflict in Syria and Erdogan's support for the opposition severely shifted this dynamic, as did the resurgence of armed Kurdish factions in the destabilized country.
Ülgen boiled down Turkey's "core security objectives" in present-day Syria to two primary goals: "controlling the aspirations of the PKK-linked YPG in Syria" and "the return of refugees," more than three and a half million of whom have fled Syria for Turkey since the war began. In order to achieve these aims, he said that "it's unavoidable, indispensable to have a dialogue with Assad himself."
But he noted that "the Syrian side may have conditions for the normalization of the dialogue with Turkey," and "those conditions may or may not prove to be digestible for the Turkish side."
Bassam Abu Abdullah, an international affairs expert who previously served as a diplomat at Syria's embassy in Turkey, also mentioned the return of refugees and a need to address PKK activity along the border as two key issues that needed to be resolved in order to establish a "roadmap" for the normalization of ties between Ankara and Damascus.
Abdullah argued that the PKK was serving as "an instrument in the hands of the United States," but he said there is "no Kurdish question" in Syria regarding the fate of the broader Syrian Kurdish community. Kurds, he said, represent "a dear part of our society" and "there is no problem between Arabs and Kurds."
Still, he felt that "Syria is ready to negotiate with Turkey about all these questions" as long as other groups such as jihadi militants, some affiliated with Al-Qaeda, were also included in Erdogan's repeated calls to combat "all forms of terrorism" in Syria. Many of these groups operate in Idlib and eastern Aleppo, parts of the country where Turkish troops operate alongside allied Syrian rebel militias.
Given Turkey's ongoing role in the conflict, Abdullah said Damascus' other conditions for resolving the dispute would be for Ankara "to stop interfering in the internal affairs of Syria," to "stop supporting terrorism," and to cease "using water as an instrument in its confrontation with Syria," as the two shared a common, disputed resource in the Euphrates River.
He noted that also critical to negotiations would be opening the border crossing at Bab al-Hawa as part of Syria's efforts to restore border access points "from north to south."
"It's important for Turkey and it's important for Syria and the future of how we build these relations," Abdullah said. "All these points, I think, could be negotiated, could be discussed between the two states. So the opening up between Turkey is important for Turkey and for Syria and for the region."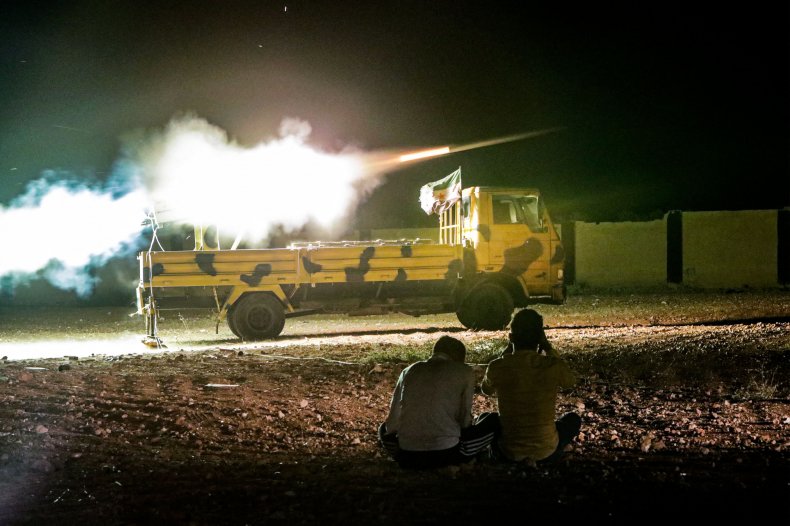 But he also pointed out that Erdogan's pivot on Syria may be rooted in a number of other factors, both domestic and regional, that have influenced the Turkish leader's calculus.
Among them are upcoming elections, as more than 80 percent of Turkish voters, including majorities in all major political factions, have expressed a desire for Syrian refugees to return to their home country, according to a Metropoll survey cited in a report published in May by Deutsche Welle's online Qantara portal.
As Erdogan prepares to run for re-election next June, Abdullah noted that his support in the West is waning.
"It's very clear that the United States is not staying behind Erdogan," he said, "and the West in general is supporting the opposition."
Abdullah highlighted another evolution in Erdogan's view, which he attributed to the "collapsing of the Turkish project towards Syria, through the Muslim Brotherhood or through the 'New Ottoman' or other projects." He also saw motivations rooted in economics and geopolitics, especially "new trends in Turkish foreign policy towards the East — I mean here Russia, China, Iran, Syria, Iraq."
Though a member of the U.S.-led NATO alliance, Turkey has always sought to pursue an independent foreign policy track, especially across the Middle East, North Africa and the Caucasus. And while Erdogan and Putin have often backed rival sides in these regions, the two men have repeatedly struck deals shaping conflicts in multiple countries, most recently in Ukraine, where Ankara was at the center of a landmark deal to resume grain exports.
In fact, Ülgen said that Putin's leverage in Syria was "a very important and critical aspect" of his relationship with Erdogan, as this influence "indeed tends to color very much Turkey's position on the Ukraine war, and its unwillingness to alienate Russia."
Erdogan's relationship with Biden has been decidedly cooler. Perhaps nowhere are its strains more visible than in Syria, where Erdogan joined the leaders of Russia and Iran in calling for the withdrawal of U.S. troops following trilateral talks last month in Tehran. These talks formed the latest meeting of the trio's Astana process, which was established in 2017 in an effort to stabilize Syria.
Ülgen noted that Turkey's relationship with Russia and Iran "was still of importance" today. Echoing Abdullah, he said that any "new refugee flows" stemming from an already worsening conflict in northern Syria "is something that the government absolutely wants to avoid before the elections."
Ensuring stability in northern Syria also came as a clear benefit to Damascus. Once isolated, Assad has gradually returned to the world stage, rebuilding ties not only with neighboring countries like Jordan, but also influential Arab powers such as the United Arab Emirates, where the Syrian leader traveled in March.
Ülgen argued that "having a normal relationship with Turkey would go a long way towards securing the future of the Syrian regime."
"One of the conditions on the Turkish side would be that the Syrian government establishes full authority over that territory," he said, "and it guarantees that that piece of territory is not used against Turkey and does not threaten Turkey's security."
However, such an arrangement would spell uncertainty for the U.S. and its Kurdish partners.
"Under those conditions, of course, the fact is that the U.S. would find itself in an even more awkward position," Ülgen said, "not only because, obviously, Turkey has been very much against this relationship between the U.S. and the SDF/YPG, but also you would now have the Damascus government take a much more challenging stance regarding U.S. policy."
"How that would ultimately affect U.S. policy, that remains to be seen," he added. "But nonetheless, it would certainly further erode the geopolitical framework from the U.S. perspective."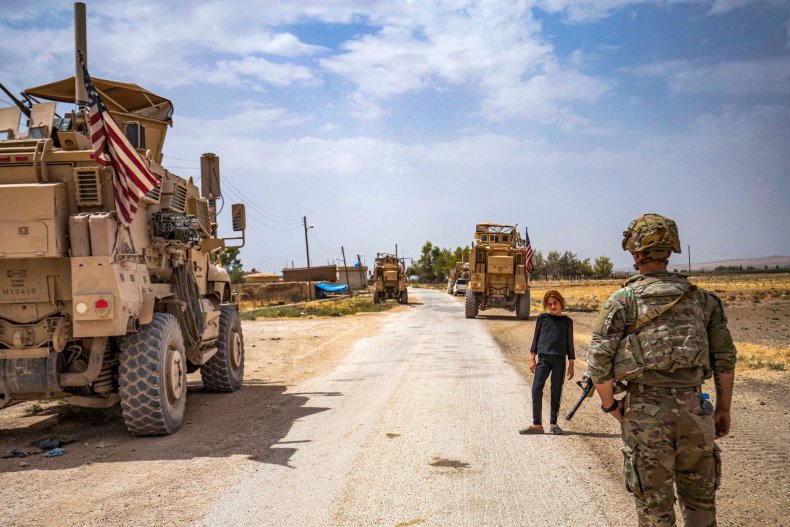 Washington has repeatedly resisted calls to withdraw its forces from Syria. A senior Biden administration official told Newsweek last month that U.S. officials "do not anticipate any near-term changes to the U.S. military presence in eastern Syria."
Following an airstrike conducted by U.S. forces against militias allegedly linked to Iran's Islamic Revolutionary Guard Corp in Deir Ezzor in response to a number of attacks against U.S. positions, U.S. Central Command Communications Director Army Colonel Joe Buccino said in a statement late Tuesday that "U.S. forces remain in Syria to ensure the enduring defeat of ISIS."
Three consecutive U.S. administrations have also refused to enter into dialogue with Assad, whom they have accused of war crimes. The SDF, however, has repeatedly entered into talks with Damascus, though these negotiations have consistently unraveled as a result of divergence over how much autonomy the Kurdish-led northeast would maintain in post-war Syria.
Abdullah, for his part, said that, "if there is cooperation between Syria and Turkey, I think it will be important to eliminate all terrorists," and it could also "come at the expense of the SDF" should the group fail to come to terms with Damascus.
"It will be at their expense if they will not understand that this is a big change," Abdullah said, "because negotiations between the Syrian government and the SDF/YPG have failed until now to achieve something, so they should take care of that."
Abdullah asserted that Washington would lose out as well if it failed to adapt to the reality on the ground, risking a new conflict at a time when Biden was busy challenging top global competitors China and Russia.
"So if the American military presence continues even after these big changes, this big shift, I think the next step will be materialized in other ways, not through diplomacy, but through resistance," he said. "And Americans understand that it's possible — and it is the right of the Syrian people — to resist and kick the Americans out of Syrian territory."
Damascus has repeatedly reserved the right to use force to reassert control over the swaths of territory under SDF control if diplomacy proved fruitless. Amid the prospect of Syria striking a deal with Turkey, Abdullah offered his own recommendation to the Biden administration and its constituency, warning that U.S. lives were at risk.
"I advise the U.S. to think many times on how the situation is changing and that their soldiers are not in a safe place. The Syrian people are not welcoming U.S. soldiers," Abdullah said. "We are considering U.S. soldiers as occupiers, and the American people should put pressure on their departments, on their administration to withdraw their soldiers and to stop interfering with the internal affairs of Syria."
"And I absolutely believe," he added, "that the changes between Syria and Turkey will be reflecting on the American presence and on their agents if they are SDF or others."