Putin Holds Peace Talks With Eurasian Leaders, As New Conflict Looms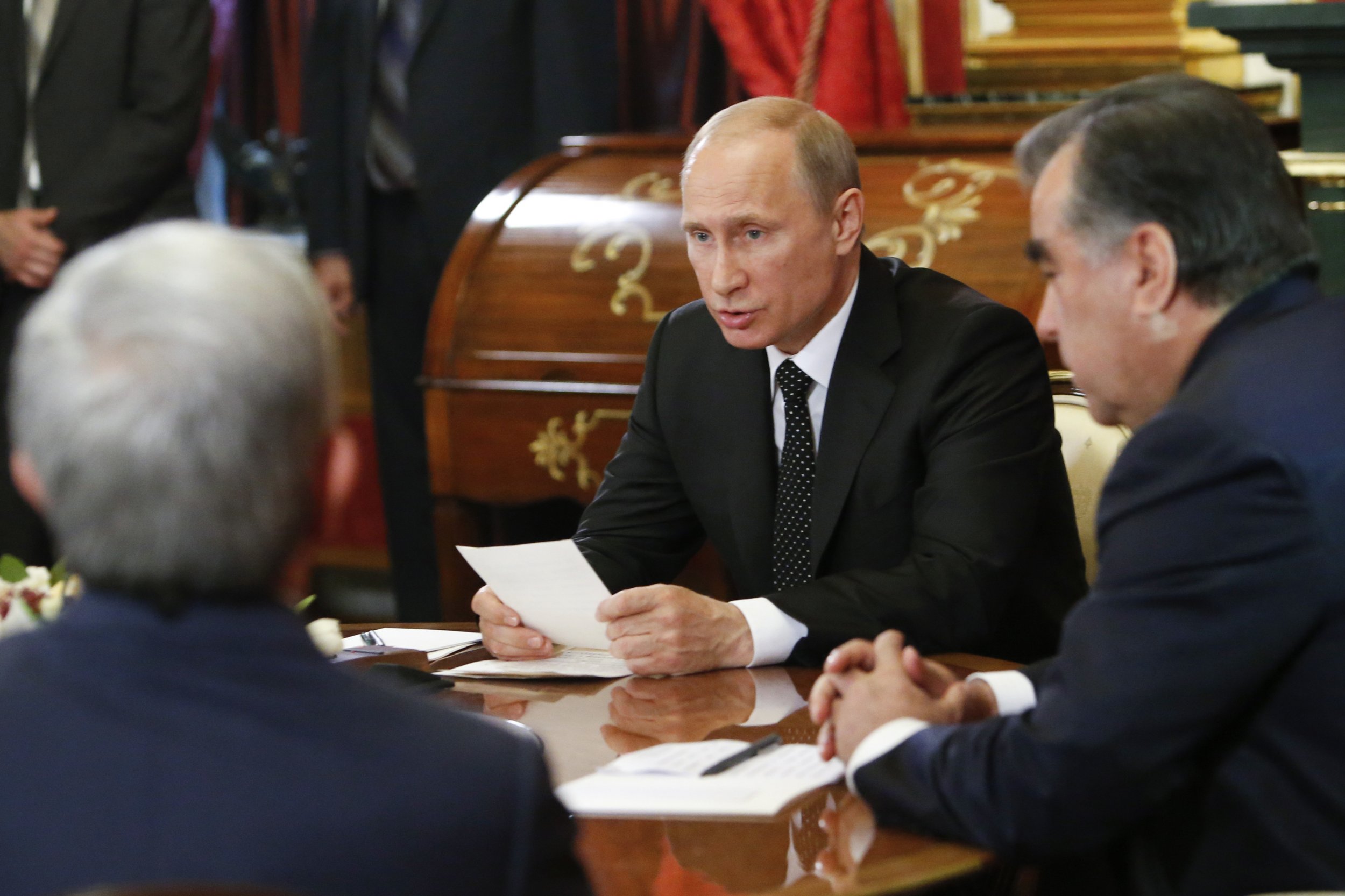 Vladimir Putin will mediate talks between leaders of Armenia and Azerbaijan over the reigniting hostilities on the disputed border between the two countries in Sochi today.
Four Armenian and 13 Azeri servicemen have been killed since July 28th in the Armenian-populated region of Nagorno Karabakh.
The unrecognised Ministry of Defence of Nagorno Karabakh has reported higher casualties in a single week since the recent clashes between Armenian and Azeri armed forces, than throughout the whole of 2013. Violence between the two countries is at an all time high since 1994, when Russia brokered a deal between the two sides to end hostilities.
"Both Russia and the West recognize that it is the most potentially dangerous conflict in Europe," Tom de Waal, Senior Associate for the Russia and Eurasia Program at the Moscow Carnegie Center told Newsweek.
The rapid increase of tensions in Karabakh and the strategic importance of the region have prompted Vladimir Putin to host a meeting – or a series of meetings – with Armenian President Serzh Sarkisian and Azerbaijani President Ilham Aliyev at some point over the next two days.
Sarkisian has expressed his desire to hold a trilateral meeting with his Russian and Azeri colleague, however this has not yet materialised, Radio Free Europe reports.
"For the last two months, there have been reports of more Armenian-Azerbaijani cross-border clashes, some in border areas that had formerly been mostly quiet," argues Tom de Waal. "Many of the ceasefire violations are localized and uncoordinated, but more serious incidents, such as raids across the line, could not happen without political approval."
The disputed region has a direct border with Iran and is within strategic proximity to the Western backed Baku-Tbilisi-Ceyhan oil pipeline. Armenia has moved increasingly closer to Russia internationally, as Russian Foreign Minister Sergei Lavrov announced yesterday the country had successfully completed its road map to joining Russia's economic union with the possibility of a single currency unit, Itar Tass reports.
Azerbaijan, on the other hand, is the EU's major oil supplier in the region and its political significance has only been elevated since EU sanctions threaten to close off oil links with Russia's vast supplies, according to International Business Times.
Armenia and Azerbaijan have maintained an uneasy ceasefire since 1994, with over 20 soldiers from both sides dying in infrequent skirmishes each year, according to the Moscow Carnegie Center. Russia brokered the deal between the two countries and there are currently no UN peacekeepers in the Nagorno Karabakh region.
Karabakh remains the "most militarized area of Europe" with "mainly rational self-interest" keeping the two armies of 20,000 or so men "backed up by heavy weapons from going back to war," according to Tom de Waal.
United Nations' Secretary General Ban Ki Moon has already expressed "serious concern" over growing violence between Armenia and Azerbaijan and has urged the two former Soviet states to " a peaceful solution to conflict," reported Armenian newspaper Asbarez.
Nagorno Karabakh is a self proclaimed independent republic, populated by an ethnic Armenian majority. Officially its territory has been part of Azerbaijan since the breakup of the soviet union, however it declared independence in 1991.