Inside Putin's and Assad's War Against ISIS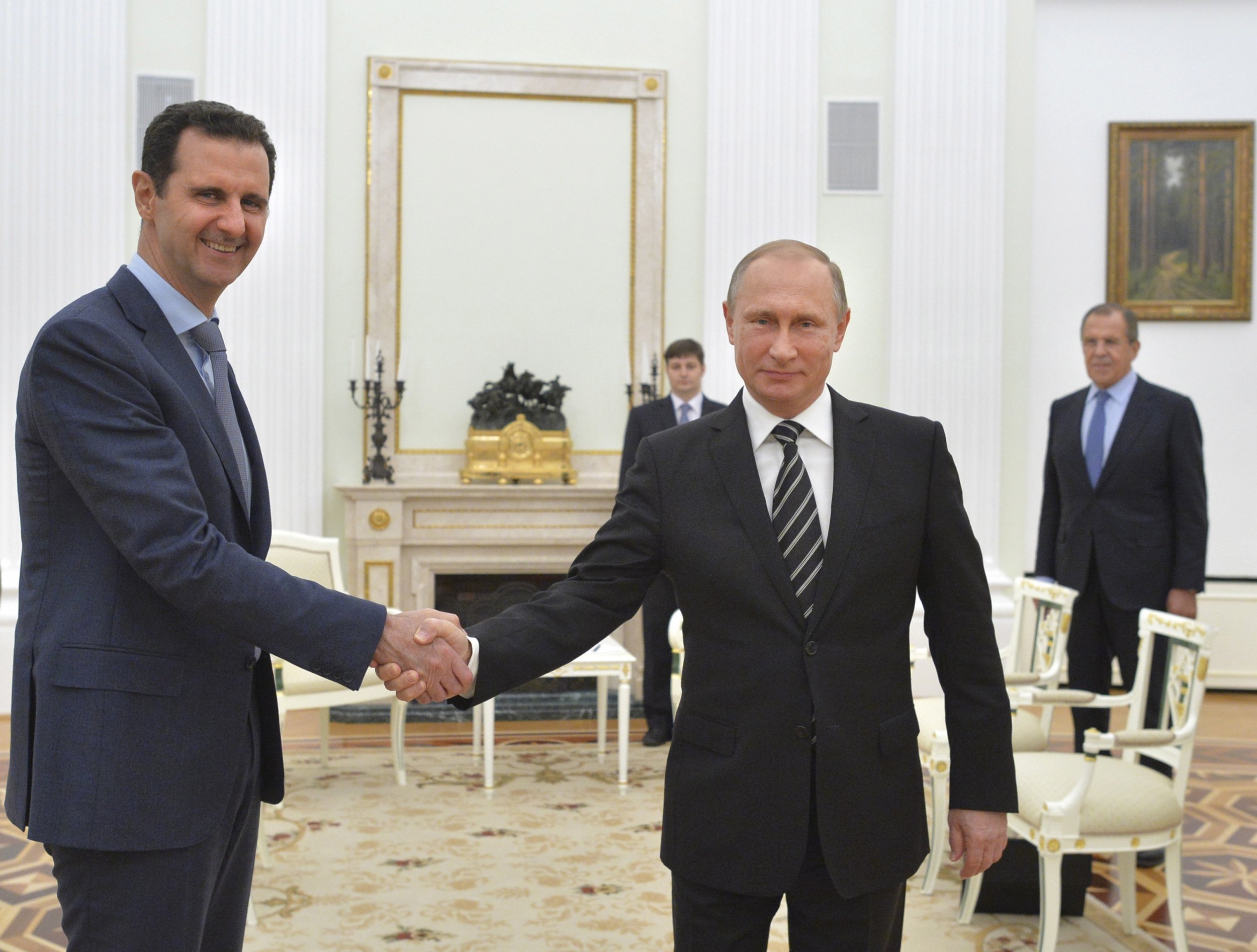 BEIRUT (Reuters) - Syrian government forces backed by Russian air strikes battled Islamic State insurgents around Palmyra on Monday, trying to extend their gains after taking back control of a city whose ancient temples were dynamited by the ultra-radical militants.
The loss of Palmyra on Sunday is one of the biggest setbacks for the jihadist group since it declared a caliphate in 2014 across large parts of Syria and Iraq. It is also a major victory for President Bashar al-Assad and ally Russia, casting them as critical to the international fight against Islamic State.
The Syrian army said the city, home to some of the most extensive ruins of the Roman Empire, would become a "launchpad" for operations against Islamic State strongholds in Raqqa and Deir al-Zor, further east across a vast expanse of desert.
Syrian state media said on Monday Palmyra's military airport was now open to air traffic after the army cleared the surrounding area of Islamic State fighters.
"Now there is a convergence of interests worldwide about the fact that ISIS (Islamic State) really needs to be confronted. It is a strategic defeat for ISIS and by default a strategic victory for Assad and Putin," said Fawaz Gerges, a Middle East expert at the London School of Economics. "It feeds into Assad's narrative about Syria being a bulwark against Islamic State."
Clashes continued northeast of Palmyra between Islamic State and forces allied to the government, supported by Syrian and Russian air strikes, according to the Syrian Observatory for Human Rights, a Britain-based body which monitors the war.
Air strikes, believed to be Russian, also targeted the road running east out of Palmyra towards Deir al-Zor, and there was fighting around the Islamic State-held town of Qaryatain on Monday, 100 km (60 miles) west of Palmyra, the Observatory said. The Syrian government has been trying to retake Qaryatain since Islamic State seized it last August.
U.N. Secretary-General Ban Ki-moon, speaking in Amman, said he was "encouraged" that Syrian government forces had been able to drive Islamic State out of Palmyra and that the city's ancient heritage could now be preserved.
But the Syrian opposition said it feared Assad's forces were using a fragile cessation of hostilities in the wider conflict to make territorial gains.
"I fear one thing: that the period of the truce will allow the Assad regime to gobble up what remains of Syria by liberating areas that are controlled by Daesh (Islamic State) and Nusra," Riad Nassan Agha, a member of the opposition High Negotiations Committee, told Reuters by telephone.
The truce, accepted by Assad's government and most of his foes, is the first of its kind since the war began five years ago and has been accompanied by the first peace talks attended by the warring sides. It does not apply to areas held by Islamic State or the Nusra Front, the Syrian branch of al Qaeda.
NEGOTIATING POSITION
The Syrian government is likely to use its success in Palmyra to bolster its negotiating position at the peace talks in Geneva, underlining that it is a necessary partner in the fight against Islamic State.
The United States is leading an international campaign of air strikes against Islamic State in both Syria and Iraq. It says it does not cooperate with Assad's government, but reported carrying out air strikes around Palmyra at least once last week while Damascus was making its advance.
Bashar Ja'afari, the Syrian envoy to the Geneva talks, said in an interview with Lebanon-based al-Mayadeen TV that it was time for powers including Washington to join Moscow in working with Damascus.
"We are for the creation of an international coalition against terrorism, but in coordination with the Syrian government," he said. "We have no objection to working with America as long as it is done in coordination with Syria."
Russia's intervention in September turned the tide of Syria's five-year conflict in Assad's favor. Despite Moscow's declared withdrawal of most military forces two weeks ago, Russian jets and helicopters carried out dozens of strikes daily over Palmyra as the army thrust into the city.
Russia said it would assist with securing and removing landmines in Palmyra following the campaign, and the Kremlin said on Monday that the Russian air force would continue to help Syrian government forces.
But Russian forces are still showing signs of their partial withdrawal. Three heavy attack helicopters have left Moscow's Hmeimim air base in Syria for Russia, Russian state TV channel Rossiya-24 reported on Monday.
ISLAMIC STATE DEFEATS
Although most of the Islamic State force fled Palmyra on Sunday, there were still some militants in the city, the Observatory said. Its director Rami Abdulrahman said most residents had fled before the government offensive and the observatory had not heard about any civilian deaths.
He said 417 Islamic State fighters were so far known to have died in the campaign to retake Palmyra, while 194 people were killed on the Syrian government side. The figures could not be independently verified.
Islamic State militants dynamited several monuments last year, and Syrian television broadcast footage from inside Palmyra museum on Sunday showing toppled and damaged statues, as well as several smashed display cases.
Syria's antiquities chief said other ancient landmarks were still standing and pledged to restore the damaged monuments.
"Palmyra has been liberated. This is the end of the destruction in Palmyra," Mamoun Abdelkarim told Reuters on Sunday. "How many times did we cry for Palmyra? How many times did we feel despair? But we did not lose hope."
Islamic State's ejection from Palmyra came three months after it was driven from Ramadi, a provincial capital in neighboring Iraq. Islamic State has also lost ground elsewhere, including the Iraqi city of Tikrit last year and the Syrian town of al-Shadadi in February, as its enemies try to cut links between its two main power centers, Mosul in Iraq and Raqqa in Syria.
On Friday the United States said it believed it had killed several senior Islamic State militants, including Abd ar-Rahman al-Qaduli, described as the group's top finance official and aide to leader Abu Bakr al-Baghdadi.