Putin Just Spent Four Hours Answering Questions Live on Air—Here Are the Ones He Ignored
Russian President Vladimir Putin concluded another installment of the bizarre political spectacle of his annual call-in show, fending off pre-approved questions from Russians on live TV.
Speaking on national television for four hours and 17 minutes, Putin answered around 79 questions submitted by phone, video chat, text and social media. The topics ranged from the most complimentary praise to more mundane and local complaints, but every once in a while Putin used the occasion to grab global headlines with a zinger about Ukraine, world war or foreign leaders.
This year, he followed the formula. When asked about his favorite joke, Putin said he found allegations that his government colluded with President Donald Trump to elect the real estate tycoon in the first place, laughable. "So we influenced the U.S. elections and he gifted us Europe for that?" Putin said "Total drivel." Asked about the best piece of advice his father gave him, the former KGB spy answered with a straight face: "Don't lie," which caused a firestorm on social media.
Once again, he accused Ukraine of not caring about citizens in its Russian-speaking east and warned that another world war would "bring the end of civilization."
Related: Did Russia Photoshop this picture of Kim Jong Un during a meeting with Moscow's top diplomat
This year, more so than before, the questions Putin did not answer were all the more evident. Owing to a new feature introduced in 2017, Russians could text grievances, which displayed on multiple screens in the studio as Putin spoke. Although Putin rarely paid any attention to them, the results voiced the frustration of many Russians with problems the Kremlin has not fixed by scolding a governor or promising to look into it.
"Why does this country have the money for tanks, bombs, planes, machine guns but no money for people?" one Russian texted, as his message reached the big blue screen behind Putin. During the broadcast, Putin boasted that the "breakthrough" weapons, including a new intercontinental ballistic missile he referred to during his last federal address, were progressing.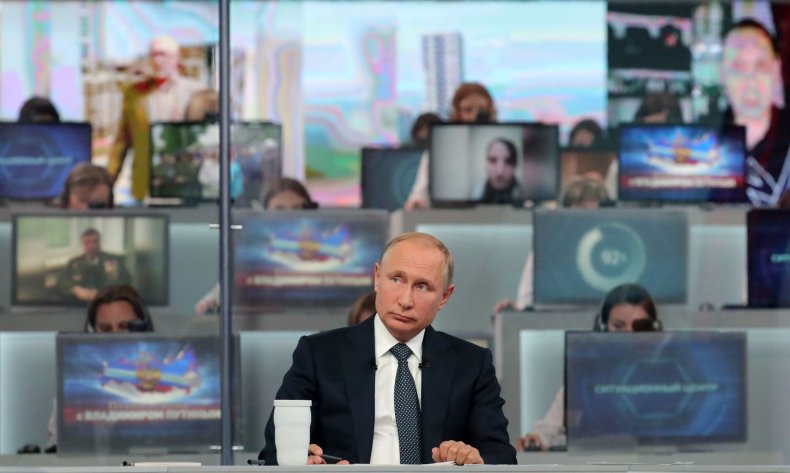 "We are all living worse and worse," one Russian texted. "It is in the Kremlin that everything is wonderful," the viewer wrote after Putin began the program by declaring that Russia was moving on the right track.
"When will prices stop growing? What did we vote for?" Complaining about the economy in general, some Russians also recalled a clumsy turn of phrase by Putin's Prime Minister Dmitry Medvedev, who told pensioners in 2015, "There is no money, but you hold on." Not only did someone text the phrase in, but other texts also slammed him: "When will Medvedev stop trying to think of ways to complicate the lives of Russians?"
"The prime minister says that there is no money but the head of the state bank says there is plenty of money," another viewer wrote. "Are they living in different countries?"
"Why did you not register Alexey Navalny as a candidate for president?" a viewer texted while the image appeared as a speech bubble on screen but remained untouched by Putin. The Russian leader and his spokesman have an alleged aversion to uttering the charismatic opposition blogger's name—and even when asked specifically about his protests and allegations, they refer to him in general terms. In 2017, a highly contentious fraud conviction kept Navalny from receiving the right to run against Putin in the last election.
"You have been in power for so many years. Does it not seem to you that what we have is now a monarchy," a viewer messaged, lighting up the screen above Putin's seat. Notably, Navalny's last arrest came at a protest he organized in May against Putin's proverbial coronation as Russia's "Czar" with a fourth term.
"Is the oligarchy eternal?" A viewer texted, as many of the questions turned to Russia's megarich and the privileges they enjoy under Putin. "Your government and Deripaska rob the people for yachts and Faberge eggs," another user wrote, seemingly taking issue with aluminum magnate Oleg Deripaska, whose business was bailed out by the government in 2008. "There is oil in the Middle East and people there live in skyscrapers. Why do Russians live in sheds?"
"Aren't you tired of serving as president?" a viewer texted, spearheading another thread of messages that vented about Putin specifically. "You live well. When will we?" one message implored. "What glasses are you wearing when you look at this country?"