Putin On Kadyrov, Groysman and Russia's Next First Lady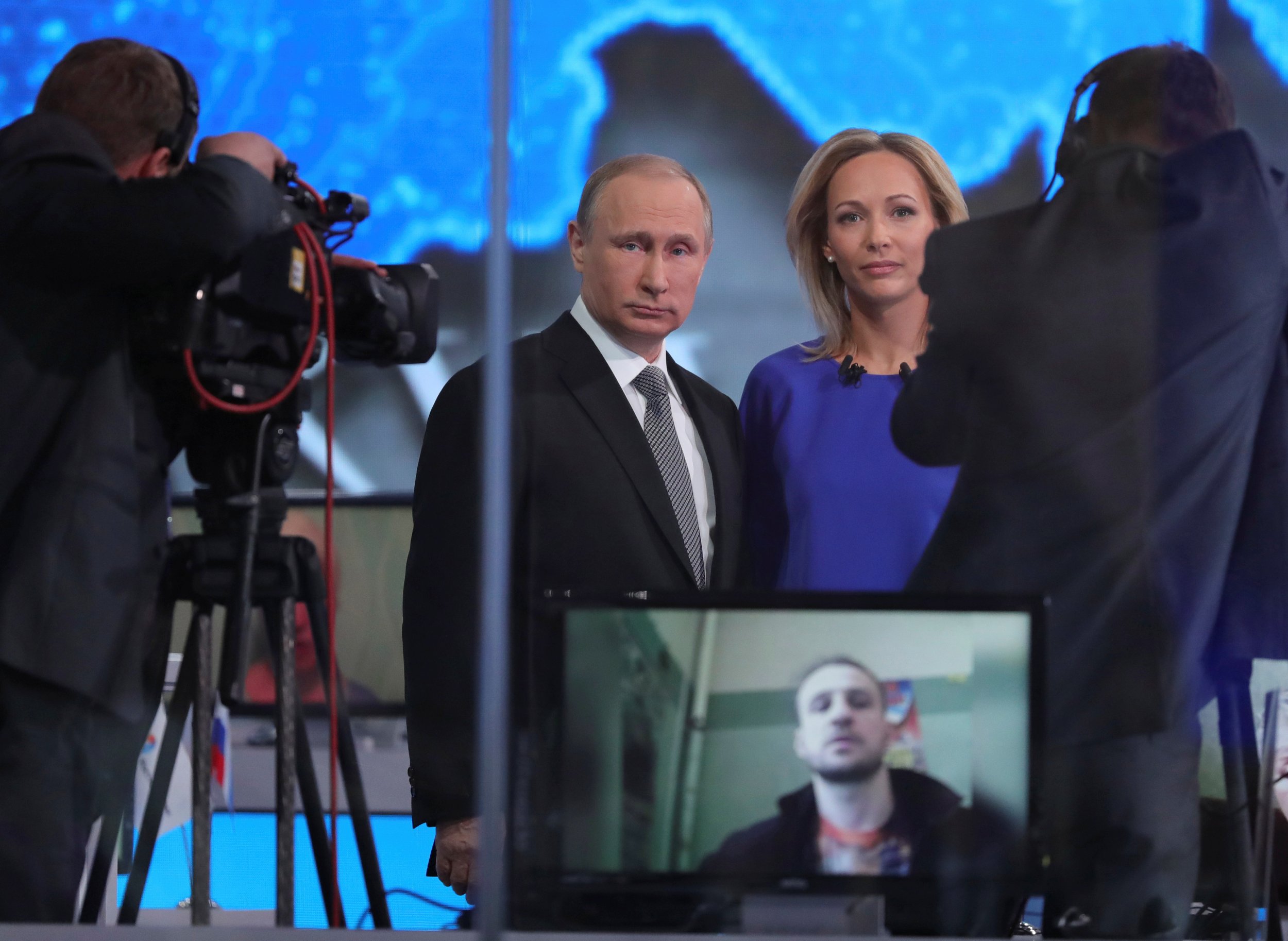 Russian President Vladimir Putin spoke about drowning world leaders, visiting Crimea instead of Turkey and the possibility of his country getting a new first lady during his annual call-in 'telefon' show on Thursday.
The show got off to an awkward start when Putin decided to answer the first video call before sitting down at his desk. He was asked about fixing potholes in the Russian city of Omsk. A few questions down the line and with Putin sitting comfortably at the centre of the futuristic studio, that looked like a call-centre set up in the middle of Star Trek's USS Enterprise, things livened up.
Who Would You Save From Drowning?
Putin was famously asked if he would save U.S. President Barack Obama from drowning at a previous instalment of the Direct Line. He said he would, even if he wasn't that close to the U.S. leader. Now a 12-year-old schoolgirl asked Putin who he would save first Ukraine's President Petro Poroshenko or Turkey's Recep Tayyip Erdogan.
Rolling his eyes at the prospect of saving two of Russian media's most frequent folk devils, Putin conceded, "You've put me in a difficult situation."
"It is impossible to save someone who is determined to drown," Putin said, to roaring laughter in the studio. "Russia is ready to extend a friendly hand to any partner who would like it." Shortly afterwards, the name of the girl who asked one of the day's most hard-hitting questions began trending on Twitter in Russia.
When Can We Visit Turkey and Egypt?
Russia has slashed flights to Turkey and declared Egypt a dangerous destination for tourists, after Islamists downed a passenger jet above Egypt and Turkey downed a Russian air force jet, deployed in Syria. According to Putin, the halt of Russian tourism was not Russia's to control but it was up to the two countries themselves to ensure security.
"There are constant clashes in (Egypt's) Sinai region," Putin said. "Meanwhile in Turkey, the current government would rather cooperate than combat radicals. There is a civil war in the south of the country, with artillery fire and terror attacks almost every week."
Instead, Putin recommended visiting annexed Crimea or the Caucasus, where Russia is fighting an Islamist insurgency in the north, is militarily involved in a territorial dispute with neighboring Georgia and is a broker of a fragile ceasefire in the conflict between Armenia and Azerbaijan.
He was asked if he would go on holiday to Crimea soon, which he said he would consider.
When Will There Be a New Ms. Putina?
Putin divorced his wife Lyudmila in 2013 and earlier this year reports, that were never confirmed by the Kremlin, alleged she was marrying a much younger man. A St. Petersburg local asked Putin if he would fulfill her hope and remarry. Putin sighed and a pause followed.
"I have great relations with Lyudmila," Putin said. "Everything with her is fine. I am well also."
"If I marry will this affect the rouble exchange rates or the price of oil," Putin joked. "I made my peace with the fact that these issues are of interest to people a long time ago. But I do not consider them of prime importance."
If You Had Three Wishes What Would You Wish For?
Putin was given some questions to answer from a children's magazine and although he has often humored more left-field queries, he was in a serious mood on Thursday. He was asked what he would wish for if he were the fisherman in Alexander Pushkin's fairytale who catches a wish granting fish.
"It is better not to rely on fairytale characters. Remember, we had a song in Soviet times that went 'Nobody will help us, not God, not the King, no heroes either?'"
"It is better to achieve things with your own efforts," Putin told Russia's younger viewers.
Is It Right to Call the Opposition Enemies of the State?
One man in the studio asked Putin if he felt he should defend the opposition more, in the wake of threats by Chechen leader Ramzan Kadyrov to trial them as enemies of state. Putin took on the question by reminding people that one of his closest supporters today was once leading Chechen separatist fighters against Russian forces.
"Kadyrov started out by fighting against us alongside his father in the forest," Putin said. "Then he came to the conclusion that his region is better off with Russia. These are the considerations with which Ramzan Kadyrov is operating. He is ready to risk everything, even his life, in the interest of his people."
Putin said he believed the dispute between Kadyrov in the opposition would "be resolved" soon.
What Do You Think About the New Ukrainian Government
Putin spoke as Ukraine appointed its new prime minister Volodymyr Groysman, an outcome which Russian and Ukrainian media have anticipated for weeks. He was asked what he made of the choice and about the new government.
"Nothing. I do not know it. I don't know its composition. I don't know what they plan to do," he said. He also accused Ukraine of not doing much to reduce the control of oligarchs in the country since they toppled pro-Russian President Viktor Yanukovych in 2014.