Putin Knows America, Divided at Home, Distracted by China, Is Toothless in Europe
Russian President Vladimir Putin has seized the opportunity to assert his nation's position in Eastern Europe at a time when the United States is both mired in domestic division and fixated on challenging China.
Tied down at home and abroad, President Joe Biden has expressed an unwillingness to become embroiled in a long-term crisis over Ukraine, on whose border Moscow has amassed up to 100,000 troops while warning against Kyiv joining the NATO Western military alliance.
During a two-hour press conference on Wednesday, Biden got ahead of other administration officials in offering the prediction that Putin "will move in" on Ukraine, "he has to do something."
And while he warned his Russian counterpart "will pay a serious and dear price for it," Biden suggested a potentially measured response calibrated to the depth of the anticipated Russian action.
"I think what you're going to see is that Russia will be held accountable if it invades, and it depends on what it does," Biden said. "It's one thing if it's a minor incursion and we end up having to fight about what to do and not to do."
The comments sparked an instant controversy both at home and in Kyiv, where Secretary of State Antony Blinken had just hours earlier offered underscored U.S. "commitment to Ukraine's territorial integrity, to its sovereignty, to its independence" at a press conference alongside Ukrainian President Volodymyr Zelensky.
White House Press Secretary Jen Psaki quickly issued a statement clarifying the U.S. leader's remarks, stating that "President Biden has been clear with the Russian President: If any Russian military forces move across the Ukrainian border, that's a renewed invasion, and it will be met with a swift, severe, and united response from the United States and our Allies."
"President Biden also knows from long experience that the Russians have an extensive playbook of aggression short of military action, including cyberattacks and paramilitary tactics," Psaki stated. "And he affirmed today that those acts of Russian aggression will be met with a decisive, reciprocal, and united response."
Blinken doubled down on the commitment during a speech delivered Thursday in Berlin, a city that long symbolized Europe's East-West divide.
The mixed messages, however, hint at divisions at the highest level of the U.S. government. The ensuing blowback only serves to fuel what Jeremy Shapiro, research director of the European Council on Foreign Relations, called an "emerging narrative of weakness for the Biden administration," one amplified by Republican opponents stateside but also seized upon by rivals abroad.
"Russia believes that weakness narrative, and not just about Biden, not even primarily about Biden, about the West, about the United States and Europe," Shapiro, who previously served as a State Department adviser on European and Eurasian affairs and later on the North Africa and Levant region, told Newsweek.
And though the Biden officials have fiercely rejected characterizations of the president or his administration as weak, the moment of truth comes at a particularly inopportune time for the White House after it set out a year ago to chart different priorities altogether.
"In the first instance, they wanted [Biden], like every president, at least as they claim, to be a domestic president, and, in the second instance, to the extent that they were going to do foreign policy, they wanted it to be about China," Shapiro said. "So this is clearly a setback on both of those fronts."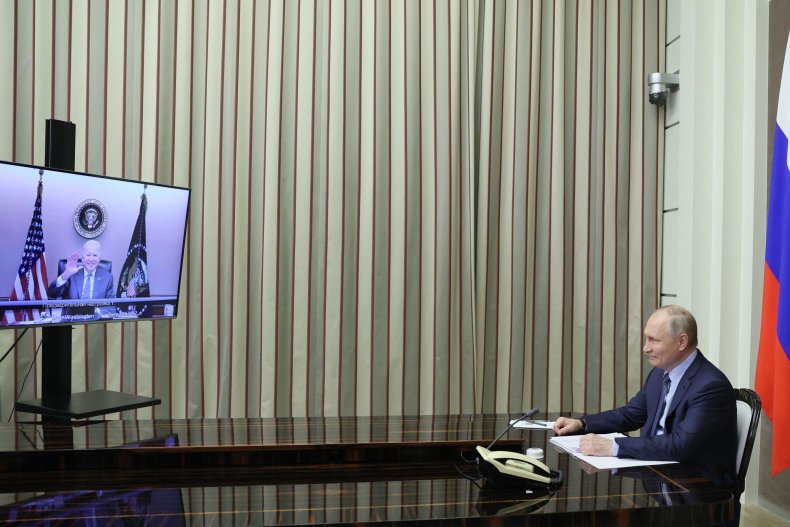 While the U.S. has perpetually balanced domestic and foreign agendas, the sharp uptick in tensions between Russia and Ukraine has manifested just as Biden sought to intensify efforts to implement an ambitious domestic agenda to shore up the economy, suppress the pandemic and, most recently, push forward voting rights legislation — all endeavors with considerable partisan divides requiring the expenditure of substantial political capital.
"I think this is not what the Biden administration would have wanted to be spending time on, but it is an extremely serious crisis, and they're devoting a lot of resources to it now," Samuel Charap, senior political scientist at the RAND Corporation, told Newsweek.
"Events happen in international affairs and often you don't get to determine what the issues are that you're going to prioritize," said Charap, who previously served as a former senior adviser to the State Department's undersecretary for Arms Control and International Security.
And when it comes to the longstanding attempt to shift the focus of foreign policy efforts toward the Asia-Pacific region, where top U.S. competitor China has been increasingly investing economic, political and military capital, a potentially explosive crisis in Eastern Europe has served only as an obstacle the administration sought to quickly overcome.
"I think you can't really change the focus to the Pacific region if a major war in Europe is going on," Charap said. "So in a way, diffusing this crisis, and putting a lot of effort into it upfront, is consistent with the prioritization of the Pacific, because if this war happens, it's going to be very hard to maintain the focus on China."
Should such a conflict erupt, however, the U.S. would most likely be on the sidelines. Biden ruled out military action months ago against a country that possesses the world's largest nuclear arsenal.
"There's never been a U.S. administration that has wanted to go to war with Russia over Ukraine," Charap said.
"The bottom line is we want to avoid escalating every conflict that Russia has with third countries into a Russia-NATO conflict that could end in a nuclear exchange," he added. "There has to be some line here between allies and partners. And that's just the unfortunate reality of international politics."
And in Europe, fear of conflagration is prevalent among NATO members.
"As the Secretary General has said, Russia's continued build-up, combined with threatening rhetoric and disinformation, and Moscow's track record of using force against its neighbours, means there is a real risk of renewed conflict," one NATO official told Newsweek.
The NATO official noted that the 30-state coalition took a united front during last week's meeting between the bloc and a delegation from Moscow "in calling on Russia to cease its malign activities, and abide by its international obligations and commitments," at the same time emphasizing that a political solution would be sought first and foremost with talks scheduled on "military transparency, arms control, and lines of communication."
A State Department spokesperson, however, continued to question "whether Russia is genuinely interested in diplomacy, if they are prepared to negotiate seriously in good faith, or whether they will use discussions as a pretext to claim that diplomacy couldn't address their interests."
And while the State Department spokesperson also said a diplomatic path was preferred, options for a response to perceived aggression from Moscow, which has vowed not to invade but has stated in no uncertain terms its willingness to take action to defend its perceived interests, were relayed to Newsweek.
"The President made clear that if Russia chooses to pursue confrontation, the United States and our NATO Allies will impose significant and severe economic harm on the Russian economy," the State Department spokesperson said. "That includes strong economic measures, additional defensive material to Ukraine – above and beyond what we are already providing – and fortifying our NATO's Eastern flank in response to such an escalation."
"We are preparing for all contingencies, as we have been doing for weeks now, including preparing specific, robust responses to Russian escalation should they be required," the spokesperson added.
Washington has tapped into a familiar toolset in an attempt to deter Moscow, once previously utilized when unrest first took hold of the Russia-Ukraine border amid the former's annexation of the Crimean Peninsula and the outbreak of a separatist Moscow-aligned insurgency, which occurred amid a political uprising that brought to power a pro-NATO government in Kyiv in 2014.
And while the track record of these U.S. measures is mixed, their future is even less certain as Russia seeks to prove its advantage relative to the past.
Evelyn Farkas, who served as deputy assistant secretary of defense for Russia, Ukraine and Eurasia when the instability gripped Ukraine more than eight years, and before that as a senior advisor to the Supreme Allied Commander NATO, told Newsweek that Russian officials have "been deterred so far, but I'm afraid that they are no longer deterred."
"Because at this moment in time, they believe that the West is not united, that the West is weak, first and foremost, the United States," she said, "and they believe that this is their best opportunity, because they believe they are strong relative to where they were in the past and relative to us, relative to where they may be in the future."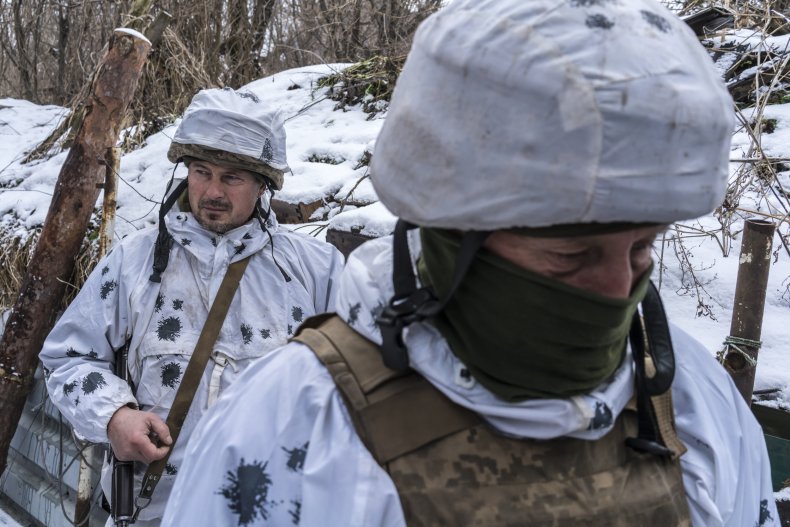 The reality of Russia's military advantage over Ukraine is daunting.
U.S. military advisers have already rotated through Ukraine to help the country's armed forces in the ongoing war with Russia-aligned separatists along the eastern border, and the Pentagon has provided hundreds of millions of dollars of military assistance. Charap was doubtful any more aid would turn the tide or even influence Moscow's decision-making.
"There's nothing that we can do in terms of military assistance that would affect Russia's calculus or the outcome of a conflict," Charap said. "That's just the sad reality."
Any equipment that might make a difference would also require weeks or even months of training, he pointed out.
His colleague, Dara Massicot, RAND Corporation senior researcher and former senior analyst for Russian military capabilities at the Department of Defense, also highlighted that "Russia has an advantage in all warfighting domains compared to Ukraine."
"But that doesn't mean operations there would be cost-free or risk-free to the Russian military," she added.
As such, Massicot highlighted that, for the Kremlin, it was not just about troops and tanks on the border.
"Russia's leaders are pairing a large military build-up with a set of longstanding demands that they claim must be addressed immediately," she said.
Ivan Timofeev, the director of programs at the Russian International Affairs Council, noted that there are "two schools of thought" on the current escalation.
"One school replies that this is a Ukrainian crisis that undermines the Atlantic security," Timofeev told Newsweek. "However, there are other claims that this has been the shortcomings of the Euro-Atlantic security architecture, which made the Ukrainian conflict possible, and Moscow tends to follow the second school of thought,"
In this school of thought, working "on Euro-Atlantic security in general" would then "lead in one way or another to the reconciliation of local problems, including Ukraine," he said.
Though Ukraine sits geographically at the center of the current crisis, the true heart of the ongoing dispute in Moscow's view lies in a quest for written assurances against NATO's further encroachment into the post-Soviet sphere of influence, restrictions against deploying air, land and sea launch platforms near Russia's borders and other asks that constitute a rewriting of a security architecture established three decades ago after the fall of the Soviet Union.
"After the collapse of the USSR, the security situation in Europe deteriorated sharply," Russian ambassador to the U.S. Anatoly Antonov told Newsweek. "Five 'waves' of NATO expansion have brought the Alliance States forces closer to our borders."
He called the dozens of NATO exercises and military developments occurring across from his country's border "unacceptable to us," and warned such activity "is fraught with the deployment of missile systems and other destabilizing weapons that directly threaten our country."
"As a result, the risks of escalation and direct military clashes in the region and beyond will increase manifold," Antonov said. "Everything has its limits. We are, in fact, on the edge of the precipice."
So while the Biden administration aspired to align its foremost interests toward more immediate internal developments in the U.S., Moscow has repeatedly expressed the view that its concerns regarding Eastern Europe's shift to NATO as an urgent, existential threat to Russia itself.
Antonov bluntly illustrated this point.
"As the bloc approaches our border proper, the flight time of NATO air and missile weapons to Moscow, St. Petersburg and other cities in the European part of the country is reduced," he added. "How would the U.S. Government react if Washington, New York or Los Angeles were 'under the bombsight'?"
These remarks, paired with Russian Deputy Foreign Minister Sergey Ryabkov not ruling out the potential for Russian military deployments in friendly countries in Latin America, as well as his comparison of the current standoff to the Cuban Missile Crisis, have evoked the type of Cold War-era risks of one faraway conflict or miscalculation turning into another that could bring about wide-ranging unintended consequences.
Shapiro said such threats of reciprocating NATO's expansion in Eastern Europe by considering military moves in the Western Hemisphere "would be natural, because if they're able to do that, their view is — and they might be right — that the United States will say, 'Who cares about Ukraine? We're going to risk Los Angeles for Ukraine'?"
He noted such considerations were rooted in Washington and Moscow's troubled history, mentioning specifically the city from which Biden's top diplomat spoke on Thursday.
"There was a constant debate during the Cold War about would the United States trade Berlin for New York," Shapiro said. "That was the sort of rationale why the United States deployed forces in Berlin, because the idea was that if a nuclear weapon fell on Berlin, it would kill Americans, and despite all the stuff that they did and despite how important and symbolic Berlin was, it remained a question throughout the whole Cold War, whether the United States would really do that because it's quite a lot to ask a country to do."
"And now we're talking about Kyiv for Los Angeles, and that's actually significantly more difficult to do," he added. "I still don't think any American politician can really claim that the United States is willing to make that trade. It was super difficult in the Cold War. It's 100 times harder now."