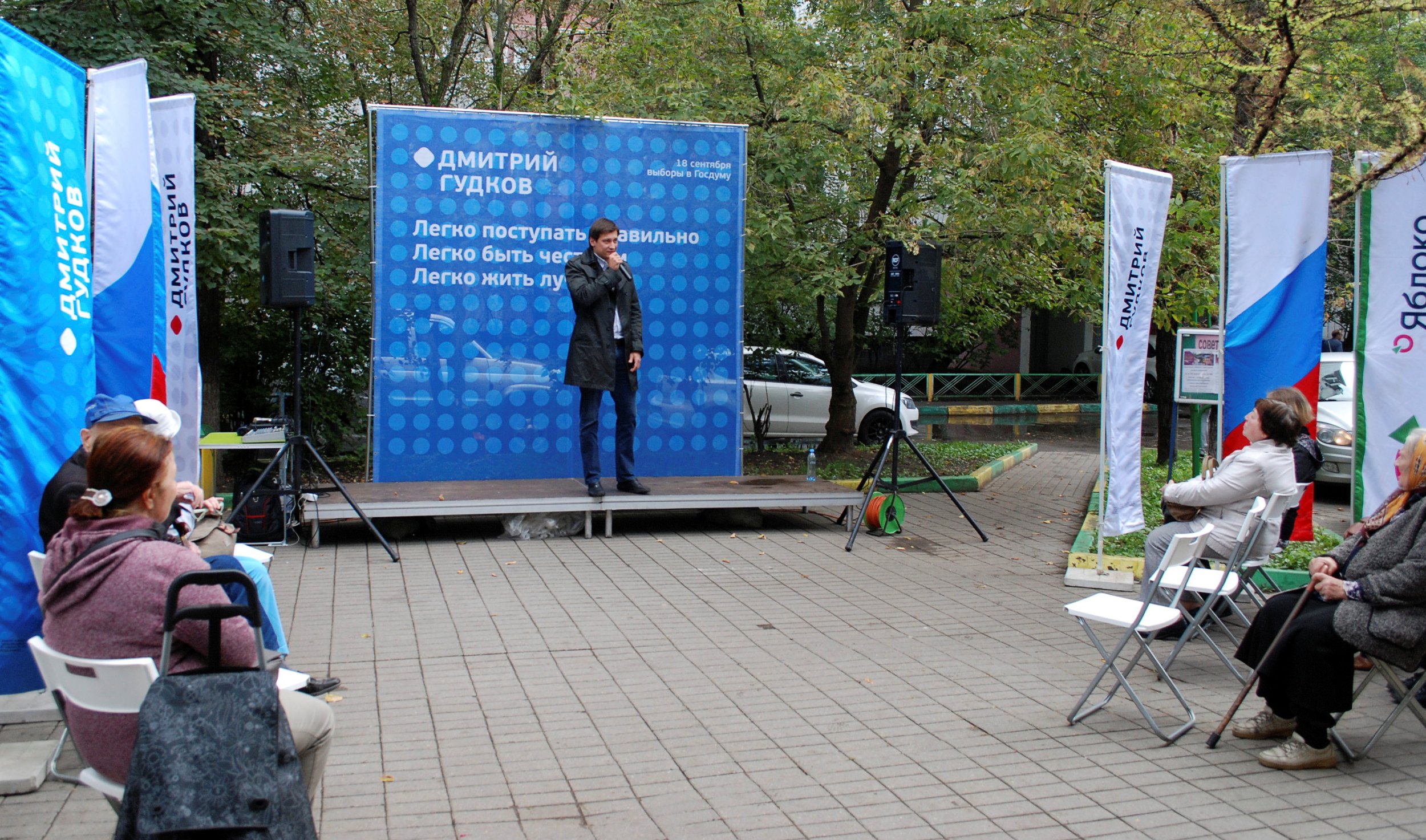 At 36 years old, Dmitry Gudkov has unwittingly become the sole flag bearer of the Russian opposition in parliament.
After a successful stint in Russia's national youth basketball team, he took an interest in politics and was elected alongside his father Gennady as part of the establishment A Just Russia party in 2011. Half a decade later, both Gudkovs have been kicked out of the party after refusing to drop their allegiance to the burgeoning protest movement against Vladimir Putin. While the last five years have seen the Russian government grow more restrictive, purging dissent across the board, Gudkov thinks Sunday's parliamentary election could see genuine critics of the Kremlin finally break into parliament.
"Russian parliament has been working without democratic fraction for 13 years now," Gudkov tells Newsweek plainly. Besides ruling party United Russia, three other parties entered parliament's lower house, the State Duma, last time—the Communist Party, the far-right Liberal Democrats and social democrats A Just Russia. Infamously, very few members of parliament oppose President Vladimir Putin or his United Russia party very strongly.
"The most important reason for what is going on in Russia, for the foreign policy that we have, the violations of human rights and the lack of freedom of the media, originated from 2003—there is no real second opinion in parliament," Gudkov says. "Since those elections we have not had a pro-democracy movement in the Duma. Even without a majority, you need an opposition voice because it makes United Russia answer questions about corruption, spending and foreign policy. Who will ask them now?"
Russia's opposition has felt a sharp push from the centre of political power in Russia since 2011. Gudkov's association with the biggest protest movement of the Putin era that year saw Gudkov ousted from his party, though not his parliamentary seat, while his father, Gennady—also an outspoken liberal—was voted out of the Duma completely. Fellow party member Ilya Ponomarev, who was the only member of the Duma to vote against the annexation of Crimea, was also unseated by a vote of parliament in relation to accusations of fraud, and now lives in exile in California.
It has also become harder for outside critics to get elected. Anti-corruption blogger Alexey Navalny won a third of the vote for Moscow's mayoral election in 2013. He has been convicted of embezzlement since and cannot run for office. The opposition in Russia has also lost one of its main leaders since the last election, as former Deputy Prime Minister Boris Nemtsov was shot dead last year in a case that has led to no convictions.
While in the past the likes of Nemtsov and his fellow party leaders Mikhail Kasyanov and Vladimir Ryzhkov were simply denied from running, Gudkov thinks the government feels safe enough now to allow other candidates. But it may be the lack of a mass protest movement this year that could help a small fraction of Kremlin critics to be elected.
"They will get that majority," Gudkov says, referring to United Russia. "Who will win the most seats is not really the intrigue today. The big difference is that the last time the system was proportional, now it is mixed. United Russia change regulations to get their majority, even if they lose the election."
Putin's third term in power has relied heavily on a change in Russia's election rules, masterminded by Putin in 2013, which means that ruling party United Russia can easily outdo its dropping approval rating, since half the seats are determined by party vote share, while the other half goes to specific individuals. Paradoxically this favors individuals from the most powerful parties, since they are backed by the most resources, but less hampered by unpopular aspects of that party.
"The real intrigue is the possibility that a liberal party can be elected to parliament for the first time in 13 years," Gudkov says, "Yabloko is the real democratic coalition."
Gudkov has aligned himself with the Yabloko movement, alongside Lev Shlosberg, a popular local politician in the city of Pskov, who was also stripped of his council seat last year after compiling a dossier on Russian soldiers coerced by superiors to fight and die in Ukraine.
He is joined by the veteran opposition politician Vladimir Ryzhkov, who was barred from the last election, and the woman who was hailed as Russia's only mayor in opposition, Galina Sherchina, before she was sacked in December for reasons that remain unclear to her.
"They all have high recognition among their voters," Gudkov says. "Also the threshold for entering parliament is now 5 percent, compared to 7 percent, in 2011. I think Yabloko has every chance to win and pass that threshold. Possibly it could even get 10 or 15 percent."
Indeed, according to independent pollster the Levada Center, unsure or reluctant voters make up the second largest vote share in Russia, behind Putin's United Russia. Gudkov's campaign rallies in residential Moscow, which number around five a day he says, are as focused on combating voter apathy as they are on combating United Russia.
He often has to answer questions about why there is a need to vote for a small party or an individual candidate that will clearly not come close to overtaking the powers that be. In one of his recent speeches he compared his role to a man in a crowd of thousands, trying to get their attention.
"When you're one in the crowd, you start yelling and 50 people turn around," Gudkov said. "You can get a megaphone and make 100 people turn and listen. But if you are given the podium, thousands listen. Then they put you on television—millions."
One of the most pressing issues on the agenda for Russia's opposition is a set of controversial amendments to privacy and law enforcement laws.
"We call it the Big Brother law," Gudkov says. "It allows for total surveillance of the people and it is a strange initiative. According to this law all mobile and personal internet conversations between people can be kept for the government to view from 6 months to three years."
"This is unworkable. It will take billions of dollars," Gudkov adds. "Russian business will be destroyed. The second problem is that it is a violation of privacy. How can we protect the storage of such information? This law also allows for children under 16 to be charged and sent to prison."
Gudkov has not been able to do anything but vote against the bill, though he believes Yabloko's success will allow him and others to speak up about in in the Duma building.
"When I was in A Just Russia, the party would chose who to send to address parliament. Even when there was a vote to expel me or Ponomarev, we could not defend ourselves," he says. "If Yabloko passes the threshold to enter parliament as a party, everything is possible.
"If Yabloko wins, it will be a historic moment for them and this democratic movement will change the atmosphere, both in parliament and in Russia."