Putin and Trump's Tense Week: Four Takeaways From Rex Tillerson's Visit to Moscow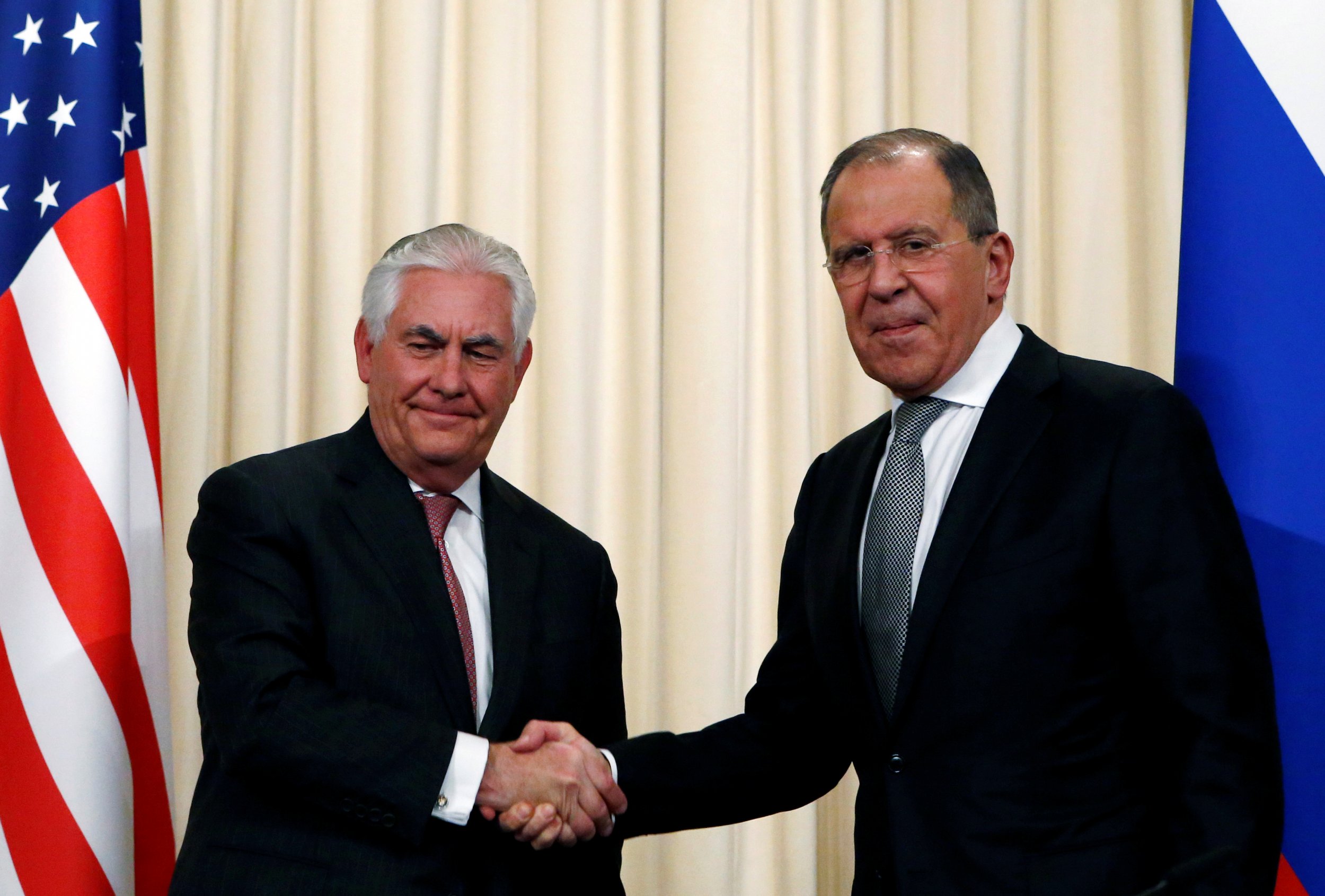 Donald Trump hoped he could "get along with Russia." But four months into his presidency, both Washington and Moscow acknowledge that trust between the two world powers has only eroded further, particularly after the U.S. cruise missile strike April 7 against Russia's ally, Syria.
In the days since, tense talks about Damascus have preoccupied the United Nations, while Trump's Secretary of State Rex Tillerson made his first official visit to Moscow under a cloud of doubt over whether Russian President Vladimir Putin would even meet with him. Here are some takeaways from Tillerson's Moscow debut and the latest twists in an unusually tumultuous week for Russia-U.S. diplomacy.
Tillerson embraces a tough approach
Though he is hardly alone in Team Trump for having had a relationship with the Russian government, Tillerson is the only one to be awarded an order of friendship by the Kremlin. To some, this was an immediate and worrying signal that he would lead a State Department soft on Russia.
But less than four months since his confirmation, Tillerson arrived in Moscow Tuesday with little fanfare from the Kremlin. The day of his arrival, Putin claimed trust had diminished further under Trump.
Tillerson's visit marked the conclusive realization in Moscow that "hopes for a sympathetic U.S. administration that would overlook what Russia does in favor of a coalition to fight ISIS were exaggerated," says Sir Roderic Lyne, former British Ambassador to Russia.
In Moscow, Tillerson made clear that the war in Ukraine, where Russia is backing an anti-government effort and holding the region of Crimea, will remain an "obstacle to improvement in relations between the U.S. and Russia." Tillerson also held the line on retaining sanctions, though referred more generally to the reason behind them as "actions taken in Ukraine."
"I don't think that, just looking at the developments in the of the last two months, the Russians expected that Tillerson would have come bearing bunches of roses," says Lyne.
Putin wants to get out of Syria
The cruise missile strike placed Putin in an uncomfortable position, testing his commitment to Syrian President Bashar al-Assad. The most significant action Moscow undertook was to scrap an air cooperation memorandum, which prevents clashes of Russian jets with U.S. aircraft in Syrian skies. After the meeting, Russian Foreign Minister Sergey Lavrov said Putin was prepared to reinstate the agreement if the U.S. confirmed their priority in Syria was "fighting terrorism."
"I suspect the Russians know they have to renew the memorandum because they have more to lose if there is a problem in Syrian airspace," says John Herbst, former U.S. ambassador to Ukraine. "My best guess is they didn't get what they wanted from Tillerson, which was assurance that the U.S. would not undertake further such strikes. They used this meeting an excuse to reverse a decision that was self-inflicted and hindered them."
Read more: Could Russia have stopped the U.S. strike in Syria?
According to Lyne, Russia has been looking for a way to disentangle from Syria for some time. Putin already announced what was meant to be a mass pull back in March 2016, before then deploying more forces, including Russia's air carrier. Moscow's attempt to form an alternate peace process with Iran and Turkey has also stalled, with March's session lacking anti-Assad rebels in attendance and no outcome but the date for the next meeting set.
Now, analysts say Moscow is looking for a strategy that does not look like a retreat. But to present any exit as a success, Putin will need to negotiate with the United States.
"I think Russia is on the back foot now and we must never forget that the economic base for Putin at home is very weak," Lyne says. "Logically and rationally, they ought to be looking to step back from Syria but without some public humiliation. The Syria operation is not a vote winner in Russia."
"Ultimately negotiations will only get somewhere if Putin does the math and comes to the conclusion that he really needs to deal with the U.S," Lyne adds.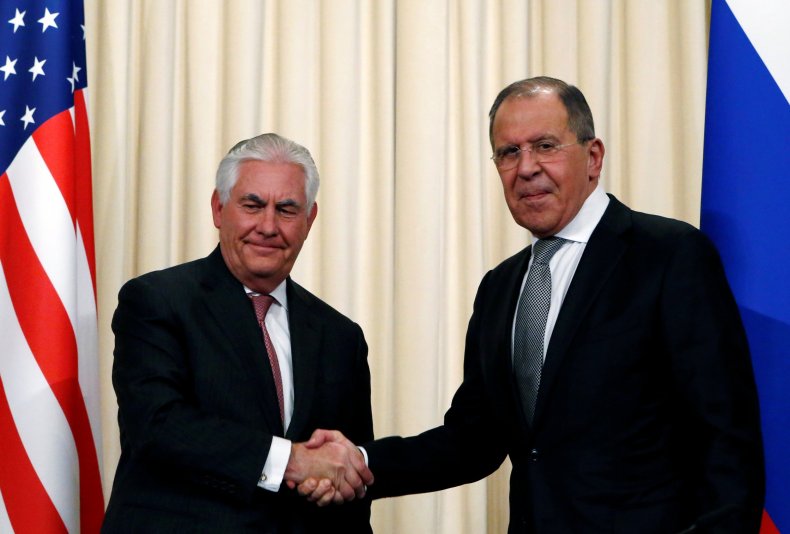 Tillerson is growing into his State Department role
Tillerson, a former Exxon Mobil CEO, has proved himself more than adequate at diplomacy during the discussion with Russian officials. When asked to characterize the "aggressive statements" from the White House vis-a-vis Assad, calling him "an animal" and comparing him to Adolf Hitler, Tillerson was cogent and calm.
"I think the characterization is one that President Assad has brought upon himself," Tillerson said, alluding to the "horrific ways" in which the Syrian regime kills civilians.
When asked if Assad could face war crimes charges, Tillerson was equally critical of the leader but hinted at an incentive for the Syrian president to leave power sooner rather than later. "I think the longer time goes by it is possible that the case will be made," Tillerson said.
"Tillerson didn't put a foot wrong from anything that was said before the visit," Lyne says. "He has a reputation from Exxon Mobil of being tough and well informed. That he negotiates in a hard headed way. He seems to be learning his trade."
China isn't backing Russia
China has not extended much support for Russia over the U.S. strike on Syria. Following Tillerson, Lavrov and Putin's meeting, the U.N. Security Council held a vote Wednesday on condemning the Assad government's alleged chemical attack. For the eighth time, Russia used its veto power to block the resolution.
But China abstained, after a week in which the country's leader, Xi Jinping, discussed the strike with Trump over chocolate cake in Florida. The meeting went so well that Trump moved away from claims that China is a currency manipulator, which he made during his campaign. Xi gave few signs that he would turn away from Trump's dining table in favor of a Beijing-Moscow partnership, which Russia has tried to promote in recent years.
"When you see Trump cozying up with Xi, the week of this strike, that is bound to make Russia nervous," Lyne says. "China, in principle shares Russia's position, but only in principle. China is handling Trump more successfully at the moment and that is not good news for the Kremlin's ambitions of rallying with the U.S. in Syria and working toward the end of sanctions."
The Kremlin refused to comment on China's vote in the Security Council.