Putin Branded a Narcissist in Leaked FSB Letters
A whistleblower within Russia's Federal Security Service (FSB) branded Russian President Vladimir Putin a narcissist in an email shared with Newsweek.
The email, dated March 5, paints a picture of how the Russian leader is viewed by some at the FSB. It is the second dispatch sent by the agent, dubbed the Wind of Change, to Vladimir Osechkin, a Russian human rights activist who runs the anti-corruption website Gulagu.net, and is now exiled in France.
The FSB agent writes regular dispatches to Osechkin, revealing the anger and discontent inside the service over the war that began when Putin ordered the invasion of Ukraine on February 24.
Igor Sushko, the executive director of the Wind of Change Research Group, a Washington-based non-profit organization, has been translating the correspondence from Russian to English since it began. He has shared all the emails in full with Newsweek.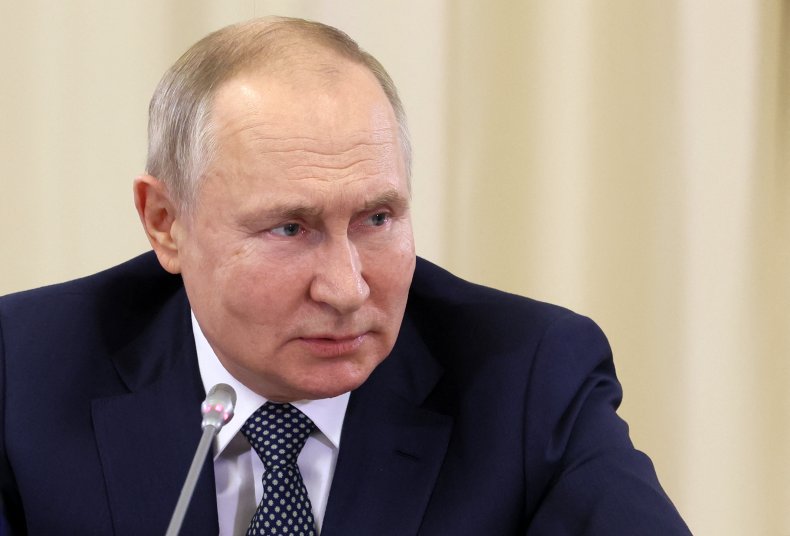 The whistleblower's first letter, written on March 4, was analyzed by Christo Grozev, an expert on the FSB. He said on March 6 that he had shown it "to two actual (current or former) FSB contacts" who had "no doubt it was written by a colleague."
"Here's the picture with regards to Putin & FSB," the Wind of Change began in the March 5 email. "On the one hand, he is supported and respected, but if you slightly dig deeper, it's a collective feeling for the image, thanks to which [the] FSB has the power that it really has."
There is "one unforgettable rule" in the FSB, the agent wrote.
"To most, this rule even appears rather natural and is taken for granted—to criticize Putin's image is to betray your own interests."
The Wind of Change said that although they do not personally have contact with the Russian leader, if they were to assess him as a potential FSB recruit, and create a "situational profile" they would make four key observations.
'Narcissistic'
"We have the following as fact...Narcissistic disorders, possibly due to childhood complexes, as methods of overcoming them," the whistleblower wrote.
Putin has been labeled a narcissist on multiple occasions. The late Zbigniew Brzezinski, Jimmy Carter's national security adviser, accused the Russian leader of "narcissistic megalomania," while Iran's former president Mahmoud Ahmadinejad called Putin a "tyrannical narcissist." The Financial Times has referred to the Sochi Olympics as "Putin's narcissistic self-tribute."
'Cross Dominance'
The Wind of Change continued by saying that Putin's "rejection of family life" would also be included in a hypothetical FSB recruitment profile.
"No information about his parents, secrecy around his children and his own personal life. This requires psychological compensatory mechanisms in search of close relationships," they wrote.
The agent suggested that such psychotypes are "prone to 'cross dominance' in relationships."
Thirdly, the Russian leader "tries to surround himself with the type of people whom he respected/feared in his childhood psychotype, over whom he now has power."
The FSB whistleblower suggested that Putin also has the "strongest psychological resistance of personal responsibility for difficult decisions."
"It is a result of the 1) 'Narcissistic disorders' above, but in turn, this also leads to a mechanism for denying his own guilt responsibility even to himself," they continued.
"We can say the following with near absolute certainty: Putin is psychologically incapable of refusing with justification, an offer from his closest circle. But this also leads to the conclusion that he does not guarantee anything to anyone by saying 'yes,' because to guarantee is to take responsibility."
According to the agent, if a member of Putin's "closest circle" makes an offer, he will agree, "delegating the control/responsibility to the person making the offer."
They added: "Psychologically, he will not have any contradictions with 'agreement' to mutually exclusive proposals—'you yourself are to blame if you failed.'"
Newsweek has contacted Russia's foreign ministry for comment.
Do you have a tip on a world news story that Newsweek should be covering? Do you have a question about the Russia-Ukraine war? Let us know via worldnews@newsweek.com.