Putin Losing Ukraine Amid Reports of Russians Sabotaging Own Tanks
The war in Ukraine is unfolding in ways Russian President Vladimir Putin may have not anticipated—not only with the growing resistance of the Ukrainian people but now also with reports that his troops are sabotaging Russian equipment.
On Friday, the Armed Forces of Ukraine said it had reclaimed five areas in the Kharkiv region—Oleksandrivka, Fedorivka, Ukrainka, Shestakovo, and Peremoha—in addition to part of the Cherkaski Tyshky village.
A day earlier, Jeremy Fleming, who heads Britain's GCHQ, the U.K.'s intelligence, cyber, and security agency, said that Russian soldiers sabotaged their equipment and shot down one of their aircraft as part of their refusals to take orders from the Kremlin.
Fleming told the Washington Post that Putin had not calculated either of these outcomes when he decided to invade Ukraine more than two months ago.
"It's clear he misjudged the resistance of the Ukrainian people," he said. "He underestimated the strength of the coalition his actions would galvanize. He underplayed the economic consequences of the sanctions regime. He overestimated the abilities of his military to secure a rapid victory."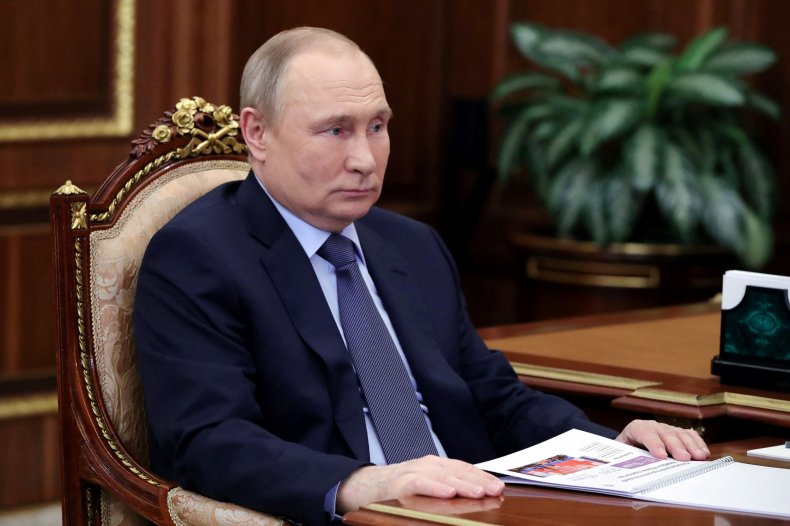 With additional weaponry from the West, Ukraine went on the offensive Friday as soldiers attempted to drive Russian forces back in the northeastern part of the country. The U.S. alone has sent $3.4 billion worth of military equipment to Ukraine.
"There are fierce battles going on, as well as the transition from defensive operations to offensive actions in the Kharkiv and Izium areas," Valeriy Zaluzhnyi, Ukraine's commander in chief, told U.S. General Mark Milley on Thursday.
Putin is expected to ramp up the assaults on Ukraine this weekend as he looks for a path to declare a win on Monday when Russia celebrates Victory Day, the country's annual holiday marking the Soviet defeat of Nazi Germany.
Some have speculated that the Russian president may formally declare war on the holiday. Thus far, Putin has refrained from calling it a "war" and rather insisted that his troops are carrying out a "special military operation."
President Joe Biden and other G7 leaders are scheduled to meet with Ukrainian Prime Minister Volodymyr Zelensky virtually ahead of Victory Day in a show of unity and to help bolster Ukraine's position at the negotiating table.
"While [Putin] expected to be marching through the streets of Kyiv, that certainly is not going to happen," White House Press Secretary Jen Psaki told reporters on Friday.
She added that because Putin has not taken over in Ukraine as planned, Ukraine has "already won in many ways."
Newsweek reached out to the Russian government for comment.