'Putin Loves Children and People in General': Russian President Gets New TV Show
Russian President Vladimir Putin has been dedicated his own television show on the country's state-run television channel, a move that comes during a controversial pension reform and a lull in the longtime leader's ratings.
The first episode of "Moscow. Kremlin. Putin." aired Sunday on the Rossiya-1 television station, showcasing the Russian president's activities in the past week. Scenes showed Putin hard at work in strings of meetings and also kicking back with Russian Defense Minister Sergei Shoigu while on vacation in Siberia. The hour-long show included a discussion with Kremlin spokesperson Dmitry Peskov, who was eager to highlight Putin's empathy and affection for the youth as well as the rest of the population.
"Putin doesn't only love children, he loves people in general," Peskov told host Vladimir Soloviev, according to The Moscow Times. "He's a very human person."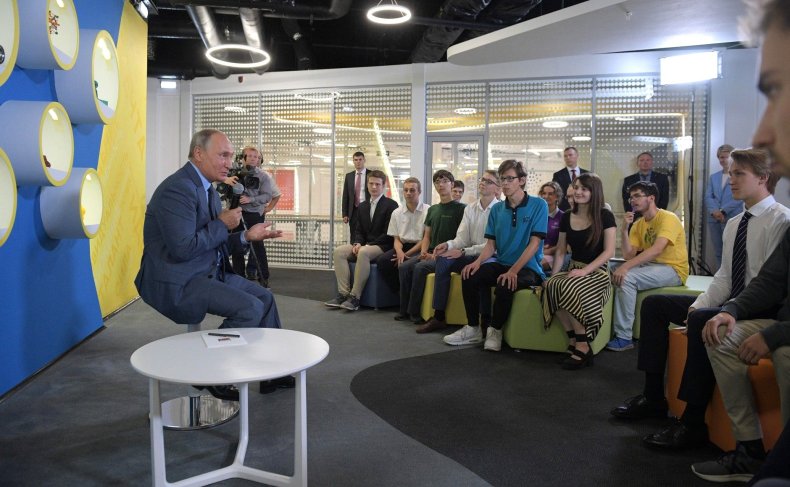 A day prior to the episode airing, Putin visited the winners of international student competitions and teachers at the Sirius educational center in the Black Sea city of Sochi. When asked if he ever dreamed of being president as a child, the 65-year-old former spy first jokingly told his audience that "of course" he did and that "slept and saw it," before saying that, in reality, he did not and questioned if that would be possible.
"I cannot say that I had a tumultuous childhood, but mostly it was a streetwise childhood with a lot of free time," Putin said, according to the state-run Tass Russian News Agency. The Judo black belt highlighted the role that his friends and teammates played throughout his youth, saying that "this is of great importance."
Putin's latest issues have come not from the youth, however, but those looking forward to retiring. While normally a relatively popular figure at home, the Russian president has faced mounting criticism over the government has attempted to push forward for the country's pension system. The plan was to raise the male retirement age from 60 to 65 in the coming decade for a country where the average life expectancy for men is 65.3. The female retirement age was set to increase from 55 to 63 and the average life expectancy for women is 77, for comparison.
The announcement was made during the World Cup fervor in July, at a time when Putin's popularity level had already dropped from 79 to a five-year low of 72 percent. As the unpopular plan's opponents multiplied and became increasingly vocal, Putin softened the deal in a broadcast Wednesday in which he vowed the deal would be revised ahead of the September 24 deadline, saying: "As far as the current authorities are concerned, the easiest and simplest thing for it today is to change nothing."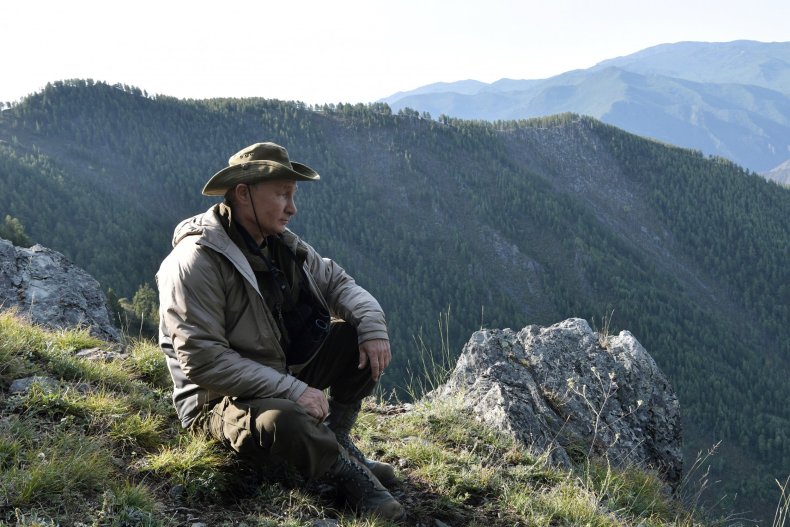 He warned, however, that some sort of reform was necessary and "the later we leave it, the harsher these decisions must be, lacking any sort of transition period." He especially discussed softening the new provisions for women in the speech, which Peskov said that Putin wrote himself, despite his busy agenda.
"The president has a flexible schedule, and he immediately reacts to changing circumstances, be it foreign or interior affairs," Peskov told Rossiya-1, according to Tass. "For example, his decision to address the nation concerning the pensions issue - he made the decision instantly, he announced it, and literally the next day we were recording it. He also worked on the text by himself, was making corrections until the last moment, and read it himself."
Putin's popularity also declined in the West, where leaders have accused Russia of meddling in foreign affairs, pursuing destabilizing policies and suppressing political opponents. Some of these moves, such as the 2014 annexation of Crimea amid political unrest in neighboring Ukraine, have been overwhelmingly well-received at home, however, as has his willingness to confront the U.S. on major world issues while still seeking good ties in Washington, especially with President Donald Trump.