Putin Has Made Gains From The Turmoil He Has Caused Trump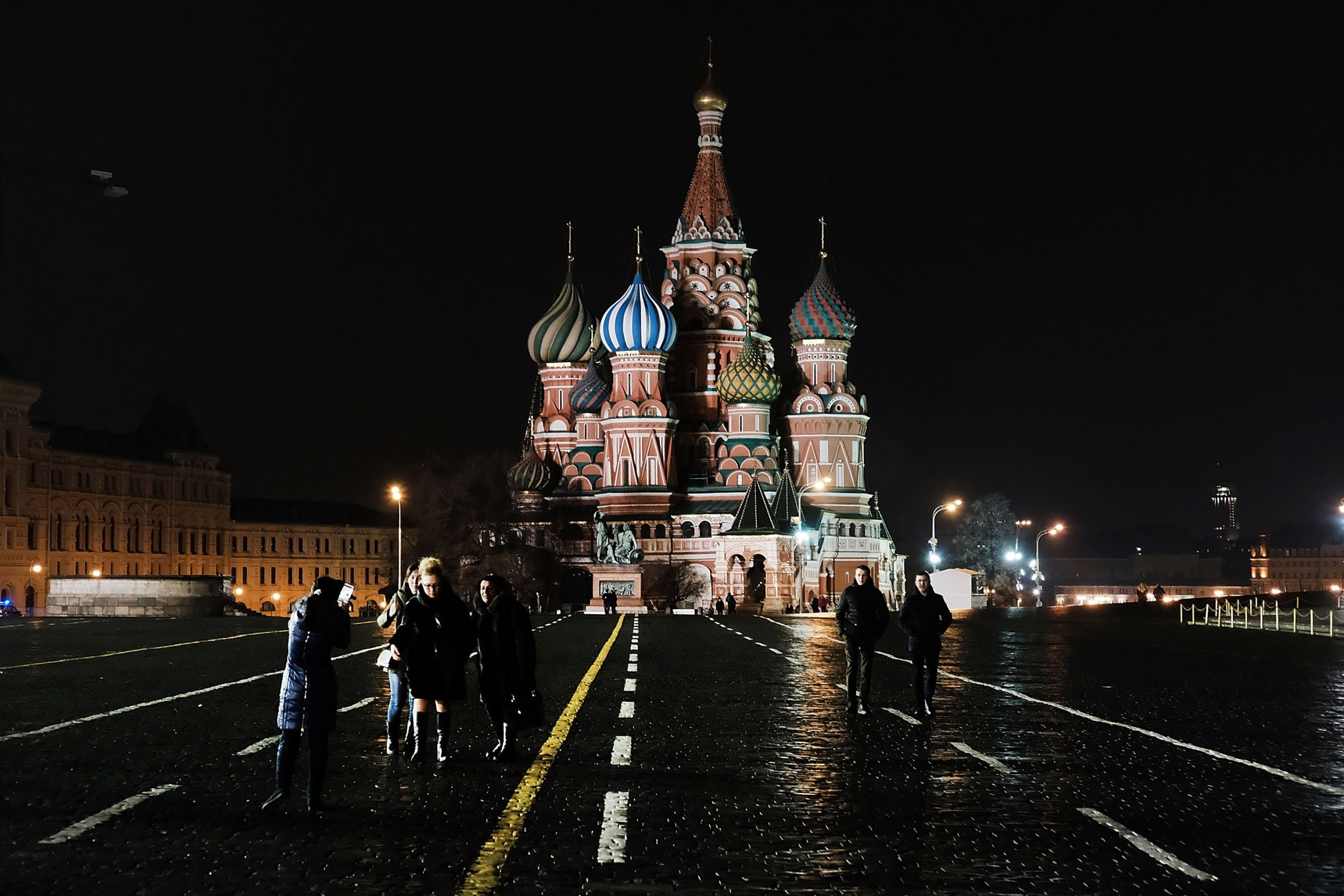 This article first appeared on the Wilson Center site.
They have already been seen together on most major news magazines' covers but have never met. Der Spiegel's latest issue features a creepy image that combines Russia's President Vladimir Putin's face with the U.S. President Donald Trump's hair and eyebrows. "How Much Putin Is in Trump?" the cover asks.
Germany's liberal media—that is, most of the German media—have been horror-stricken by Trump's electoral win and his subsequent policy moves. "Authoritarians in Moscow and Washington" is a common way for German columnists to address the two capitals' politics.
The German business newspaper Handelsblatt called 2016 the "Year of Autocrats" and adorned its cover with portraits of Trump, Putin and the Turkish president, Recep Tayyip Erdogan. The images were partly superimposed on one another in a way reminiscent of how the Soviet propaganda used to depict Karl Marx, Friedrich Engels and Vladimir Lenin.
It is by now a journalistic cliché to pair Trump and Putin. That will soon fade. In fact, it is already happening as Washington's scandal du jour seems to be "President Obama wiretapping Trump," not "Trump being a Russian plant." Washington rushes to forget Russia as a bad dream.
Another cliché is the grand bargain that has supposedly been in the works between Washington and Moscow. No parameters of such a deal have ever been announced or discussed publicly.
Trump probably put his toe in the water when he suggested, back in January, that while Russia wanted the U.S. to lift its sanctions, the U.S. wanted Russia to cut its nuclear arms.
"They have sanctions on Russia—let's see if we can make some good deals with Russia," Trump told the British newspaper The Times. "For one thing, I think nuclear weapons should be way down and reduced very substantially, that's part of it. But Russia's hurting very badly right now because of sanctions, but I think something can happen that a lot of people are gonna benefit."
Related: Will Trump Outsmart Putin? Or Will Putin Outsmart Trump?
That trial balloon betrayed a player who was convinced that the other side was desperate for a deal. This thinking could have been the reason Trump decided to connect as transitory a phenomenon as administrative sanctions with as strategic a matter as nuclear arms cuts. Sanctions come and go while nuclear weapons constitute a core of the strategic balance that exists between the world's two principal nuclear powers.
Today's Kremlin does not strike one as a party desperate for a deal. The sanctions, especially the U.S. ones, have been responsible for only a fraction of the overall decline in Russia's economy since 2014. Most of the long-term effect should be ascribed to the Russian government's failure or unwillingness to reform the country's economy and open it up for investment.
Volatile commodity prices are of course also a major factor, a much larger one than any sanctions. Oil prices tumbled on March 10, and the ruble, one of the world's most oil-sensitive currencies, immediately weakened against the U.S. dollar.
Russian state-run media have been mostly approving of Donald Trump, but nothing in Moscow-approved coverage suggests the kind of special relationship that seems so obvious to many Europeans. Russian pro-Kremlin commentators—that is, most of the Russian commentators—have been cautious about raising hopes for a major deal with Washington.
There has been a lot of talk in Russia in recent weeks about an insurmountable rift that exists between Trump and the rest of the American policy establishment, including most of his officials who have anything to do with foreign policy.
"All the American elites are against Trump. Either he will beat them down or they will bury him. Even an impeachment is not unthinkable. It won't be an easy ride for us even if Trump were a sweety. And they won't allow him to be a sweety [to us]," Sergey Karaganov, chairman emeritus of the Council on Foreign and Defense Policy, a moderately pro-Kremlin think tank, said earlier this year on a radio talk show.
Just to recall what a "sweety" might have meant: Margarita Simonyan, editor in chief of RT, Russia's government-owned television channel that broadcasts in foreign languages and is considered by many to be Russia's preeminent propaganda tool, welcomed the Trump win on election night and immediately suggested that she would retire as soon as "Trump recognizes Crimea as part of Russia, strikes a deal with us on Syria and frees Julian Assange."
It is clear by now that Simonyan, 35, has a long career in front of her. The statements by Secretary of State Rex Tillerson, Secretary of Defense James Mattis and the U.S. ambassador to the U.N., Nikki Haley, have shown that the official U.S. positions on all of the issues brought up by Simonyan have not shifted an inch since the new administration took power. It is not lost on the Kremlin that all of the new administration's "Russia hawks" were handpicked by Trump himself.
There is less and less talk of an imminent U.S.-Russia summit ahead of the G20 meeting this coming July in Hamburg, Germany. There seems to be less and less talk of any major deal.
Somehow a grand bargain of sorts has already happened, all by itself. Russia is no longer isolated; it is talking to the rest of the world from a position of strength; it is busy building independent relationships with U.S. allies, including many European countries and Turkey. Most of its present freedom to act Russia has taken without asking for U.S. permission.
The U.S. media have portrayed Putin as an all-powerful player who can tip the balance of a U.S. election. "[The U.S.] has more recently continued [to build up Putin's power ] by advertising Russia's hacking and propaganda prowess. As a result, Putin is punching well above Russia's economic weight, and many Americans are happy to let Trump legitimize it," the journalist Leonid Bershidsky wrote recently in an astute comment.
Trump, just by saying, "You think our country is so innocent?" when interviewed by Fox's Bill O'Reilly, has established a moral equivalence between Russia's actions in Ukraine or Syria and U.S. actions throughout the world. Allegations of Russia's meddling in the U.S. elections are being muted by a scandal closer to home, one that Trump alleges involves the previous administration. Trump keeps feuding with his own intelligence agencies (just imagine Putin feuding with the [Russian Federal Security Service] FSB!).
Washington may soon lose all interest in any special relationship with Russia. The same seems to be true for Moscow. What bargains can possibly do more to further Russia's strategic interests than what has already been done?
Maxim Trudolyubov is a senior fellow at the Wilson Center's Kennan Institute and editor-at-large of Vedomosti, an independent Russian daily. The opinions expressed here are solely those of the author.