Putin May Soon Be Declared War Criminal By Ukrainian Government Resolution
Lawmakers in Ukraine have drafted a resolution that labels Russian President Vladimir Putin a war criminal following Russia's invasion that began in February.
The resolution was first reported by Radio Free Europe and states that its goal is "to publicly confirm the crimes committed by the President of the Russian Federation, Vladimir Putin, against mankind's security and international law, and call on international institutions to investigate mentioned illegal acts and bringing Putin to account."
It also says Putin is responsible for actions "in which millions of Ukrainians suffered damage to their health, in many cases death, lost movable and immovable property, and were forced to abandon their homes."
Newsweek reached out to the Russian Foreign Ministry for comment.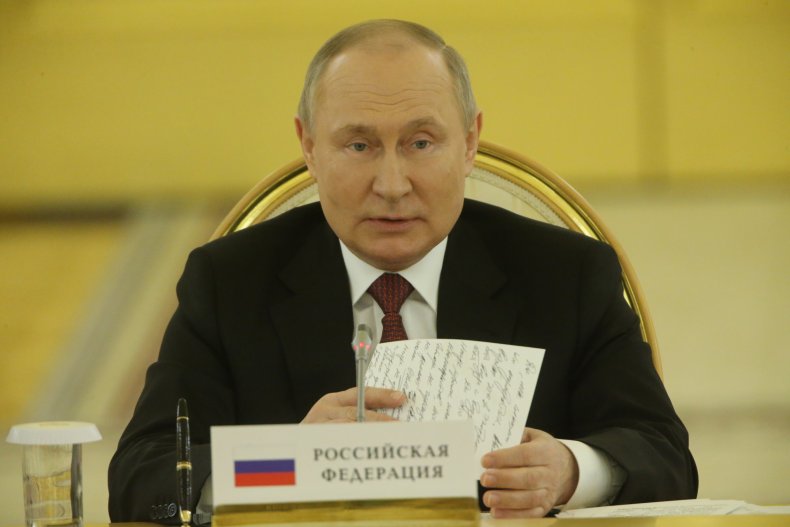 The resolution comes as Ukrainian prosecutors are conducting their first war crimes trial since Russia's invasion began. The soldier who is on trial has been accused of killing a Ukrainian civilian.
On Thursday, the soldier, who pleaded guilty, asked the man's widow for forgiveness. According to Ukrainian Prosecutor General Iryna Venediktova, Vadim Shishimarin shot the man in the head with a Kalashnikov rifle from a car window.
Radio Free Europe reported that Ukraine has identified more than 10,000 possible war crimes committed by Russia.
In March, U.S. President Joe Biden called Putin a "war criminal" following Russia's invasion. Kremlin spokesman Dmitry Peskov said at the time that Biden's comment was "unacceptable."
"We consider unacceptable and unforgivable such rhetoric of the head of state, whose bombs killed hundreds of thousands of people around the world," Peskov said.
Earlier this month, Ukrainian officials said a Russian strike that destroyed a school in Ukraine's Luhansk region was a "war crime." Also this month, Amnesty International released a report accusing Russia of committing war crimes including unlawful airstrikes and the killing of civilians.
World leaders have criticized Putin amid the Russian invasion.
On Sunday, former British Prime Minister Tony Blair said that the Russian president is "detached from reality." He added that Putin is "surrounded by people who won't tell him the truth" and that the decision to invade Ukraine was "an incredible miscalculation."
Tobias Lindner, a minister of state at the German Foreign Office, told Newsweek last weekend that Putin is "very alone" and that he seems to care only about his place and Russia's place in history.
"Russia will remain that Russia under Putin, at least for how long he is in power," Lindner added. "And there's no going back to the status quo ante even if this war might end....I believe that at least a majority of the people have understood that we mustn't be naive again when it comes to Russia."