What Did Putin Want From Trump And What Did He Actually Get?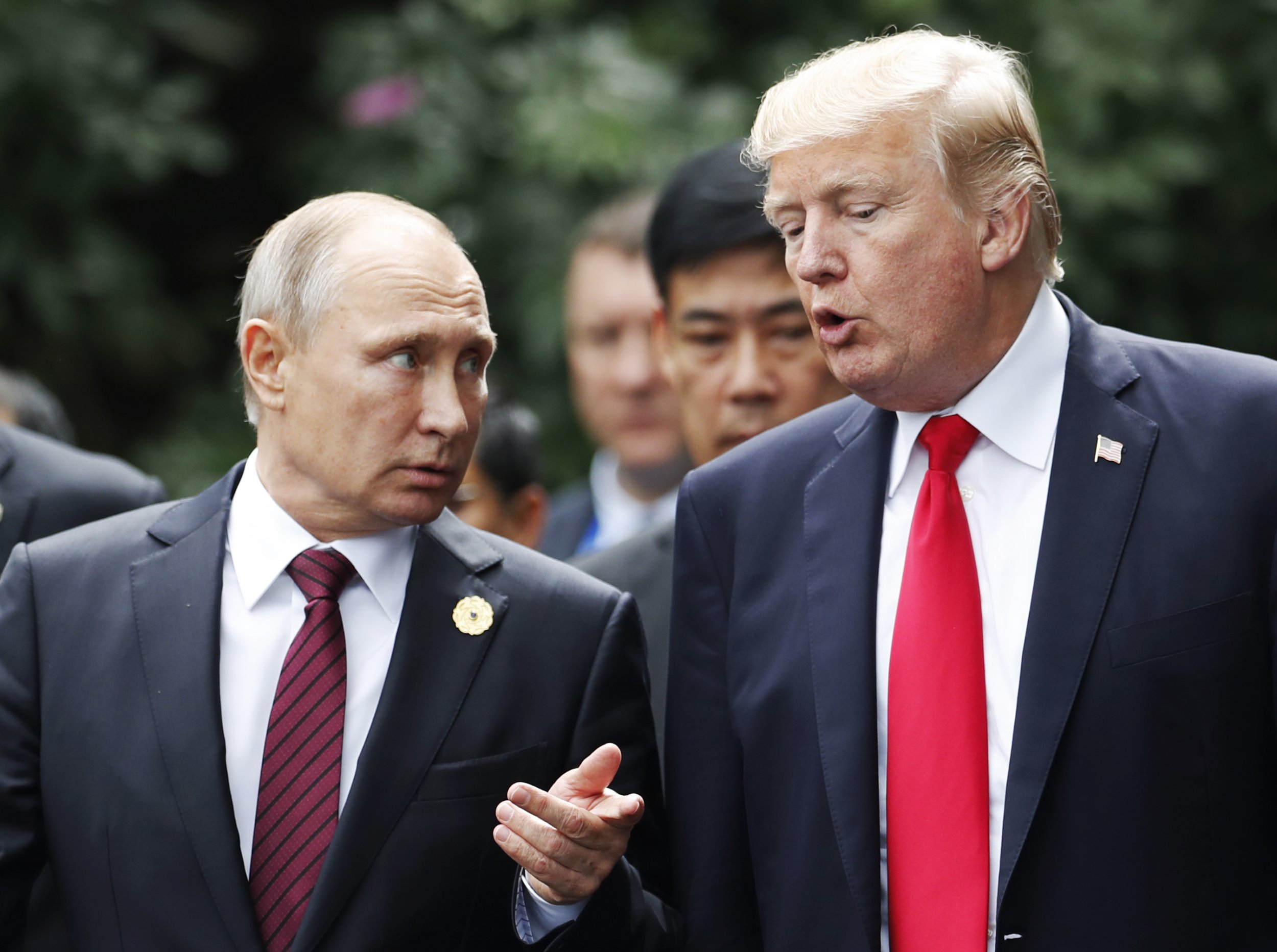 Vladimir Putin tried to help Donald Trump get elected, U.S. intelligence officials have long insisted. But the Trump presidency has become a case of "be careful what you wish for" for the Russian strongman.
Putin clearly believed that, as president, Trump would change U.S.-Russia relations and help Putin check off all the boxes on his wish list. Champagne corks were literally popping in Moscow when Trump won. But most of Putin's boxes remain unfilled.
Candidate Trump refused to criticize Putin, but President Trump hasn't done the would-be czar's bidding.
"The climate is so toxic for the Russians, it has led to the exact opposite of what they would have wanted to see," Alina Polyakova, a Russia expert at the Brookings Institution, told Newsweek.
Or, as Putin's spokesman Dmitry Peskov put it late last year, "Washington's position towards our country cannot fail to give rise to disappointment."
So a year after Trump was sworn in, it's worth asking what Putin actually got:
Sanctions Relief
Russia is running out of money and struggling to make its economy work, with low oil prices and export limits tied to its annexation of Crimea in 2014. That's why the elimination of sanctions is so critical to Russia.
The issue injected itself early into the Trump campaign, with the infamous Trump Tower meeting organized by Donald Trump Jr. that focused on sanctions. The issue also came up after Trump's election, when incoming national security adviser Michael Flynn discussed easing sanctions with then-Russian ambassador Sergey Kislyak.
Flynn's actions and the Trump Tower meeting remain a focus of Robert Mueller's Russia investigation, just as getting rid of sanctions remains a key point for Russia's oligarchs, who give Putin most of his political power.
"The personal sanctions that targeted people in Putin's inner circle were of most concern to members of the Russian elite," said Jeffrey Mankoff, a senior fellow at the Center for Strategic and International Studies. "There was some hope that with a Trump administration there'd be a willingness to find some kind of a deal that would allow for a walking back of some of those sanctions."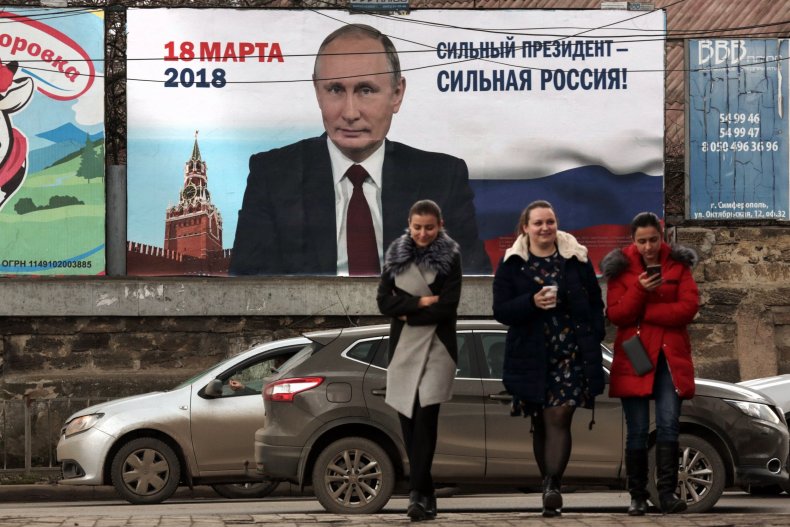 Under Trump, sanctions have gotten only worse. Congress almost unanimously passed new ones, by 98-2 in the Senate and 419-3 in the House—an overwhelming majority that forced Trump to grudgingly sign the legislation in August.
Those votes came after mounting evidence that Russia interfered in the U.S. presidential election—a possibility that so enraged lawmakers from both parties that there was little chance sanctions would be lifted.
"This dashed any hopes in the Kremlin of getting back to business as usual with the United States," said Jeffrey Edmonds, former director of Russia policy on the National Security Council under President Barack Obama. "It fortified the belief among Russia's elite, and its population for that matter, that there is a large contingent within the U.S. government that is anti-Russian and Trump doesn't have the power to overcome it."
Weapons to Ukraine
Trump has made one shift that went directly against Russian wishes, moving forward with providing weapons to Ukraine's military in December—a change from Obama, who was concerned that arming Ukraine's military against Russian-backed rebels could start a direct conflict with Russia.
"There were all these fears in the Obama administration: You can't provoke the Russians because if we give lethal weapons to Ukraine, that means war with Russia," said Polyakova, who is the author of The Dark Side of European Integration. "That was the logic, and the logic has been proven now to be false."
Hillary Clinton had signaled she would arm Ukraine if elected president. Trump did not support such a move, and his team helped strip any mention of sending weapons from the GOP platform. That decision has been of particular interest to congressional investigators, though Trump reversed it once he took office,
Weakening NATO
Another critical goal for Putin is the breaking apart of the NATO alliance, a combined military force that Trump seemed to seriously question during the campaign.
"NATO is costing us a fortune, and yes, we're protecting Europe with NATO but we're spending a lot of money," Trump told The Washington Post during the campaign. "We certainly can't afford to do this anymore."
In addition, Trump has been hesitant while in office to back the NATO charter's collective defense pledge, which says an attack on one member is an attack on all. He even pulled it from a speech during a NATO meeting.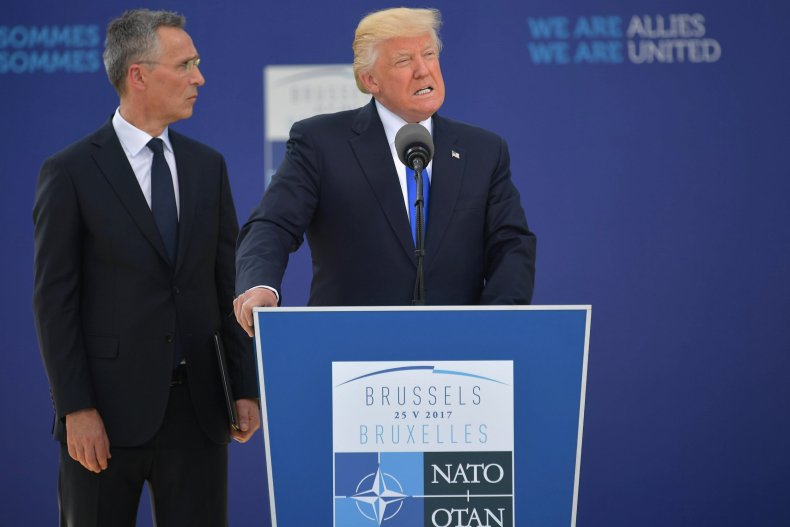 Yet eventually he had to reaffirm the U.S. commitment, and his wavering helped continue pressure from past administrations to increase military spending by its NATO allies. The net effect is that the NATO militaries are actually stronger than they were, with the U.S. still committed to helping its allies and a number of countries move into a better position to defend themselves.
Sowing Chaos
Putin's meddling did give him a different power: fear. His moves have meant that Russia has become a virtual bogeyman, viewed as the unseen mover behind almost anything.
"All of a sudden, they've become the people who decide elections in the United States and throughout the Western world, and are stirring the pot and making decisions everywhere," said Thomas Graham, former Russia director on the National Security Council under President George W. Bush. "I think they're bemused by it more than anything else, because historically Putin is well aware of what their vulnerabilities are."
That strength has returned Russia to the world stage after being sidelined for years after the Cold War and the fall of the Soviet Union.
It has also created enormous political unrest in the United States, with Trump being viewed as an illegitimate president on the left because of the help he got from Putin, even as GOP members of Congress order up investigations of whether the FBI was biased in favor of Clinton.
"The reason to interfere in our election is to sow a little bit of chaos, to undermine confidence in our election and to create some doubts, and in that regard there has probably been a fair amount of success," said Steve Pifer, former U.S. ambassador to Ukraine and a nonresident fellow at Brookings.
It may have started because Putin wanted to hand Clinton a chaotic presidency, as he harbors a personal hatred for the former secretary of state that is tied to his belief that she spurred unrest in Russia in 2011. He also didn't think Trump could win.
"They were shocked and still don't really know what to do with it," Polyakova said.
Even if Clinton had won, the concern about the integrity of the election, spurred on by Trump's statements about the vote being "rigged" during the campaign, would have unsettled Americans.
"The ultimate goal is to destabilize politics from within, to make countries incapable of reaching consensus and decisions, which of course makes them less of a threat to Russia's interests, in Russia's view," Polyakova said.
The continued partisan divide over the Russia investigations might prove that while Putin may not have gotten everything on his wish list, he didn't come away empty-handed.