Putin Meets UFC Champ Nurmagomedov, Says There'll Be 'Hell to Pay' If Russia Is Attacked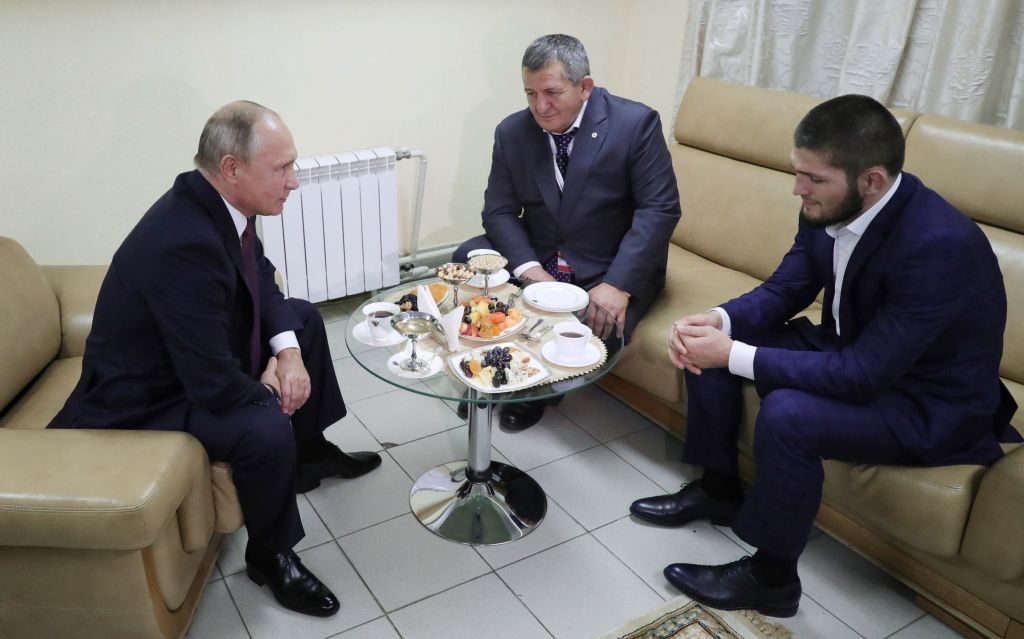 Russia's President Vladimir Putin on Wednesday met with and congratulated Ultimate Fighting Championship lightweight fighter Khabib Nurmagomedov on his weekend win over Conor McGregor, despite the victory having been overshadowed by a post-fight brawl.
Putin specifically advised Nurmagomedov's father "not to punish him too severely" for the brawl, a subtle reference to the fighter's previous comments to the press. Nurmagomedov, who hails from Russia's Republic of Dagestan, told reporters: "I know my father going to smash me" after the brawl on Saturday.
"You accomplished the main goal: You won the fight, with confidence and dignity," Putin told the fighter, The Moscow Times reported. The president went on to say that Russians are "one big family," warning that "if we are attacked from the outside, then, of course, not only you, but all of us can jump and there'll be hell to pay." However, he also said "we need to avoid going to extremes or making any jumps."
Nurmagomedov, who is the undefeated UFC champion, beat his Irish rival during the weekend fight in Las Vegas. However, after the fight ended, the Dagestani fighter leaped over the fence and attacked a friend of McGregor's who was watching from the sidelines.
The UFC champion told reporters after the fight and brawl that Putin was "very proud" of him and called him to tell him so.
"Putin just called me to say he is very proud of me, I win, and he says congratulation [sic]," Nurmagomedov said.
The Kremlin later confirmed that Putin had supported the fighter. "Of course he rooted for Khabib. He's a Russian, after all; it's natural," spokesman Dmitry Peskov told reporters.
In the past, Putin has shown a particular fondness for UFC fighters. The president, who himself loves martial arts, also reportedly has a positive relationship with McGregor. The Russian leader met the UFC fighter during the 2018 World Cup this summer, even posing for a photo with him. McGregor has also referred to Putin as "one of the greatest leaders of our time."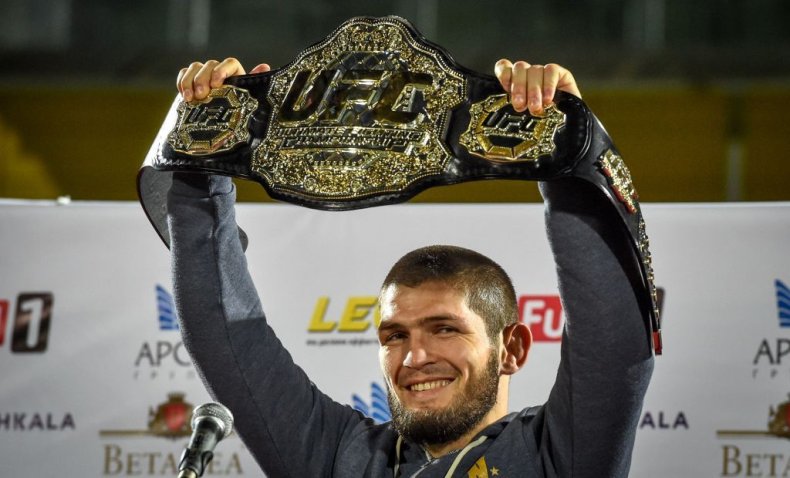 After a 2011 fight, Putin reportedly called Jeff Monson, a former American UFC fighter, after he was defeated by Russia's Fedor Emelianenko. Monson's leg was broken during the fight, but he continued to combat his opponent.
The fighter later told Newsweek that the Russian president had told him he had demonstrated "the Russian spirit" during the fight. Putin later granted Monson Russian citizenship, and the fighter now serves as a city councilman in the Russian city of Krasnogork.