Putin: Navalny 'Deliberately Ignored' Russia's Laws by Going to Germany After Poisoning
Russian President Vladimir Putin isn't bowing to international pressure to release Alexey Navalny, his chief political opponent, from prison, and even put the blame on Navalny for his own imprisonment.
Navalny and Russia's treatment of dissidents was on the list of topics President Joe Biden was looking to raise in his first summit with Putin on Wednesday. The U.S. and countries around the world see the crackdown on dissidents and Navalny's harsh treatment in prison as a gross human rights violation that also raises concerns about Putin's stronghold on ruling Russia.
Putin hasn't used Navalny's name in recent interviews, instead opting to describe him to interviewers as "the person" or "the citizen" that was mentioned. On Wednesday, he told reporters Navalny "knew he was breaching the laws of Russia," according to a translation from The Washington Post.
"I'd like to underscore that he deliberately ignored the requirements of the law," Putin said. "This person went abroad for treatment and he didn't register with the authorities and he came out of the hospital and then he recorded a video, posting it on the internet."
Navalny became sick on a flight from Moscow to Tomsk, a city in Siberia, in August, and was hospitalized in Omsk, another city in Siberia, upon landing. He was then flown to Germany for a medical evaluation, where he remained for weeks while medical professionals weaned him off mechanical ventilation.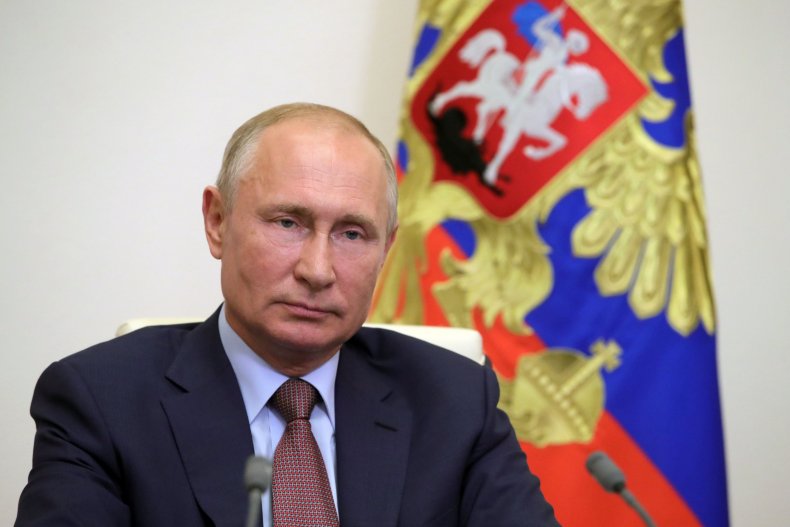 The German government found the Kremlin critic was poisoned with a Novichok nerve agent, the same poison that was used in 2018 in an attack on former Russian spy Sergei Skripal. Russia denied it had anything to do with Navalny's poisoning, calling the accusations of its involvement "unfounded."
In September, Navalny posted a photo of himself and his family in the hospital to inform his supporters that he could breathe on his own without any outside help. He called breathing on his own "an amazing, underestimated process by many."
He returned to Russia in January, aware that he would be arrested upon his arrival. He was detained at the airport for allegedly violating parole in a suspended sentence from 2014. Navalny was charged with fraud, a case he said was opened against him because of political motivations.
Sentenced to up to five years in prison for the parole violation, Navalny's imprisonment sparked nationwide protests. While in prison, which he described as a "real concentration camp," Navalny's complaints of torture and ignored deteriorating health reignited international concerns.
Further raising concerns about Putin's grasp on the presidency was a recent court ruling that found Navalny's organizations to be "extremist." The designation prevents those connected with the groups from running for office and puts them in a position to face potential jail time. When asked what Putin is "so afraid of" with political opposition, the Russian president defended the designation, saying Navalny's organizations were breaking the law.
Part of the goal of the designation, according to Putin, was to prevent an event like the January 6 Capitol Riot from happening in Russia.
Putin wouldn't commit to freeing Navalny in a recent NBC News interview, but Biden warned the Russian president that his death would indicate the country has "little or no intention of abiding by basic fundamental human rights."
"It would be a tragedy. It would do nothing but hurt his relationships with the rest of the world, in my view, and with me," Biden said on Monday.
After the summit with Biden, Putin told reporters that Navalny came back to Russia on his own accord and "did what he wanted to do."