Putin Now Concerned About His Own Safety, Former Ambassador Says
Former U.S. ambassador to Russia John Sullivan said Friday that Russian President Vladimir Putin is concerned about his own safety as his lifestyle is being impacted by his ongoing war in Ukraine.
CNN host Erin Burnett asked Sullivan during a TV appearance on OutFront about whether he thinks the Russian leader's lifestyle has been affected by the war. She was referring to a recent report that said Putin is now living with his girlfriend at a luxury estate outside of Moscow.
Putin's reported luxurious lifestyle has been questioned by some, given the heavy sanctions that the West imposed on Russia since the beginning of the war in Ukraine last February. Some of those sanctions include a ban on Russian oil and removing Russian banks from the international financing messaging system SWIFT, according to BBC News.
Sullivan said that Putin's lifestyle has in fact been impacted by his full-scale invasion of Ukraine, which is limiting his movements for safety reasons.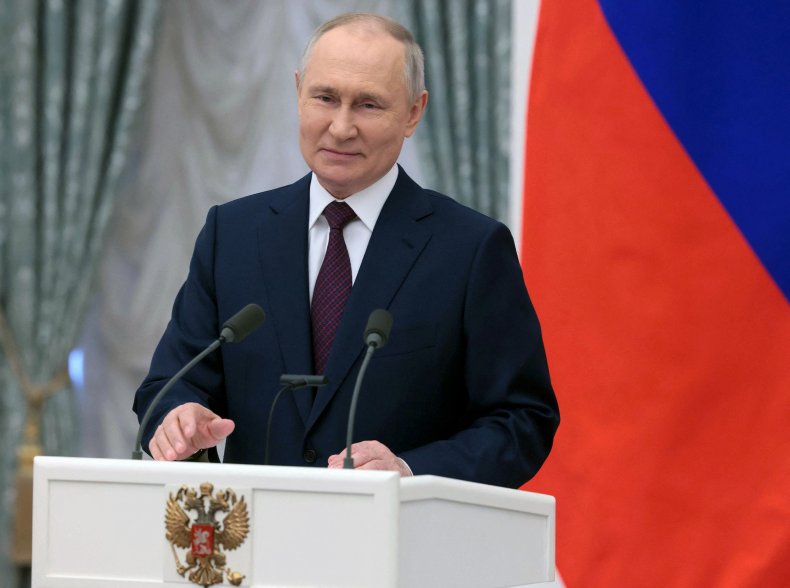 "From what we have seen, his lifestyle has been affected in the following sense, Erin," Sullivan said. "He can't travel by air anywhere close to southwestern Russia in getting to Sochi, for example, one of his most favorite places to go. He can't travel there by air. He's now traveling more by train. He's concerned about his own safety. As for the economic impacts, if the question is more about supporting his lavish lifestyle, I don't think that's much of a concern as concerns about his own safety."
A Russian investigative news website called The Project recently reported, citing unnamed officials, that Putin is living with his girlfriend, former Olympic gymnast Alina Kabaeva, in a villa at an estate he owns on Lake Valdai, which is located 400 kilometers northwest of Moscow and spans across 13,000 square feet, according to WION News. Children have also been spotted near the premises.
Putin's costly lifestyle has also been reported by Proekt, an independent Russian media group, which recently released photos of the residence's lavish interior and said that Putin used a Cypriot company as a front to finance his luxurious lifestyle, the Daily Mail reported earlier this month.
Sullivan was also asked during his OutFront appearance about whether Putin's lifestyle would be affected at this point given the strict sanctions on his country.
"If money is going to anybody in the system, it's going to the guy at the top and he has got plenty of it and the Russian people are aware of this," the former ambassador, who served from 2020 to 2022, said.
Sullivan added that Putin has a luxurious palace in the Russian city of Sochi and pointed out that his lifestyle is no "surprise to anyone."
Newsweek reached out to the Russian foreign affairs ministry for comment by email.