Putin Nuking Ukraine Puts China Relationship At Risk, Former WMD Chief Says
The possibility that Russian President Vladimir Putin would use nuclear weapons in the war with Ukraine could put his relationship with China to the test, potentially isolating him from one of the few partners he has right now.
Putin put his nuclear forces on high alert on February 27 as a warning to the West that he may be prepared to resort to extreme measures to achieve his goals. While Russia is already standing relatively alone as Western condemnation of the war grows, if Moscow chooses to be the first country in 77 years to use nuclear weapons, it could push Beijing to take a firmer stance against Moscow.
"The West is united in rejecting him but he has key supporters like China and India," Rolf Mowatt-Larssen, former head of the Central Intelligence Agency's Weapons of Mass Destruction Department, told Newsweek. "He would risk losing support because I don't think any country wants to see any nuclear weapons used."
China and Russia have grown increasingly close as tensions both countries had with the United States escalated and they've both championed their "strategic partnership." China hasn't supported Russia in its invasion of Ukraine, but hasn't taken a hard stance condemning it, either. Chinese officials continue to call for a diplomatic resolution to the conflict, advocating against other countries getting involved and criticizing the sanctions being put on Russia.
While both countries have touted their relationship, with Chinese President Xi Jinping calling Putin his "best friend," the two sides have yet to forge a formal alliance. China also abstained from a United Nations vote to condemn Russia's invasion of Ukraine instead of voting against the measure, indicating Beijing is still trying to take a relatively neutral stance.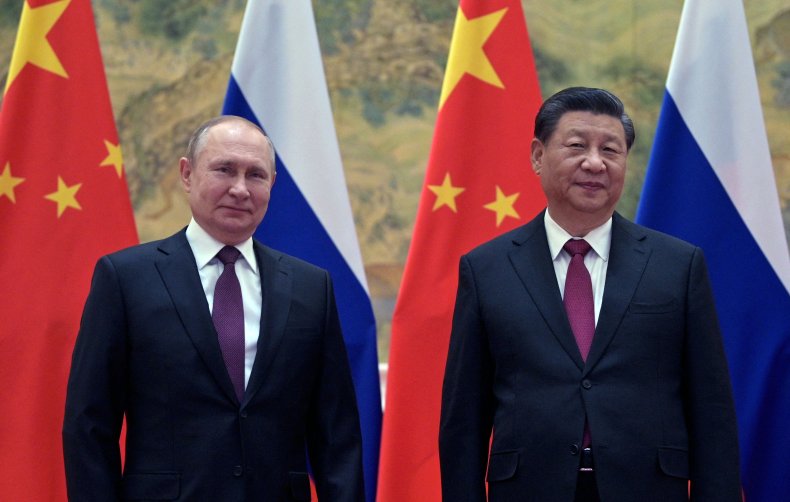 The potential for an alliance between Russia and China raises concerns among American officials, as both Moscow and Beijing consider the U.S. a threat. However, if Putin decides to deploy a nuclear weapon in Ukraine, it could put China in a position to choose a side against Russia.
"He has to navigate the Chinese perspective here," Heather Williams, a senior lecturer at King's College and visiting fellow at Harvard Kennedy School, told Newsweek. "China is eager to portray itself as a responsible nuclear [power], it's a core component to their diplomatic messaging."
The use of a nuclear weapon for the first time in more than 70 years could run contrary to China's nuclear doctrine. If Putin were to use one, Williams said it would be "really hard" for China to stand by Putin.
In a sign the Ukrainian conflict may be straining the relationship, CIA Director Bill Burns told the Senate Intelligence Committee on Thursday that Xi is "unsettled" by the invasion. Burns said Chinese leaders are concerned about the "reputational damage" that China is suffering by being associated with Russia's "aggression" in Ukraine.
"President Xi is probably a little bit unsettled as he watches the way in which President Putin has driven Americans and Europeans more closely together and strengthen the Transatlantic alliance in ways that would have been a little bit hard to imagine before the invasion began," Burns told senators.