Putin Faces Mounting Opposition to War From Mothers of Russian Soldiers
Russian President Vladimir Putin is facing mounting opposition to his war against Ukraine from the mothers of his country's soldiers, a U.S. think tank has reported.
Russian citizens, including mothers, are increasingly turning to various social media platforms to voice their dissatisfaction with Putin's partial mobilization order, which he implemented on September 21, according to the Institute for the Study of War (ISW).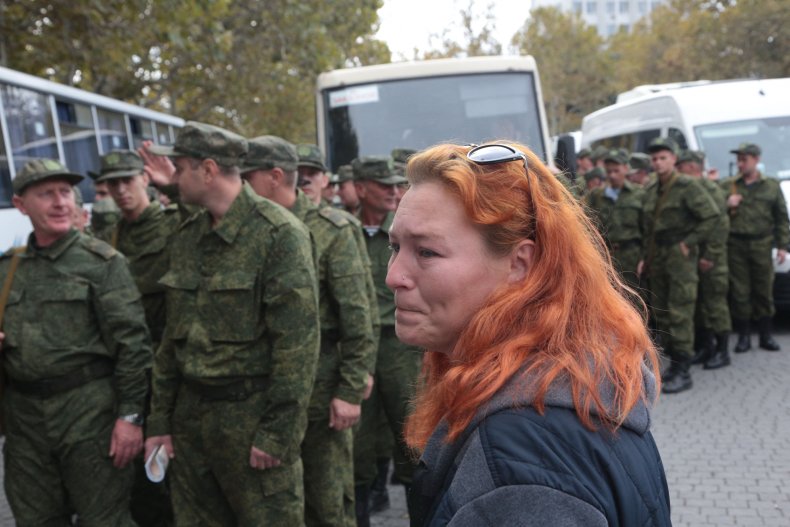 The ISW, in its latest assessment of the war, noted that about 1,500 mothers of disabled children and mothers with more than three children in their households have petitioned the Russian president to exempt their husbands from mobilization.
Russian Defense Minister Sergei Shoigu said on September 21 that Russia would be targeting 300,000 reservists and ex-military personnel with "certain military specialties and relevant experience."
However, the figure in Putin's decree has not been disclosed to the public, and multiple reports have emerged that men ineligible to be drafted have been deployed to fight in Ukraine.
Russia's defense ministry claimed on October 31 to have completed its partial mobilization. However, fighting-age men in Russia are still hiding in fear of being conscripted.
The ISW said Russians being more vocal and openly critical about the war is a phenomenon that has the ingredients to ignite organized online-based movements in the country.
Experts said 16 anti-war groups in Russia launched a petition demanding that Putin "demobilize all mobilized Russian men," and that it had already garnered almost 38,000 signatories at the time of the think tank's publication.
"While Russian police have consistently suppressed small-scale protests throughout the country the Kremlin has yet to regulate platforms such as Telegram that allow Russians across the country to share their discontent and demand action from local officials with the backing of prominent milbloggers," the ISW noted.
Vladimir Budaev of the Free Buryatia Foundation, a pro-democracy group based in the U.S., previously told Newsweek that he believes the Kremlin will end up sending a lot more Russians to fight than the 300,000 figure set out by defense officials.
"Putin, he definitely lost in Ukraine [prior to mobilization]. He lost a lot of positions there, he lost a lot of people. So yeah, he needs more resources," he said.
"It [mobilization] is not stopping, actually. We don't know when the mobilization is going to stop—probably never. Putin definitely needs more than 300,000 soldiers. The Russian army has had a lot of losses from mobilized people already."
The mother of a Russian soldier killed fighting in Ukraine told BBC News in July that she believed mothers would eventually rise up against the Russian leader. She said many of the mothers blame the Kremlin for the ongoing conflict and the deaths of their sons.
Newsweek has contacted Russia's foreign ministry for comment.