Putin Picks New Paratrooper Chief With Crimea Experience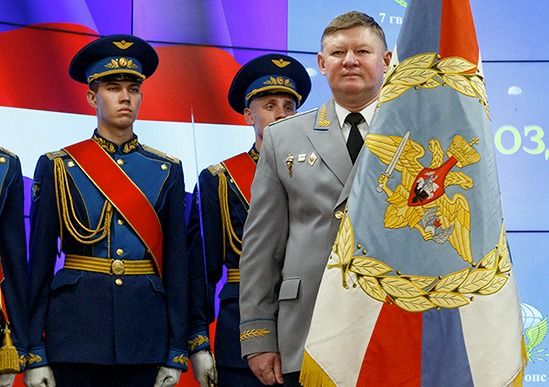 Updated | Russia has appointed the man accused of presiding over operations that led to the annexation of part of Ukraine as the commander of the its infamous airborne forces (VDV), the Ministry of Defense announced on Monday.
Colonel General Alexander Serdyukov, who has been outed as the man that oversaw Russia's Crimean operations in 2014 by both the Ukrainian government and Russian media, will now take charge of the paratrooper unit.
The VDV are one of the Russian armed forces' most elite units and they have additional significance in the Ukraine conflict as paratroopers were deployed in Crimea during the annexation and Russian paratroopers have been captured in eastern Ukraine.
Since 2013, Serdyukov has been serving in the command of Russia's southernmost forces, centered around the Black Sea.
Serdyukov was hailed as a "competent leader and skilled organizer" by Defense Minister Sergey Shoygu, in a handover ceremony appointing him as the new VDV commander.
He steps in after the decree of President Vladimir Putin, after the previous head of the paratroopers, Vladimir Shamanov, was elected to parliament and now has to vacate his post.
Serdyukov was handed the standard of the VDV troops by his predecessor, thanked the Kremlin for entrusting him with the reins to the paratroopers and declared that to him the unit was "like family."
"I am aware of the problems and difficulties," he said, vowing to try his utmost to get the airborne troops operating at the highest possible level.
Igor Sutyagin, Russian military expert at the Royal United Services Institute (RUSI) notes that Serdyukov's reported experience during Russia's so-called "special operations" in Crimea is intended as a scare tactic for NATO, making Russia appear more willing to start a conflict with smaller allies than it really is.
"Putin is very good in psychology, in bluffing," Sutyagin tells Newsweek, noting that the Kremlin is not willing to start a war, but to test western commitment to eastern NATO partners. "It is not about occupation of northern Estonia or eastern Latvia. Just re-read the history of the appeasement policy in 1938, the Kremlin's current plan is designed along the same recipe."
"That is why Serdyukov's alleged Crimean experience is being emphasized and pushed to the front," he adds. Sutyagin notes that the airborne troops are a much lighter offensive force and the current formation will lack the heavier firepower of extensive tank formations as in Soviet times.
The Russian airborne troops are one of the military's leading units, pioneering many strategic and technical capabilities before other formations. Airborne troops are set to participate in the first drill in Africa for Russian forces in Egypt this month. Earlier this year one of Putin's closest allies, Sergey Naryshkin, who now heads Russia's foreign intelligence, declared Russia's airborne troops the "best in the world."
This article has been updated with the comments of Russian military expert Igor Sutyagin.