Putin Pays Over $100,000 to Troll Russia's Opponents Abroad, Hacked Emails Reveal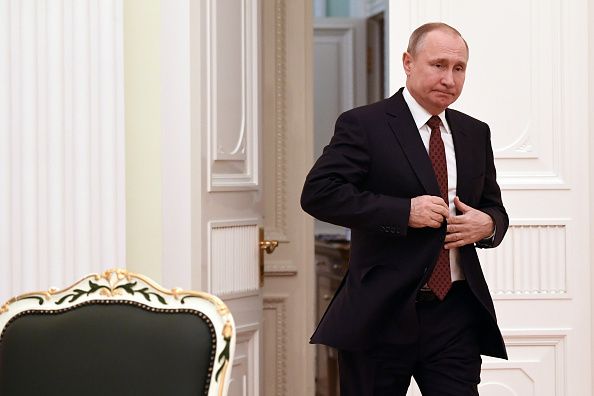 Russian President Vladimir Putin has been paying hundreds of thousands of dollars to trolls, hackers and paid protesters to sow dissent and quell anti-Russian sentiment in foreign countries, according to a trove of leaked emails from Kremlin-linked figures.
The emails were released by the hacker group the Ukrainian Cyber Alliance, which was responsible for the so-called Surkov leaks, over a gigabyte of hacked emails allegedly taken from Putin's close political adviser and senior Kremlin official Vladislav Surkov in 2016.
The new set of leaked emails was analyzed by Bob Seely, a Conservative Parliament member in Great Britain and an expert on Russian warfare. Seely told the British newspaper The Times that the emails revealed a "shopping list of subversion," including hacking, propaganda, and staged protests.
The Kremlin was prepared to pay between $100 and $300 for email hacking. But trolling political opponents on social media and collecting personal data on individuals thought to be Kremlin opponents was valued at around $130,500, according to the emails. Plans were also outlined to promote historical and philosophical ideas in line with the Kremlin's worldview, and to send trained athletes to agitate at rallies and bribe the media to cover the events. The Kremlin was willing to pay $19,200 for a month of rallies with 100 participants and three organizers.
The emails demonstrate Russia used these tactics in Ukraine, where Moscow supports pro-Russian separatists. The emails allegedly belong to Surkov's deputy Inal Ardzinba and to a leader of Ukraine's Communist Party, which advocates closer ties with Russia. But experts warn that the Kremlin is using similar tactics in the U.S. and the European Union.
The Kremlin has claimed that the Surkov leaks are fake and that Ardzinba has never been involved in spreading propaganda in Ukraine. Researchers, however, said that the previous set of Surkov leaks were authentic, and this latest dump of emails is probably real as well.