Putin's Spokesman Warns Russians Angry at War: 'Very Thin Line'
Russian President Vladimir Putin's spokesman issued a stern warning to Russians angry at the ongoing war in Ukraine, as the country continues to suffer setbacks as a result of Kyiv's successful counteroffensive.
Pro-Kremlin Telegram channels must be "very careful" when criticizing the Russian Defense Ministry, Putin's spokesman Dmitry Peskov told reporters at a news briefing on Tuesday.
Peskov was responding to questions from reporters about pro-government Telegram channels openly criticizing the defense department amid Ukraine's counteroffensive in the Kharkiv region, which has seen Kyiv recapture swathes of its territory, forcing Russian troops to retreat.
"As for other points of view, critical points of view, as long as they remain within the framework of the current legislation, this is pluralism," Peskov said. "But the line is very, very thin, you have to be very careful here."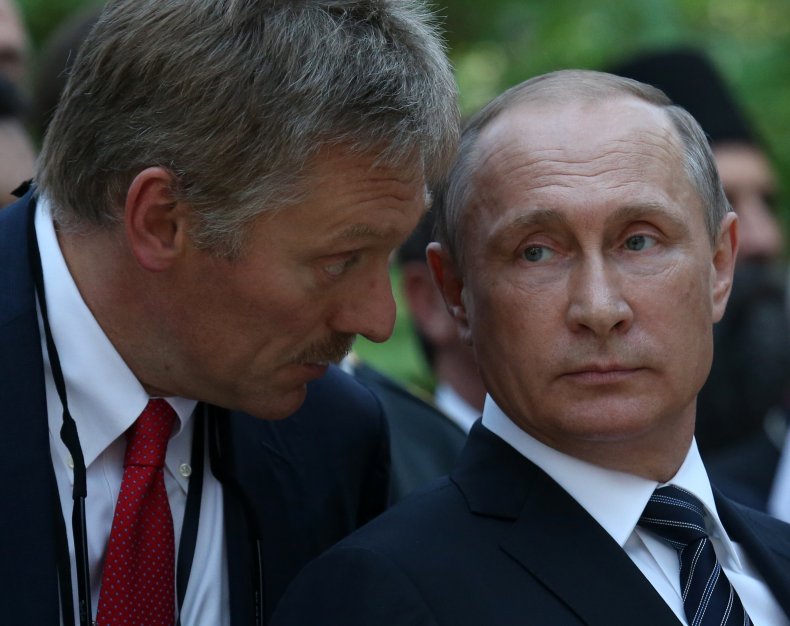 "On the other hand, public opinion is indeed so sensitive to what is happening within the framework of a special military operation, and it is clear that public opinion reacts very, very emotionally," Putin's spokesman added.
His remarks came after pro-Russian Telegram channel Rybar wrote a post addressed to representatives of Russia's defense ministry.
"We know that Rybar's Telegram channel, Gray Zone channel, Military Informant, Older Edda , Turned in the war , Yaroslav's Letters and many, many others who allow themselves to speak critically about the course of the SVO (special military operation), in your opinion, are traitors, provocateurs, fake throwers, liberals and accomplices of the Kyiv regime...," the post said.
"We know that we are all on your blacklists because we are the most inconvenient for you. Because we do not follow the line of the government," the Rybar Telegram channel said.
"But let's be frank: now is not the moment when you can be silent and not say anything. Now is not the moment when you can arrange an information vacuum and work with some kind of hybrid means, bringing information to the population in doses and streams."
The channel urged the defense ministry to "take the information situation at the front" into its own hands.
"There is no need to act on the principle of "ban and say nothing," Rybar added.
It's one of a number of recent examples of Russians voicing dissent to the ongoing conflict.
This week, two local authorities called for Putin's resignation—the most recent being a Moscow municipality, which addressed a letter to Putin saying how Russia had now become "feared and hated" while "aggression" has taken the country back to the "Cold War era."
Earlier, lawmakers at Smolninsky District Council in St. Petersburg were summoned by police for "discrediting" the Russian government. They sent a request to the Russian parliament, the State Duma, and said Putin's invasion had led to a massive loss of life, disabled veterans, hindered the national economy and fast-tracked NATO's eastward expansion.