Putin's Petty Crackdown on Moscow Street Musicians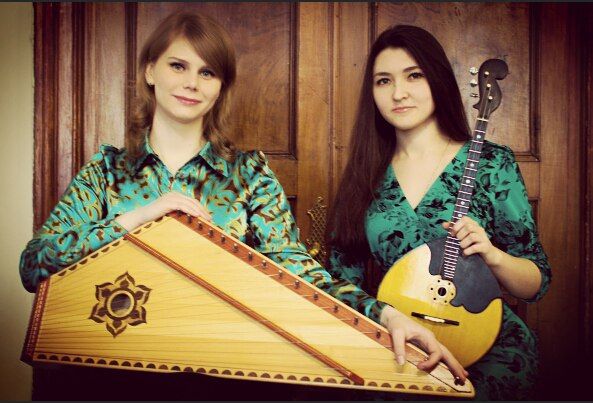 The first notes of a traditional Russian folk melody were drifting across central Moscow's Manezhnaya Square when the police car pulled up.
Lyubov Startseva and Violetta Mikhaylova, award-winning students at St Petersburg's Mussorgsky Music Academy, exchanged a worried glance over their instruments. They had been busking plenty of times back in St. Petersburg without being bothered by the authorities.
Two policemen stepped out of the car and inspected their identity cards. The musicians were ordered into the vehicle. Their domra and gusli, ancient stringed instruments, went into the boot.
"What have we done?" asked the young women, shocked.
"Article 20.2.2," replied the policeman. "You can check it on the Internet.... Haven't you seen what happens to street musicians in Moscow?"
At the capital's Kitay-Gorod police station, Lyubov and Violetta discovered for themselves what the policeman meant. After spending three hours in custody with drunk men, they were charged with an administrative offence. They will now go on trial on August 10, charged with a public order violation against "Organization of mass simultaneous gathering and (or) moving citizens in public places".
If found guilty, they could be fined up to 20,000 roubles ($300) or sentenced to 15 days' detention. They told Amnesty International they do not plan to retain a lawyer since, as they see it, in Vladimir Putin's Russia, being charged is in itself akin to an indication of guilt.
The public order offence they are being charged with was introduced in in June 2012, in the aftermath of large-scale protests against the parliamentary elections the previous winter.
Lawmakers from the ruling United Russia party were primarily concerned with outlawing unregulated "protest walks" and all kind of political flash mobs. But the blanket definition of "simultaneous gathering" paved the way for the law to be invoked against any everyday get-togethers, however impromptu or harmless. Street musicians and artists have subsequently become among the favorite targets for Moscow's police to apply the law.
The unofficial campaign to clean Moscow's streets of buskers began in summer 2014. Since then, dozens of artists were arrested, with repeat offenders facing a fine of 150.000 roubles ($2,250) and having their instruments confiscated as accessories to a crime.
"Muscovites noticed with horror how their main cultural street, Arbat, became deaf and blind," Moskovskyi Komsomolets newspaper starkly stated last November. It was a departure from its normal stance of steering clear of criticism of the federal or local authorities.
Moscow's street performers reacted to this blow by organizing a protest: In June last year, they taped over their mouths, wrapped their musical instruments and donation tins with tape, and tied their hands in symbolic defiance of their lack of freedom to perform. Their efforts were in vain. The city administration decided to designate 15 official sites for street performances and established a licensing procedure for artists.
Lyubov plays gusli, a Russian type of psaltery, and Violetta is a skilled performer on the domra, a three-stringed lute. Both are in their early 20s, and they have already collected numerous awards, including on the international level. They are just the latest victims of this campaign even though for them, performing on the streets is much more a hobby than a way to earn a living.
The young musicians are far from feeling solidarity with those who had been arrested for this offence in the past.
"We did not have any gut feeling that something bad would happen to us in Moscow," Lyubov told Amnesty International. "We aren't brawlers, we haven't held any demonstration in Moscow, none at all."
"When we played [in St Petersburg], people stopped and observed. Many had never seen Russian folk instruments before. They thanked us."
At their trial on August 10, Ljubov and Violetta will find out how the Russian justice system intends to thank them for their performance. In the meantime, their instruments will remain in police custody.
Alexander Artemyev is regional media manager at Amnesty International's Moscow Office.