Putin Plays Politics With Russia's Terrible Past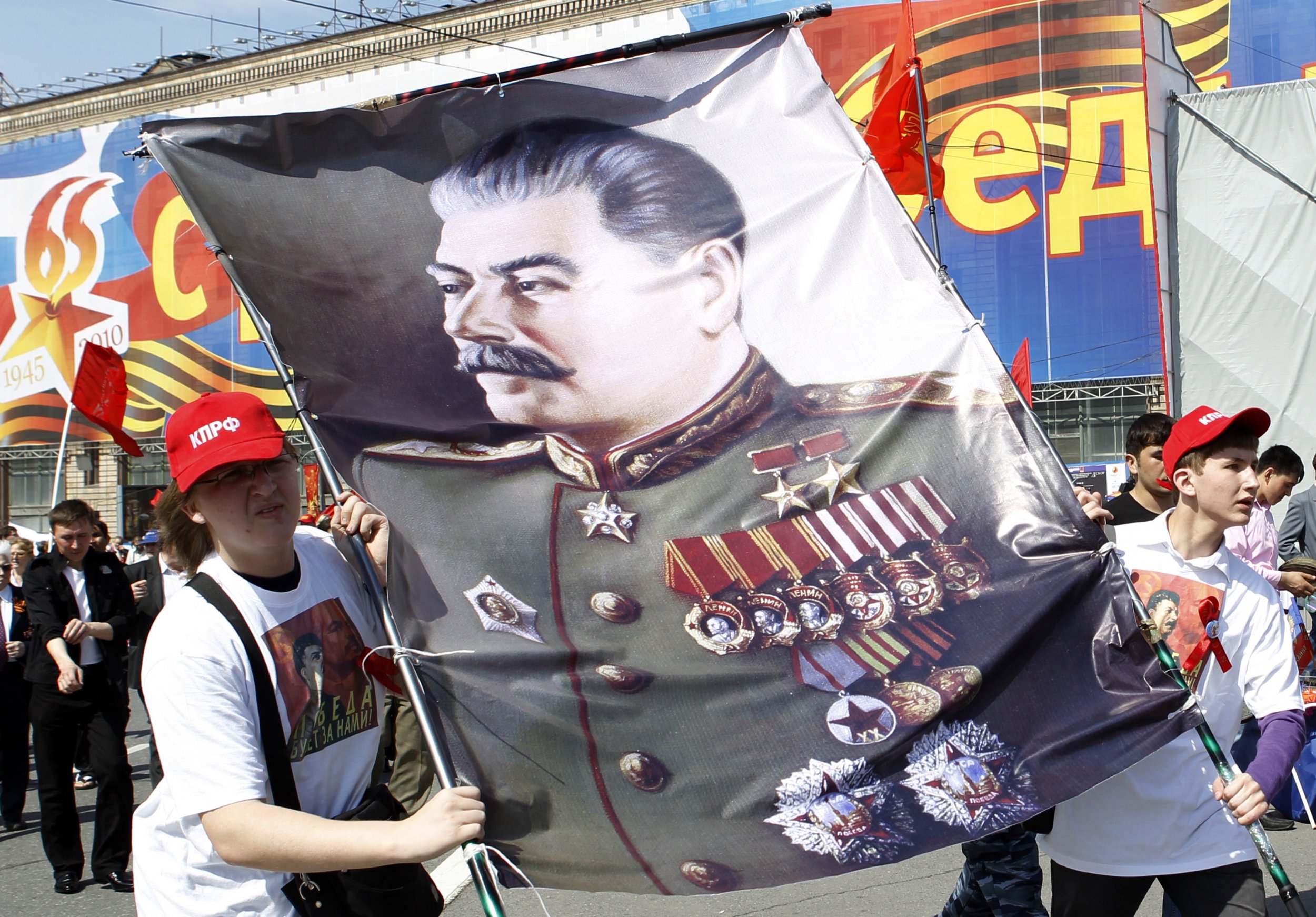 This article first appeared on the Wilson Center site.
Last Saturday, some of my friends had to line up for four to five hours to take part in this year's remembrance ceremony for the victims of the Soviet terror.
Initiated by the activist group Memorial, the event is an annual gathering at which people recite the names of those killed in the purges and extralegal executions that took place in the Soviet Union between the 1920s and the early 1950s.
We were smart enough to come early and had to brave Moscow's drizzle and snow for only about an hour. Anyone joining the line received a piece of paper with two names and some basic information about the individuals.
"Theodor Yulianovich Gallai, 32 years old, head of communications support at Glavenergo, shot on December the 10th, 1937," was the information provided for one of the names I received; the names are distributed in alphabetical order.
People step up to the microphone and read out the names. Some add the names of their murdered relatives, those of well-known artists and poets, or volunteer a brief comment.
"I ask forgiveness from the 'forest brothers' [members of an anti-Soviet guerrilla movement in the postwar Baltic states] who were hunted down and shot by my father, a secret police officer," one woman said. "My father was repentant at the end of his life. I ask forgiveness from God for what he had done and for what we all had done," she said for all to hear.
Many think that this year's tribute attracted record numbers of participants. "About 2,500 names were read aloud on Saturday," Elena Zhemkova, executive director of Memorial, tells me. This means roughly 1,200 people were present throughout the day at the memorial site on Lubyanka Square opposite the headquarters of the Federal Security Service, the successor of the Soviet Union's feared secret police, the KGB.
A little over 1,000 people remembering the victims of state terror does not sound like a lot. But let us not forget that the Kremlin's education policies are aimed specifically at eradicating any attempts at a critical reevaluation of the Soviet past.
The Memorial ceremony is not advertised, and it takes some dedication to find out about it and spend hours outside in the freezing cold on a Saturday.
Those present at the event still represent only a minority, however. The sheer scale of the state-run media campaigns and other policies is taking its toll. More and more, Russians tend to justify the crimes of the Soviet state by political expediency.
According to a recent Levada survey, 26 percent of those polled think Stalinist repressions were necessary; only 9 percent gave the same answer about a decade ago, during a similar poll in 2007. This year only 45 percent of those polled considered political repression a crime; in 2007, it was a mainstream view, with 72 percent saying political repression was criminal.
To me, this is a more important finding than any assessment of public attitudes toward current politics. Russia's political parties and political infrastructure did not have a chance to mature before they were put under central control during the early Vladimir Putin years. There was little left to defend when the Kremlin took politics away from society.
By now, most Russians do not see political campaigns as something worth an extra thought, let alone a fight. The Kremlin has made politics its tool, and Russian society has accepted it as a fait accompli.
"Politics is something that the higher-ups need for reasons that are not an ordinary person's business"—this is Russia's popular attitude toward anything that has to do with political parties or elections.
But any society needs a conversation, and in Russia's case history has become a conversation. The history of modern Russia, especially its 20th-century history, has taken the place of politics in most Russians' minds. In Russia one is not left-leaning or right wing but anti-Stalinist or pro-Stalinist, and dozens of shades in between.
Figures from the past, from medieval Slavic princes to the 19th-century czars to Lenin and Stalin, are a constant presence in Russia's daily news cycle.
A recent decision by the authorities of the Oryol region to erect a statue of Ivan the Terrible, a 16th-century Russian ruler, has become a subject of heated debate on authoritarianism. The discussion of Czar Ivan, who greatly expanded Russia's territory and centralized its government but was a brutal ruler, quickly turned to today's Russia.
"This is the first monument to Ivan the Terrible in Russia's history," the business daily Vedomosti said in an editorial. "It is a salvo in memory wars and a statement in a political discussion of the government's right to use force domestically."
Russian society discusses issues of existential importance without the mediation of political ideas such as monarchism, republicanism, democracy or even socialism. Figures from the past serve as conduits for political preferences.
Russian society thus lives in history rather than in politics. In real life, it means being poised to choose between a Nicholas I and an Alexander II, between a Stalin and a Khrushchev.
The Kremlin finds it useful to tamper with Russian society's reading of its own history because it works. One need only consider how few people come to the Lubyanka memorial to give their tributes to the victims of the state terror, how many spend hours on social networks arguing about Ivan the Terrible instead of paying attention to shrinking incomes or dilapidated hospitals.
This doesn't just limit our political choices; it also impoverishes our understanding of our own history. Most of Russian history is now "public history," a field of poorly informed public controversy rather than scholarly research.
People fight about Nicholas II or Stalin as if both were still alive and a consensual view of their respective periods did not exist. And in truth, it does not exist. A future Russia will not just need engineers and doctors; it will need unbiased historians too.
Maxim Trudolyubov, senior fellow with the Kennan Institute and editor-at-large with Vedomosti, has been following Russian economy and politics since the late 1990s. He has served as an opinion page editor for Vedomosti and editor and correspondent for the newspaper Kapital. He is the author of Me and My Country: A Common Cause (2011) and People Behind the Fence (2016). He won the Paul Klebnikov Fund's prize for courageous Russian journalism in 2007, was a Yale World Fellow in 2009 and was a Nieman fellow at Harvard in 2010-2011.