Putin's 'Popularity' Inspires New iPhone, Clothing Line, Burgers and More for Russian President's Birthday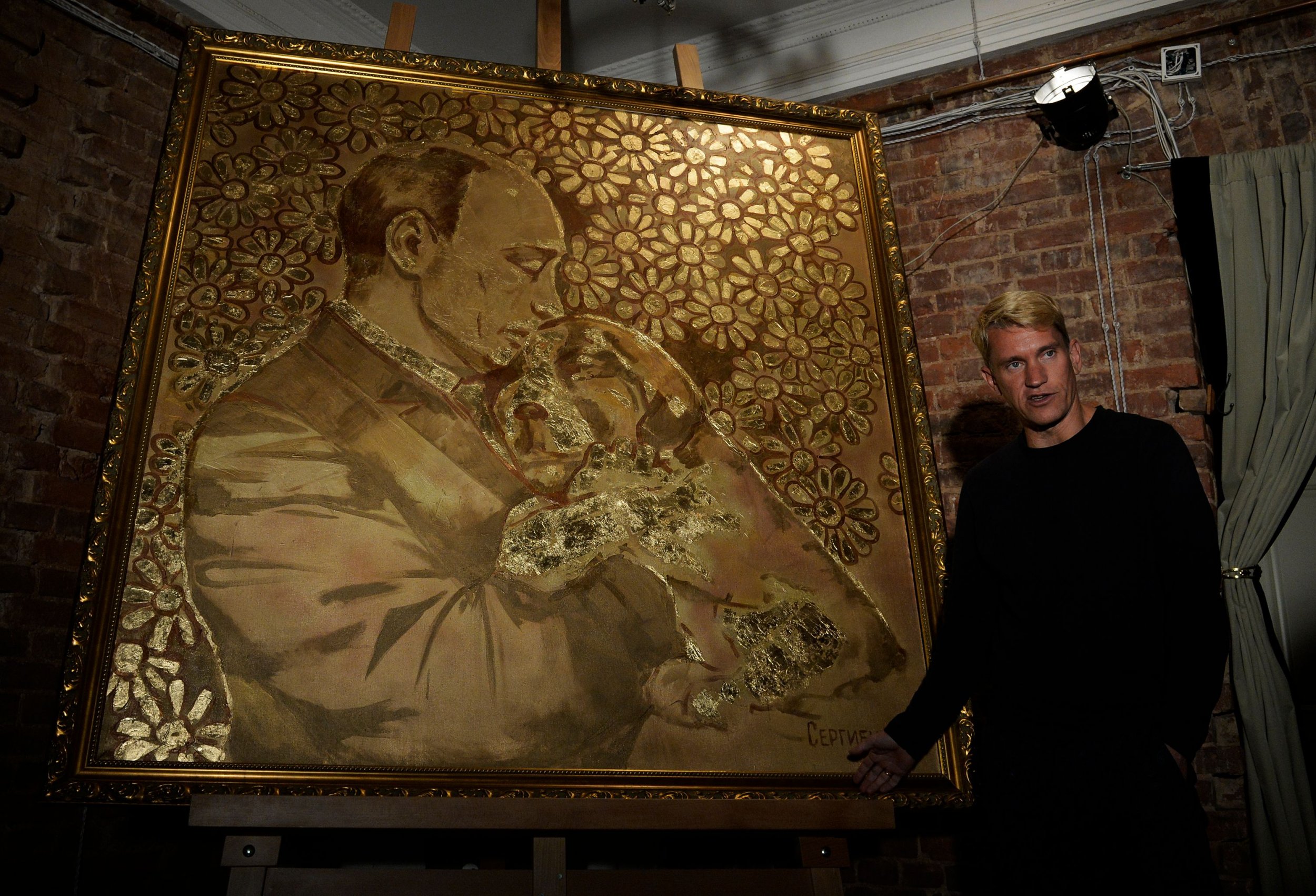 Russian President Vladimir Putin celebrated his birthday Saturday and his fans at home and abroad paid tribute to the influential head of state in some unexpected ways.
For the Russian leader's 65th birthday, former Italian Prime Minister Silvio Berlusconi reportedly gifted his "old friend" and party pal a custom-made comforter featuring an image of the two men shaking hands. Putin's spokesperson, Dmitry Peskov, declined to comment on Putin's reaction to the lavish present, but told media such gestures from around the world were a sign of admiration for Moscow's longtime leader, despite opposition protests calling for his removal.
Related: Vladimir Putin's birthday: Protests call for his exit as he hits retirement age under Russian law
"In any case this is a manifestation of our president's tremendous popularity and reputation around the world," he told reporters, according to the state-run Tass Russian news agency.
"I'm not sure if the president is aware such products are manufactured abroad," he added.
The duvet, designed by Milan-based linen company Lenzuolissimi, wasn't the only Italian luxury item to feature Putin's face. Italian-Russian firm Caviar has produced an entire series of gold-plated covers for the iPhone 8, iPhone 8+ and iPhone X featuring the Russian president's likeness. The "Leaders Putin 2018" series follows previous gold-plated homages designed by Caviar to celebrate a boost in popularity Putin received after his 2014 annexation of the Crimean peninsula, as well as a 2016 line dedicated to the election of President Donald Trump.
"This phone is a material expression of hopes for rapprochement of Russia and USA and for confirmation of well-disposed Trump's words about Russia by deeds which will lead to Changeover of relations between two Great Powers," the company wrote in November 2016.
A Caviar spokesperson told Russian news site Lenta.ru that the company's latest tribute to Putin was created with both his birthday and a potential 2018 election run in mind. The spokesperson said the series' designers were declaring their "position on this issue with the help of the new exclusive limited collection," according to a translation by The Moscow Times, adding that the first product would be reserved for Putin himself.
Looking to capitalize on Putin's macho image, U.K. fashion label Matchless London has also designed a $1,700 leather bomber jacket based on the Russian leader's relationship with Russia's Night Wolves motorcycle club. Listing him along with the likes of Marlon Brando, Arnold Schwarzenegger, Batman and James Bond, Matchless London Managing Director Manuele Malenotti paid his own respects to Putin with what he said was the first of many Putin-inspired items.
"We consider Russian President Vladimir Putin a modern superhero as well, giving personal respect to his strong character, brutal image, sense of humor and calmness as a world leader," Malenotti told Forbes. "As a 65-year-old, Putin rides horses, plays ice hockey and practices judo, among other things. This is not the usual routine even for much younger leaders. And yes, he runs Russia, the global super powerhouse."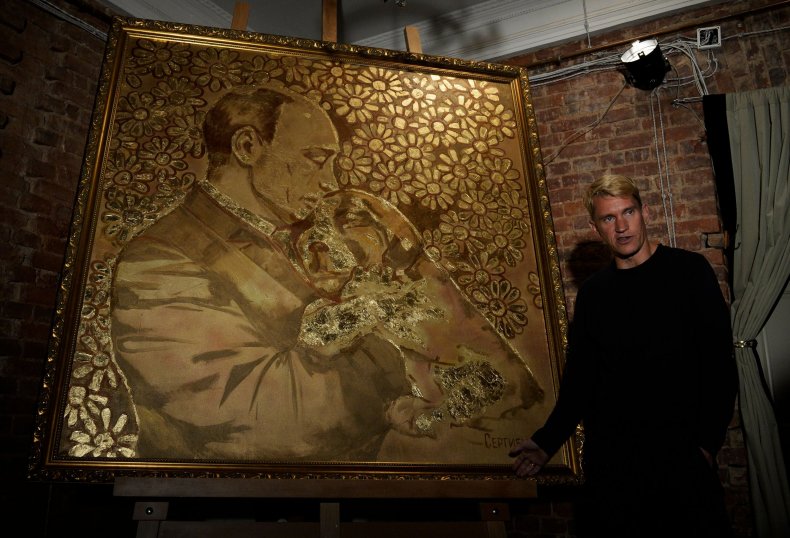 Artists, too, dedicated their talents to Putin's birthday. Russian painter Alexey Sergienko showcased his latest work, The Golden Putin, on Friday, tapping into Putin's well-known affinity for dogs. Russian hip-hop star and restaurateur Timati told Tass on Sunday that he searched "What does Putin eat" online to gain inspiration for the new "presidential burgers" at the musician's fast-food chain, Black Star Burger. Anyone who ordered it reportedly received a free T-shirt bearing the Russian leader's likeness.
Elsewhere, another Putin-themed burger became the center of an international controversy. A New York City restaurant denied Russian media reports that it had begun selling a Putin Burger for the head of state's birthday, according to The Moscow Times. Russian state television reportedly aired clips of a waitress at Lucy's Cantina Royale explaining that the alleged offer included a burger that weighed exactly 1,952 grams, commemorating Putin's birth year.
After being contacted by independent, anti-Kremlin Russian journalist Alexei Kovalev, the owners of the Manhattan restaurant denied they took part in the offer and said the waitress was acting on her own behalf. Russian media reportedly later pulled the clip.