Putin and Poroshenko Discuss Savchenko and Captured Russians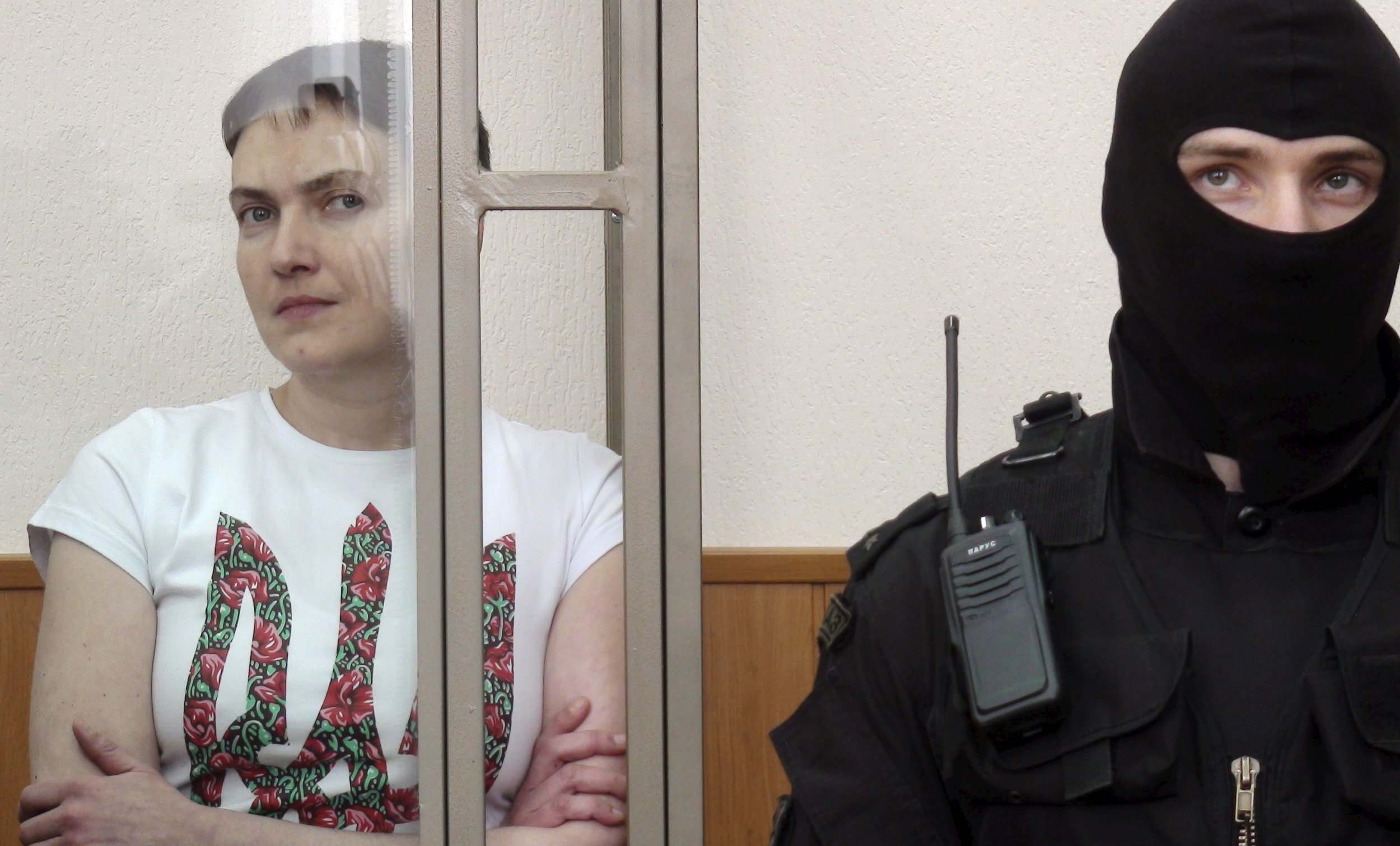 Russia and Ukraine's presidents discussed the fate of Ukrainian pilot Nadiya Savchenko, and the two Russian servicemen captured in Ukraine, in a phone call on Monday.
Military pilot Savchenko is serving a jail sentence in Russia's Rostov region for allegedly guiding a mortar strike, which hit a Russian state TV crew, killing two Russian journalists in eastern Ukraine in June 2014. Her conviction was widely seen as politically motivated, with her defence insisting that Savchenko was held captive by pro-Russian rebels at the time and could not have been involved in the incident.
According to her lawyer's version of events, her captors acted illegally by kidnapping her across the border with Russia. Since sentencing earlier this month, Savchenko has been on hunger strike—last week her sister said Savchenko's condition is approaching critical.
Ukraine's President Petro Poroshenko confirmed on Twitter that he had urged his Russian counterpart Vladimir Putin to immediately free Savchenko during a phone call.
In a statement the Kremlin said that Putin had promised Savchenko a visit by the Ukrainian consul soon, and that the two leaders had also discussed two Russian servicemen that were on a reconnaissance mission but were now being held captive in Kiev.
Alexander Alexandrov and Yevgeny Yerofeyev were captured during combat in east Ukraine last year. Russia has officially denied sending reinforcements to rebels in Ukraine's east, despite evidence to the contrary. On Monday, the two were sentenced to 14 years in prison each and this has increased speculation that a swap of the two for Savchenko may be on the cards.
Ukrainian officials have discussed the possibility of a swap for Savchenko, however the Kremlin rebuffed all international appeals to either free or swap Savchenko until her verdict was pronounced last month.
Meanwhile Russia's Ministry of Defence has attempted to distance itself from the two captured fighters, claiming they were dismissed from the military prior to deployment in Ukraine, and that they went there voluntarily. Following his capture, Alexandrov disputed this and hinted that he may sue the Russian Ministry of Defence for disowning him in such a way.
It is unclear whether the Kremlin will consider such a swap, as Savchenko herself has protested being swapped for two men whom she considers to have illegally entered Ukraine, while she considers herself innocent.