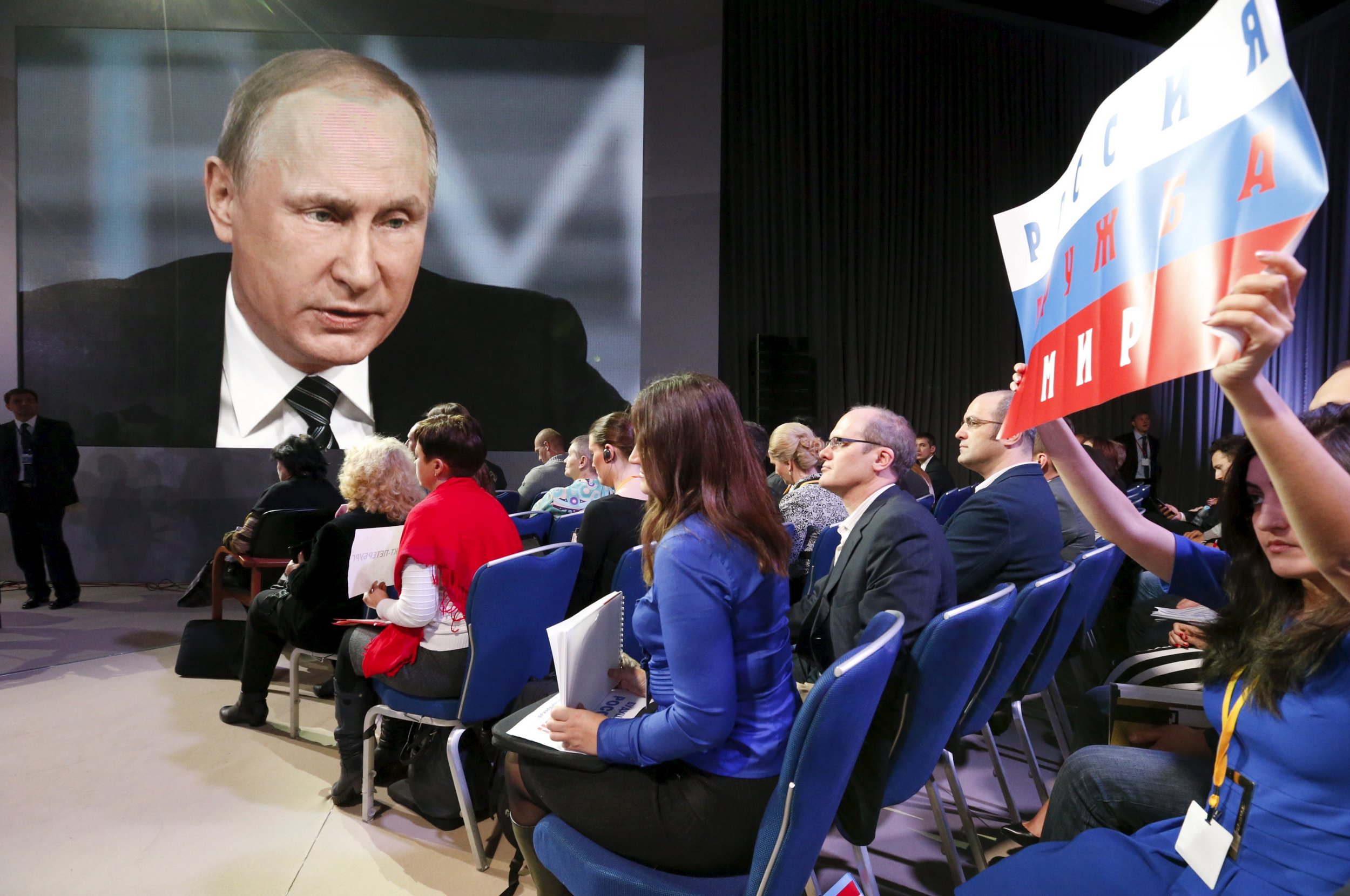 Russian President Vladimir Putin opens up about Syria, Turkey, Ukraine and other issues on Moscow's agenda in his annual press conference.
The event—lasting over three hours in 2014—in which he holds court in front of hundreds of journalists in a live, televised broadcast, counts as one of the president's annual public statements,. According to Russian state news, 1,400 journalists were given accreditation for the event this year and many took their place in the Moscow International Trade Center building—holding up colourful banners to coax the president into answering their questions, as per the usual set-up where thousands are submitted beforehand but only a handful answered.
The teasers for the press conference, an annual spectacle for Russians, teed-off the event on all Russian national TV channels a week in advance, with snippets of Putin's past statements, close-ups of his face looking stern, cued to dramatic music. Key takeaways from the full-length conference follow:
9:03 GMT The President, hampered by a dry cough, began by answering the more pressing questions on the agenda. He discussed oil and said the 2016 Russian budget would have to be adjusted, saying that Moscow had overestimated the recovery in the price oil. Putin said that, in hindsight, $50 per barrel was "a very optimistic estimate".
9:33 GMT On Turkey, whose military downed a Russian Su-24 fighter, after accusing it of violating Turkish airspace, Putin reiterated previous comments but cast suspicion that the U.S. may have instructed Turkey to shoot at the plane.
"The Turkish people, and other Turkish speaking people who were our partners and friends will remain so," Putin said. "With regards to the current Turkish leadership, as practice has shown, it is difficult for us to see eye to eye, if not practically impossible."
"The growing Islamisation (of Turkey) also worries us," Putin added, explaining that many aspiring militants leave Russian North Caucasus and go to Turkey, using the visa-free regime. This is part of the reason for suspending the visa-free regime, Putin says.
After being asked about the downing being influenced by a third party Putin said he "understood the hint" and allowed for the possibility of the U.S. being in some way behind the incident. "We do not know this, whether perhaps someone in the Turkish government decided to lick the Americans in a certain place, I do not know if that was the right thing to do. I do not know if the Americans need that or not - maybe there was an agreement on some level that "we will down the Russian plane and you can turn a blind eye" so that "we can go, for example, into Iraq's territory and occupy part of Iraq". I do not know, maybe such an exchange occurred, we do not know this."
His speculation received a roaring round of applause from the room.
9:45 GMT After a brief detour on unemployment, Putin tackled Syria. He was resolute in supporting the regime in Damascus but appeared to soften his approach to the U.S.
"We will never agree that anyone abroad can say who will, and who will not, govern anywhere else. This is absolutely not equal to sanity nor to international law," Putin said.
"Our position does not change, it remains on principal," he added "We believe that only the Syrian people should decide who governs them, and by what standards they are governed."
While Russia has supported Syrian President Bashar Assad and insisted that he be part of efforts to introduce a transition government, opposition groups in Syria, the U.S., U.K. and regional allies such as Turkey and Saudi Arabia have insisted Assad must go. This has been the major sticking point between Moscow and Washington's ability to find common ground on resolving the crisis.
The president, however, hinted that Russia would be more open to working with the U.S. on Syria and said that "in the attempts of regulating a conflict that has gone on for many years now a compromise is always possible, but concessions must be made on both sides."
Putin also appeared to rule out opening a permanent military base in Syria. Russia is currently using landing strips controlled by Damascus on a temporary basis, with only one facility controlled by Moscow in Syria on a long term basis. The facility in Tartus, however, is consider a resupply point and not a base, due to the lower level of armaments and smaller deployment there.
"Some say we need a base there. I am not so sure," Putin said, explaining that Russian mid-range missiles allow for sufficient reach within Syria. "If we need to reach someone, we will get to them that way."
9:58 GMT On Ukraine, where pro-Russian fighters continue to hold large swathes of land in the eastern Russian-speaking regions of Luhansk and Donetsk, Putin was not optimistic.
"Starting January 1, unfortunately, we forecast worsening economic relations with Ukraine, as we are forced to make a decision that Ukraine will not work as a member of the free- trade zone," Putin said, referring to the Russian economic union, of which Ukraine was initially planned to be an integral part.
"Russia is not going to introduce any sanctions on Ukraine, but in connection with the termination of the agreement on free trade zone with Ukraine, it will be shown no privileges and preferences," Putin said.
"We are not going to introduce whatever sanctions on Ukraine. I want it to be heard," Putin reiterated.
Speaking about captives in the Ukraine conflict, Putin appears to confirm that Russian soldiers were in Ukraine. "We never said there were not people there who carried out certain tasks, including in the military sphere," he tells a reporter who has asked him about two men, captured by Ukrainian forces in eastern Ukraine and confessing to be Russian paratroopers. Putin says this is different from sending "regular Russian troops" but does not elaborate on how.
Ukrainian news site, Ukrainskaya Pravda, has pulled a statement from April 2014 in which Putin denies "any Russian sub-divisions" are in Ukraine, "no special services and no instructors". This is not referred to in the press conference.
10:32 GMT On Georgia, with which Russia led a brief armed altercation in 2008, and has continued to support secessionist regions on the border between the two countries, Putin said relations may improve but that Tbilisi has the "historical responsibility" for the collapse of relations.
"The government of Georgia and then-President (Mikheil) Saakashvili should not have been made such adventurous decisions that led to the territorial collapse of Georgia," Putin said, referring to Saakashvili's restrictive policies toward the wantaway South Ossetia and Abkhazia regions.
He briefly confused Ukraine for Georgia and corrected himself.
10:57 GMT Putin hails disgraced FIFA President Joseph 'Sepp' Blatter as "a noble man who has done a lot for the world of football". "He's the one who should be getting the Nobel prize."
11:19 GMT In a rare occurrence—Putin speaks about his daughters. His two daughters, Maria and Yekaterina have not been publically pictured since they were very young and some reports have speculated that they may be living in Europe while Kremlin-critics, such as, Alexei Navalny have pointed to a woman working for Moscow's State University as one of Putin's daughters.
The president is vague on his children but admits he has not spoken much about them and he will do so now. He says they both live in Russia and both "speak three languages fluently" for work. He says they were educated in Russia but are entitled to live their lives away from the limelight.
11:37 GMT Putin turns to the failed South-Stream project with harsh words for Bulgaria, which rejected taking on a Russian pipeline across the Black Sea in 2014, despite neighbouring Serbia and Hungary's willingness to take part in the project.
"I am amazed by the toothless position of the Bulgarian leadership, which for no apparent reason, ignored the national interest," Putin says. Bulgaria maintains that Russia did not make an offer to build the pipeline, which could then be diversified in accordance with EU regulation.
12:04 GMT Putin turns to the murder of one of his most prominent critics, Boris Nemtsov, who was shot near the Kremlin earlier this year. Nemtsov's daughter and other critics of Putin have blamed him, at least in part, for Nemtsov's murder and some of the suspects currently in custody have ties with Chechen leader and Putin ally, Ramzan Kadyrov.
Putin is brief saying that the case must be resolved but he has not spoken to Kadyrov about it. "I have never discussed the matter with regional leaders and I have not and I am not planning to discuss this with the leadership of Chechnya."