Putin Promotes Woman Rival to Divide the Opposition
Yet again, Vladimir Putin has played his cards well.
The prominent liberal journalist Ksenia Sobchak has announced that she will run for president in March 2018.
At first glance, this may seem like a step in the direction of political competition through the emergence of a liberal candidate, since Sobchak has been an open critic of the Kremlin and was one of the leaders of the 2011-2012 mass protests.
However, in reality, there is only person who will benefit from Sobchak leading a presidential campaign, and that person is Putin himself.
Ksenia Sobchak is the daughter of Anatoly Sobchak, who was a liberal and reformist mayor in St. Petersburg in the 1990s. Her father was also Putin's boss from 1990 to 1996. During that period, Putin was very close to the Sochak family, and even became Ksenia's godfather.
Ksenia Sobchak's initial claim to fame was hosting scandalous reality TV shows and appearing on the covers of celebrity magazines. However, at the start of the opposition protests of 2011-2012, to the surprise of many, she became one of the leaders of the anti-Putin demonstrations and launched a successful career in liberal journalism.
Even though many remember her as the Russian version of Paris Hilton, she has also become a prominent figure in Moscow's opposition circles.
Sobchak's candidacy for president was most likely Putin's idea all along. This is a well planned move that will leave the opposition divided in the next months, which is exactly what the Russian president wants in the run-up to the elections.
Before announcing her plans to run for president, Sobchak met with Putin to interview him. After the interview, Sobchak and Putin had a private conversation.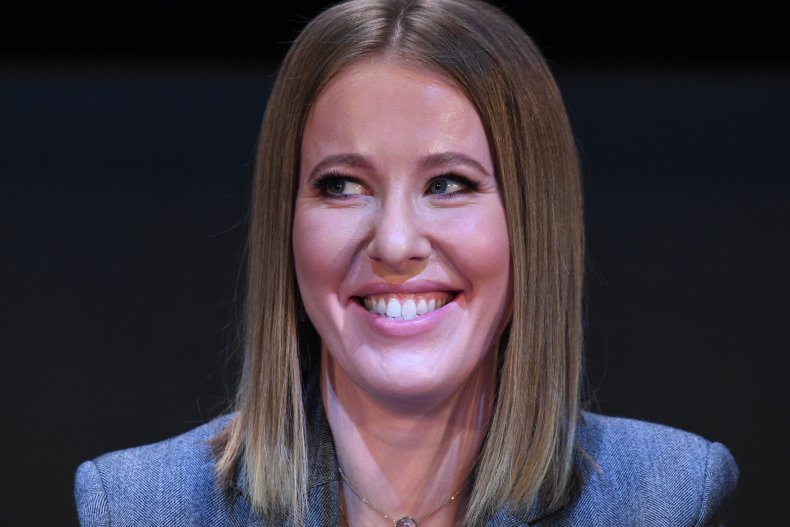 Moreover, in the last months, Kremlin trolls have been spamming Twitter with feminist tweets, most likely preparing the vastly patriarchal public for a female presidential candidate. It seems that Sobchak has coordinated her plans with Putin's administration.
Sobchak's bid for president will disorient the opposition. Russian liberal circles are now mobilized around Aleksei Navalny, who has spent months holding mass campaign rallies in cities all across Russia. However, Putin will not allow Navalny to register as a candidate, and Navalny supporters feel disillusioned with the upcoming elections. Judging by the reactions of opposition activists on Facebook and Twitter, many of them view Sobchak as a spoiler candidate.
Navalny was convicted on charges of embezzlement and of defrauding his business partners, after which the European Court of Human Rights declared these proceedings unfair. Navalny is now being detained for 30 days after being arrested in advance of a rally, and his brother was sentenced to three and a half years in prison in 2014. These are forms of political pressure exercised by the state.
Sobchak, by contrast, has not been seriously threatened by law enforcement. The Russian opposition does not view the liberal journalist as a serious political figure who would be willing to stand up against Putin. Putin knows that, unlike Navalny, Sobchak is not capable of mobilizing thousands to pour into the streets in protest and to risk being arrested and jailed.
Putin will also make sure to use Sobchak to discredit the liberal opposition. It is likely that the Kremlin will portray her as the face of those who oppose Putin, all the while drawing attention to Sobchak's socialite, pop culture past, which has been well documented on the pages of celebrity magazines and in gossip columns.
This could mobilize the more conservative Russians around Putin, and lead them to dismiss the opposition as a group representing the values displayed by Sobchak over the course of her twenties.
In addition, Sobchak will make the elections more exciting. Even those who sympathize with Putin are tired of seeing the same faces in the political arena year in, year out. Sobchak will be refreshing and even amusing for the Russian public, even though few would be willing to vote for her.
Apart from creating a façade of lively politics for Russians, Putin would also like to demonstrate to the West that elections are free and legitimate. When Sobchak hardly gets any votes, he will be able to declare that liberal candidates are not in demand in Russia.
So the Kremlin wins again. With the Russian opposition caught completely off guard, there will be no coherent or united reaction to Sobchak. Activists are finding themselves in disarray, marked by feelings of betrayal and disappointment.
Sobchak will not gain many votes from Russia's liberal opposition, which plays right into Putin's hands. But even after gaining presidential campaign experience, Sobchak is no competitor for Navalny.
Putin may have won this short-term game in the run-up to elections, but his play only proves that he is well aware of the dangers Navalny poses for his regime.
Katherine Zeveleva is an intern at the Kennan Institute of the Woodrow Wilson International Center for Scholars.