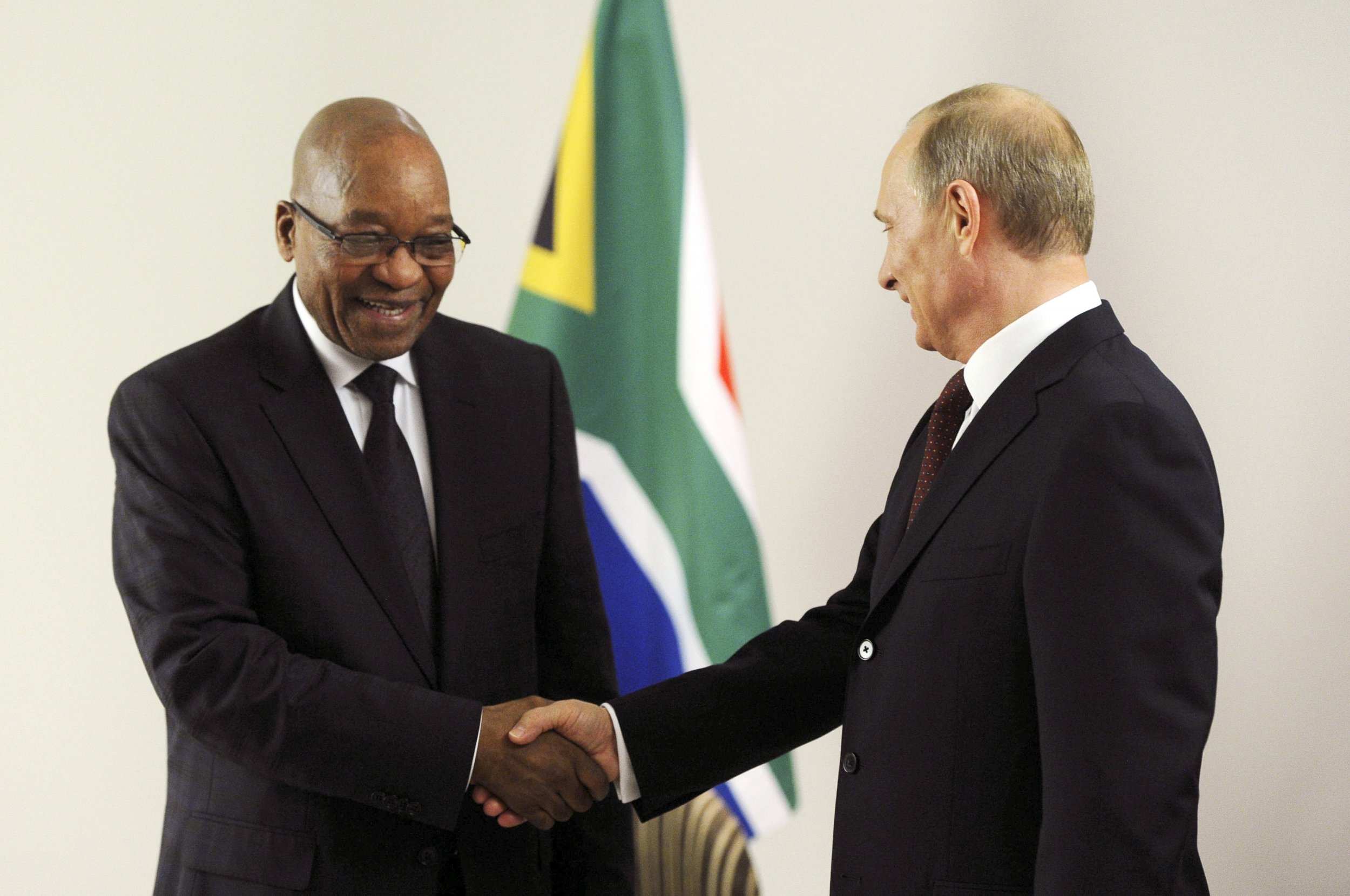 One year after the disputed referendum on Ukraine's Crimean peninsula joining Russia, the Kremlin is increasingly finding in Africa a welcome break from what has otherwise been its continued international diplomatic and economic isolation as a result of its aggression against its Eastern European neighbor.
In an Atlantic Council essay last year, drawing on earlier studies, I noted that "Ukraine, Georgia and the Middle East are not the only places Vladimir Putin's Russia has put a muscular foreign policy on display" and that "quietly, but with equal determination, President Putin has directed a robust strategic push into a region farther from Russia's borders—Africa." I warned that "while the web of strategic access and other ties that the Russians have been reconstituting and expanding across the continent does not necessarily presage a return to the Cold War era's often tragic zero-sum competition, other international actors heavily invested there no longer can ignore Moscow's resurgent interest."
Recent developments have validated these concerns, as the siloviki around Putin have not only returned to the former Soviet Union's theaters of operations in Africa but have done so in force across a range of sectors, the connections between which are, more often than not, far from transparent.
At the end of January, at the year's first meeting of the Commission for Military-Technical Cooperation with Foreign States, Putin called for expanded arms sales to African, Asian and Latin American countries and urged the panel to "intensify work with traditional and emerging partners" and to "pay more attention to new forms of customer relations," including "the use of modern financial and marketing tools."
He also stressed that "we need to make maximum use of Russia's competitive advantages, including our reputation…as a reliable, predictable partner who fulfills its obligations irrespective of any tactical preferences and the current political situation."
Just a week later, Russian Deputy Foreign Minister Mikhail Bogdanov, who also doubles as Putin's special representative for the Middle East and Africa, delivered a letter from his boss to African Union (AU) Commission Chairperson Nkosazana Dlamini-Zuma confirming his interest in strengthening Russia's ties with Africa. Dlamini-Zuma welcomed the message and responded with plans to open an AU representational office in Moscow and to visit the Russian capital in April.
Dlamini-Zuma's ex-husband, South African President Jacob Zuma, has also cultivated worrisome links with the Kremlin. In December, a Russian rocket launched into orbit a secretive joint satellite system, dubbed "Project Condor," that leaked documents revealed would provide Russian and South African intelligence services with surveillance of most of the African continent.
On February 17, the Ugandan government awarded RT Global Resources, a subsidiary of the largest Russian state holding company, Rostec, a contract to build the country's first oil refinery, a project that could cost as much as $4 billion. The deal also gives the Russian company a 60 percent stake in the refinery. The parent company, Rostec, is headed by Sergei Chemezov, a member of the Supreme Council of Putin's United Russia party who is on both United States and European Union sanctions lists.
Not only is this deal significant for its size and the impact on oil discoveries along the Ugandan border with the Democratic Republic of the Congo that are supposed to result in production by 2018, but it also highlights some of the complex—and not especially transparent—relationships involved.
The refinery project is not, in fact, Rostec's first foray into Uganda. Three years ago, the Ugandan military purchased more than half a dozen Sukhoi Su-30 twin-engine fighters from another Rostec subsidiary, Rosoboronexport, reputedly for $744 million.
The acquisition was controversial in the East African country, not least because Parliament was only advised of it and asked to approve the expenditure retroactively. Reportedly, some of the warplanes have since then been deployed to South Sudan to shore up the regime of Salva Kiir Mayardit, who has been backed by Ugandan President Yoweri Museveni in the country's 15-month-old civil war, a conflict that has killed tens of thousands and displaced 2 million others.
It is difficult to imagine that the selection of a Russian outfit best known for its role in the arms industry to undertake the biggest infrastructure project Kampala has ever approved is not somehow connected to the outsized role the Ugandan military plays in the country's domestic politics.
The Ugandan refinery agreement and its backdrop of arms sales is not unlike the $3 billion deal signed by Russia last September with Zimbabwean President Robert Mugabe (and also involving Rostec) to create the largest platinum mine in the Southern African country. The Kremlin cemented its long-standing ties to the nonagenarian despot when it vetoed a United Nations Security Council resolution to impose sanctions on the regime after it stole the 2008 elections and brutally repressed the opposition.
No mention of that episode was made by Russian Foreign Minister Sergey Lavrov, who lavished praise on Mugabe, declaring, "Russia would always be with Africa, and today we got a confirmation from President Mugabe, a legend, a historical figure, that Zimbabwe and Africa will always be with Russia." For his part, the Zimbabwean ruler responded, "Those who imposed sanctions on Russian President Vladimir Putin have done so on us as well. These are the evil men of our world."
Details of the Darwendale platinum project were announced by Russian Trade and Industry Minister Denis Manturov, who also happens to be the nonexecutive chairman of the Rostec board. According to one South African newspaper's account of the press conference, Manturov specifically mentioned prospects for other deals, including one with Uralvagonzavod, the largest manufacturer of tanks and other combat vehicles in the world.
Similarly, as I wrote last year in The Hill, President Joseph Kabila of Congo was increasingly turning to Putin's Kremlin for support while facing an absolute constitutional bar against seeking a third consecutive term of office (or even amending that provision in the charter)—as well as Western diplomats' united insistence on respect for the law.
Since the diplomatic mission I mentioned, Kabila has dispatched General François Olenga, his military confident, to follow up with his Russian counterparts. In fact, a group of Congolese police commanders have received specialized training at the All-Russian Advanced Police Academy in Domodedovo.
As the democracy deficit in the Congo continues to grow—as underscored by last week's arrest of an American diplomat, French and British journalists, and a number of pro-democracy activists (the diplomat was subsequently released)—is it just a coincidence that Russia's ambassador at the court of Kabila fils would, at just this juncture, be publicly hailing "the success of the political dialogue between Moscow and Kinshasa that has led to mutual support on the international stage"?
While it may be too early to judge how recent Russian forays into Africa will play out, two things are already clear. First, rather than yesteryear's preoccupation with winning an ideological contest, the motivations for today's engagements in Africa are strategic, both political and economic. Second, notwithstanding the attention lavished on Africa during last year's U.S.-Africa Leaders Summit, America and its allies have yet to fully recognize what is at stake in the Kremlin's renewed African play.
J. Peter Pham is director of the Atlantic Council's Africa Center. This article first appeared on the Atlantic Council website.