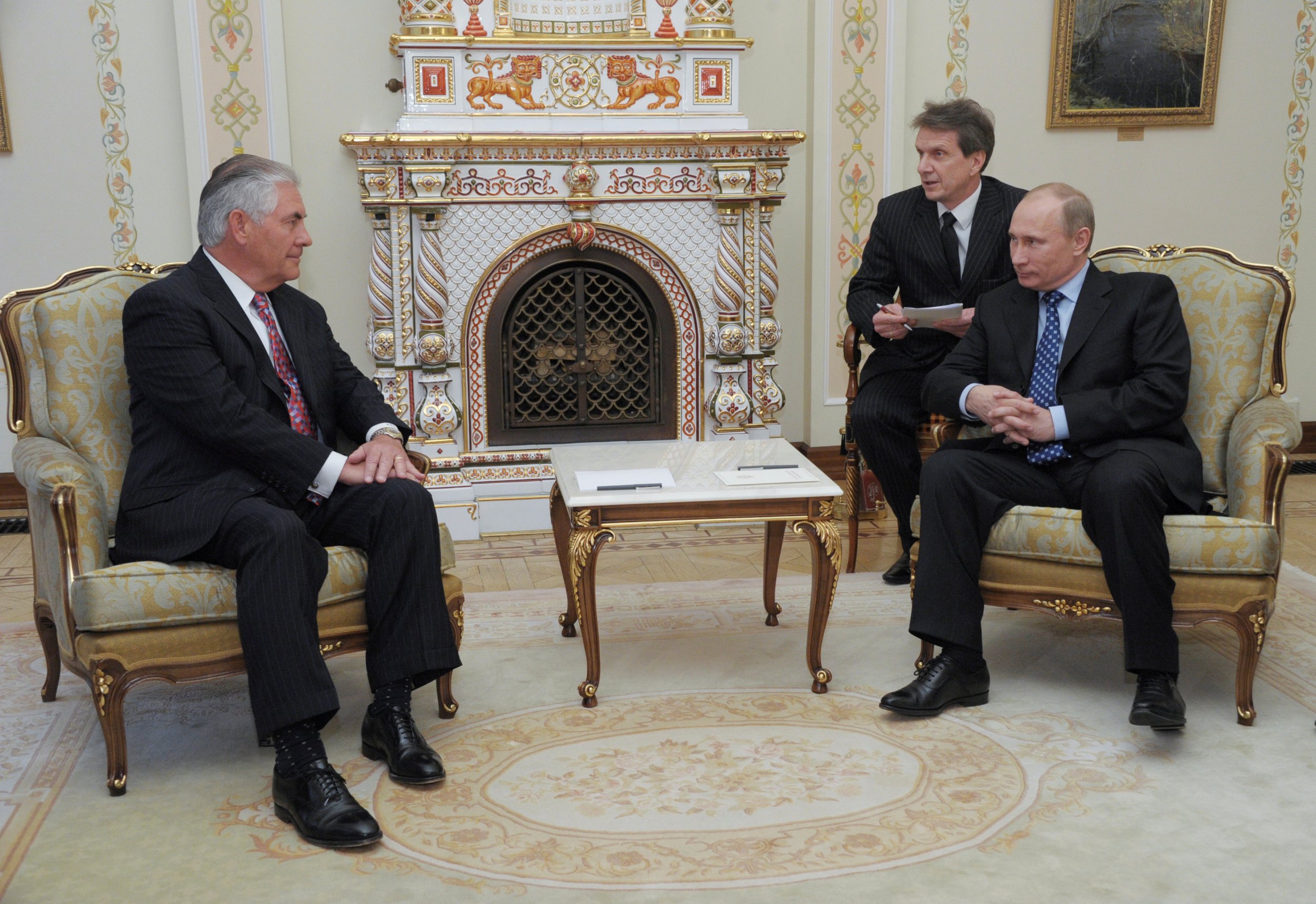 After more than three months with a Russia scandal waiting like a wolf at the White House door, President Donald Trump surprised allies and detractors last Thursday with a strike on Moscow's ally—Syria. The move, whether motivated by concern for Syrian civilians or by the desire to shed the aura of being too pro-Russian, has dealt a hammer blow to Russian hopes for a wider rapprochement with Trump.
"What a pity," wrote Russian Senator Konstantin Kosachev on Facebook following the strike. "And it all started so well," said the head of the Russian federal senate's International Affairs Committee, voicing what is likely the common mood in Moscow at present.
On Tuesday night U.S. Secretary of State Rex Tillerson makes his first official visit to Russia. While he holds the rare honor for a U.S. official of Russia's Order of Friendship, he faces the possibility that the man who gave him the accolade—Russian President Vladimir Putin—may not make time to see Washington's top diplomat on his first trip to Moscow.
Events in Moscow on Tuesday and Wednesday will be a clear indicator of where the U.S. and Russia stand at present. Here is what to keep in mind and what to look out for:
Would Putin snub Tillerson?
Putin's spokesman was not pleased when asked if the president will make time to meet Tillerson. "We have announced no meetings and to this day there are no meetings with Tillerson on the president's schedule," Peskov said, according to state news agency Itar-Tass. When a journalist asked if the U.S. should read into Putin's potential refusal to meet its top diplomat, Peskov said he did not "understand the point of the question."
The line of questioning persisted, one journalist explaining that there is discussion of a Putin no-show as a signal of anger at the U.S. "Keep the discussion going," was Peskov's response.
Read more: Could Russia have stopped the U.S. strike on Syria?
Putin has met previous secretaries of state, hosting John Kerry's meetings with Russian Foreign Minister Sergey Lavrov in Russia four times in the last two years, despite a very chilly relationship with President Barack Obama's administration.
John Herbst, former U.S. Ambassador to Ukraine, now with the Atlantic Council, says if Putin does not meet Tillerson, the U.S. will certainly read this as a negative signal.
"It is absolutely clear that it is normal when the U.S. President and the Secretary of State go to Moscow they meet with Putin," he says. "Yes, Putin is a very busy man but he makes time. If Tillerson goes to Moscow and sees [Russian Foreign Minister] Lavrov and not Putin, I would not say that this is useless but it is less useful. Lavrov does not have power in the policy process."
Whether Putin intends to miss the meeting as a purposeful snub is unclear, says Herbst, but if he were to avoid meeting Tillerson, it would be interpreted as such "by the U.S. and by people who watch Russian policy."
Is Putin saving face?
Despite some reports citing Peskov denying that a Tillerson-Putin meeting will happen, this is far from certain. Peskov said Monday the Kremlin would update the press "if such a meeting is announced" and Russian business news channel RBC cited sources within the Ministry of Foreign Affairs that same day, claiming to be working on exactly such a meeting between the two, unofficially confirming it will go ahead.
Peskov's explanation that it was Kremlin policy not to announce such meetings beforehand was not strictly true. He personally told journalists in advance that Putin would meet Kerry on his last meeting in July. Putin met with Kerry often, hosting two of his meetings with Lavrov at the Kremlin, sitting in on another one in Moscow the year prior, after also having the pair over at his Black Sea residence in Sochi in 2015.
Related: Russia pulls out of Syria air safety deal with U.S. after strike
Putin also said at an Arctic forum last month that he is willing to meet Tillerson if he visits Russia.
Those points aside, there are other reasons for Russia to downplay a potential meeting following the U.S. strike. The less attention a meeting gets in Russia, the less the Russian public is likely to dwell on the fact that the U.S. hit a Russian ally's airfield without a substantial response from Putin. Up until Tuesday afternoon, Putin, who enjoys a commanding and revered role in the spectacle of the Russian news media cycle, had kept quiet about the U.S. strike. Just hours ahead of Tillerson's arrival, and after reports that the U.S. secretary of state planned to exert pressure on Russia to abandon its backing of Syrian President Bashar al-Assad, Putin made his first comments on the current situation in Syria. Addressing reporters in Russia, he said that "various sources" had told the Kremlin than an unnamed party was preparing to frame Assad for another chemical attack, in order to provoke the U.S. into further military action.
"We have information that a similar provocation is being prepared in other parts of Syria including in the southern Damascus suburbs," Putin said.
Putin's reaction to the strike was a far cry from his dramatic emergency press conference in 2015 when, within hours of Turkey downing a Russian jet at the Syrian border, he accused the country of stabbing Russia in the back and being complicit in terrorism.
There are differences between both scenarios but a crucial one, according to Herbst, is that Putin's reputation of strength can be tarnished by aggressive rhetoric without action. Military action against the U.S. is something which Putin earnestly claims to want to avoid.
"Putin wants not to play this up," he says. "He has made quite a bit of being a great world politician that changes the way of nations but if the U.S. becomes more involved in Syria, there is little he can do about it."
Lilia Shevtsova, a Russia expert at American research group Brookings Institution and a graduate of Moscow's diplomatic school, says Putin is looking to "save face" by being aloof and expecting the U.S. to grant some concessions to persuade Russia not to strenuously oppose U.S. operations in Syria.
What does Putin want from Tillerson?
Whether Putin meets with Tillerson or only Sergey Lavrov receives the secretary will not change what Moscow hopes for. During the phone call between Tillerson and Lavrov on the day following the strike the pair agreed to discuss the issue further at their next face-to-face meeting.
According to Shevtsova, Tillerson is likely headed to Moscow not with an ultimatum, but with the intention of discussing some sort of plan to prevent a further deepening of tension. His British counterpart, Boris Johnson, called off his first official visit to Moscow on Monday as a result of the strike, and Russia responded by criticizing the U.K. foreign secretary's understanding of the Syrian conflict, diplomacy in general and the U.K.'s global influence.
"Moscow does not want confrontation and does not want to find itself in isolation with Iran and Syria," Shevtsova says. "The visit is about preventing getting really into the cold."
Tillerson's belief, as voiced at his confirmation hearing in U.S. Congress, is that Russia is not "unpredictable" and that although Washington and Moscow "are not likely to ever be friends" they could cooperate on fighting Islamist extremism.
Russia will likely look for assurance that this can still occur without demands from the U.S. that Assad must leave power, before establishing some cooperation with the U.S.
Since launching its operation in Syria in late 2015, Russia has strengthened Assad's control of the country and went as far as drafting its own set of peace talks, excluding the U.S., which is involved in the U.N. brokered peace talks. Russia has since claimed these talks are meant to work together with the U.N. process, not replace it, and ahead of the U.S. strike, the Kremlin said its support for Assad was not unconditional either.
"I think that the Kremlin in the current situation does not hope that it will enforce its rules of the game in Syria," Shevtsova says. "But it would be hard for Putin to admit failure. Thus, he will expect from Trump some kind of a carrot that could be presented as a demonstration of respect—the Kremlin expects a face-saving deal."
It is difficult to imagine what such a deal would look like, however. Even speculation that Trump could make a grand bargain to join forces in Syria and reconsider U.S. support for Ukraine in its dispute with Russia, has waned since he has explicitly backed Ukraine's claim over Crimea, which Russia annexed in 2014 and instigated the Syria strike.
"I think Moscow desperately wants to maintain its military predominance in Syria so they want this visit to somehow reassure them," Herbst says. "They will want to hear that the U.S. strike last week was a one-off and that it is not a sign of a wider U.S. effort against Assad." Whether Tillerson can provide those assurances is another question.