Putin Regrets Awarding Tillerson 'Order of Friendship' Because He Joined Trump Administration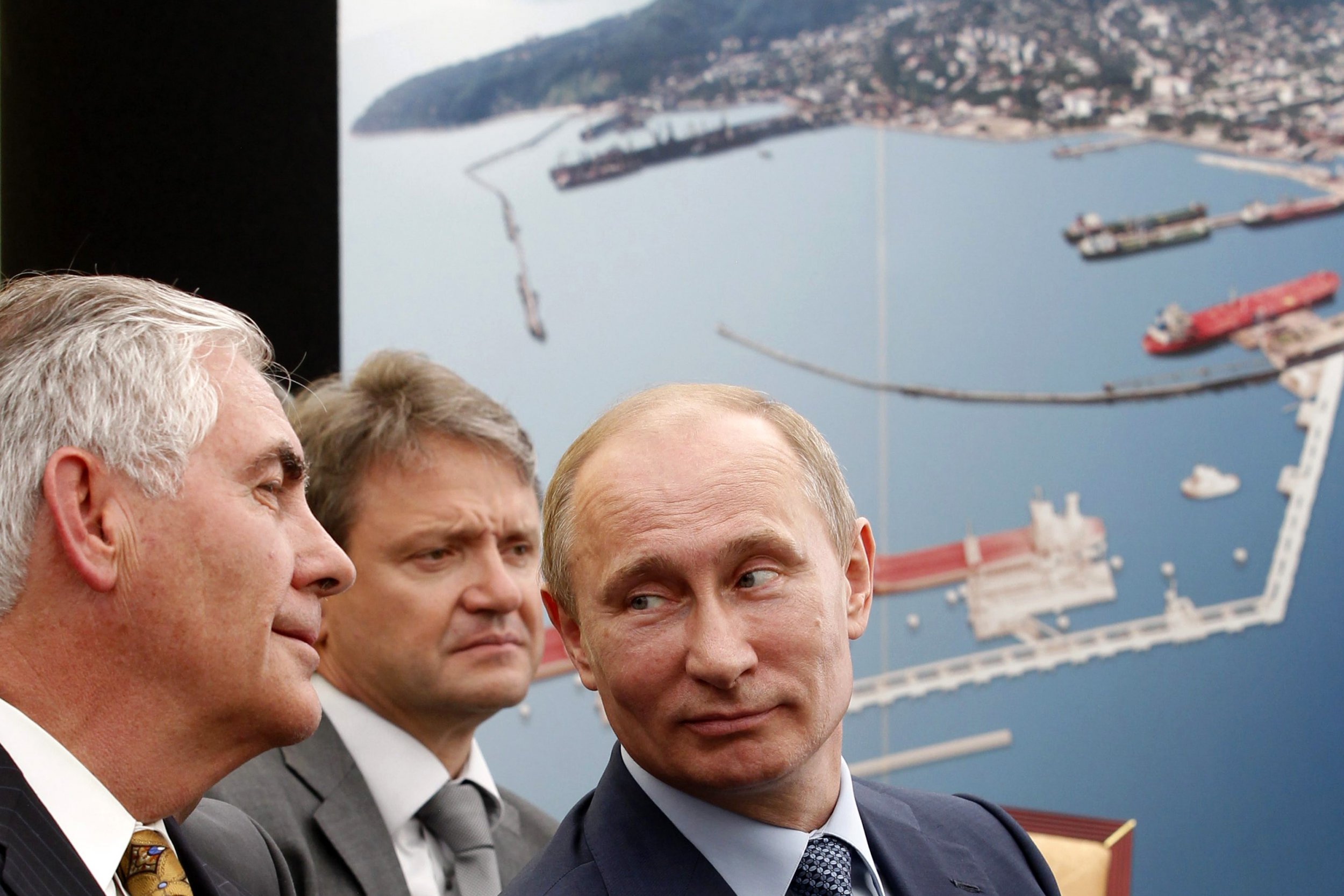 On Thursday, Russian President Vladimir Putin said he regretted awarding U.S. Secretary of State Rex Tillerson the "Order of Friendship" in 2013 now that "he's fallen in with the wrong company," Reuters reports.
Speaking to a U.S. citizen at an economic forum in Vladivostock, Putin said, "We awarded your compatriot Mr. Tillerson the Order of Friendship, but he seems to have fallen in with the wrong company and to be steering in the other direction."
"I hope that the wind of cooperation, friendship and reciprocity will eventually put him on the right path," the Russian leader added.
Putin made the remarks in a fairly jocular manner, but they highlight how strained the relationship between the Trump administration and Russia has become in recent weeks.
Tillerson was awarded the "Order of Friendship" while he was CEO of ExxonMobil, after he orchestrated deals with the state-owned Russian oil company Rosneft.
When Trump announced he was nominating Tillerson for secretary of state, many took issue with his close relationship to Putin.
At the time, Senator Lindsey Graham said, "I don't know [Tillerson] much at all, but let's put it this way: If you received an award from the Kremlin, [an] Order of Friendship, then we're gonna have some talkin'. We'll have some questions. I don't want to prejudge the guy, but that's a bit unnerving."
Tillerson had no government experience prior to becoming secretary of state, which might help explain why he's reportedly struggled to bring order and direction to the State Department.
During the presidential campaign, Trump signified a desire to improve U.S.-Russia relations. Due to Russia's interference in the election and the Trump campaign's alleged collusion, however, this has been politically impossible.
In August, Trump signed a bill imposing new sanctions on Russia, which angered the Kremlin. Putin retaliated by announcing the expulsion of 755 U.S. diplomats, representing one of the harshest diplomatic moves between the two countries since the Cold War.
More recently, the U.S. called for the Russian consulate in San Francisco and diplomatic annexes in Washington and New York to close as a response to the expulsion of the 755 diplomats.
In this context, Putin's joke about Tillerson makes sense, though it may not be particularly helpful in terms of easing tensions between the U.S. and Russia.