The head of a rights group has told Newsweek that the blessing a Russian Orthodox priest gave a statue of Joseph Stalin signaled how the legacy of the brutal Soviet dictator had been rehabilitated by Vladimir Putin.
Until his death in 1953, Stalin oversaw a brutal regime that destroyed or repurposed churches and persecuted Russian Orthodox clergy who were killed or sent to labor camps.
But one priest described the positive side of this persecution in a ceremony in the city of Velikiye Lukim, in Russia's Novgorod region, where he doused holy water on a 26-foot high statue of the dictator who terrorized his own people.
In the video shared by independent Russian news outlet Sota, the priest named "Father Antony" said "Christ is risen" and then addressed the crowd.
He said that during Stalin's time in power, "if we are being honest, the Church suffered," but added that, "thanks to this we have lots of new Russian martyrs and confessors to whom we now pray and are helping us in our Motherland's resurgence."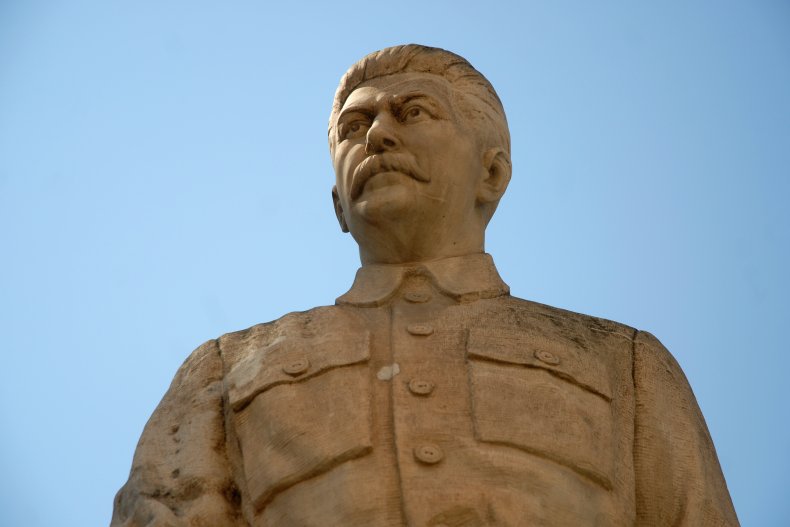 Willy Fautré, who heads the group Human Rights Without Frontiers (HRWF), said that Stalin's popularity in Russia was rising due to Putin's "rewriting of Russian history," fueled by Kremlin propaganda.
The priest's actions were "a concrete example of the effect of this fabricated partial amnesia," he told Newsweek.
Stalin led the Soviet Union during its victory over Nazi Germany, whose legacy has framed Putin's full-scale invasion of Ukraine as the Kremlin claims as part of its justification for the war was to "denazify" the country.
March 5, 2023 was the 70th anniversary of Stalin's death and despite streets no longer bearing his name and public commemorations remain taboo, his reputation has in recent years had a renaissance.
Russia's Levada Center conducted polls in 2021 which found that 45 percent of respondents had "respect" for the dictator, while even more (48 percent) supported installing monuments to him.
Polls in 2021 by Russia's Levada Center, for example, showed 45 percent expressing "respect" for Stalin while 48 percent backed installing monuments to him.
"With Putin constantly referring to Stalin as the victor of the Great Patriotic War, the figures must no doubt have increased still further," said Fautré.
"The media coverage of the priest's blessing is bound to cause great embarrassment to (Russian Orthodox Church head) Patriarch Kirill, as it awakens memories that he prefers to keep under anesthetic," he added. Fautré's group has previously condemned the patriarch's canonical justification for Putin's war.
The comments by the priest have sparked an investigation by his parish and condemnation from social media users.
In sharing the clip, Francis Scarr, of BBC Monitoring, wrote: "This is surely the hotchpotch ideology of Putin's Russia at its worst."
Carl Bildt, the co-chair of the European Council on Foreign Relations, posted on X, formerly Twitter, that the incident showed how the history of the Russia "is really taking a tragic turn. Tens of millions of Russian were killed by this brutal dictator, including many thousands of priests."
"Utterly depraved and surreal," wrote former Member of the European Parliament Charles Tannock, who added: "A disgusting performance and an insult to the memory of Stalin's countless victims."
In a statement, the Velikiye Luki diocese, which Newsweek has emailed for comment, said that the blessing of the monument had taken place without the permission of the Diocesan administration.
It said that the priest's comments "are not an expression of the position of the hierarchy of the Russian Orthodox Church and reflect their personal views and convictions," and that an investigation was under way.