Putin Resorts to Partial Mobilization in Attempt to Salvage Ukraine War
Vladimir Putin has announced that Russia will undergo a partial mobilization in which reserves will be called up to fight in his invasion of Ukraine.
The Russian president said in an address on Wednesday that Russian citizens currently in the reserves and those who have served in the Armed Forces with "certain military specialties and relevant experience" will be subject to conscription. Those called up will undergo additional military training before being sent to units.
Putin said that the measure was necessary "to protect the sovereignty, security and territorial integrity of Russia."
Putin was due to make a major announcement on Tuesday evening which led to speculation that he would address the Russian losses in the face of Ukraine's counteroffensive in the northeast Kharkiv region and beyond.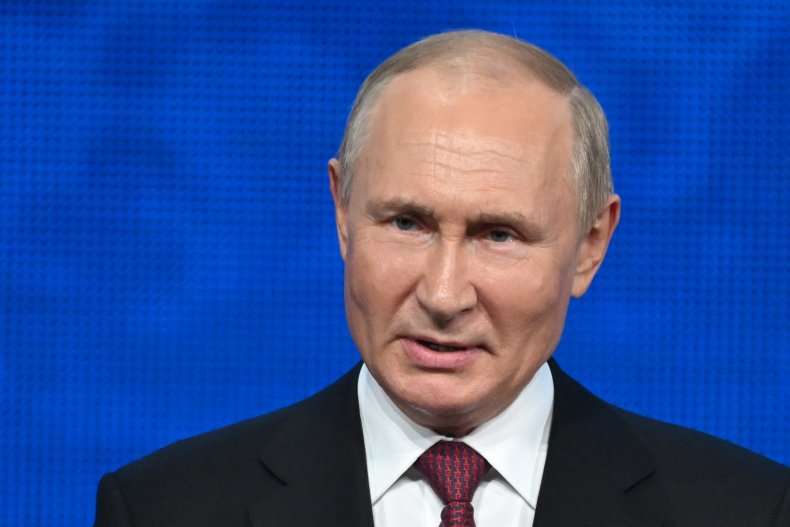 While not the general mobilization in which any citizen can be called up to serve, Putin's announcement marks a significant escalation in his faltering campaign in which he has suffered huge losses of troops and equipment.
In his address, Putin said his army was facing the military operations of the collective West on a frontline of over 600 miles in Ukraine and accused the West of starting a war against Russia in Ukraine in 2014.
Putin also said Russia would give its full backing to the referendums planned for Luhansk, Donetsk, Kherson and Zaporizhzhia to join the Russian Federation.
"In its aggressive anti-Russian policy the West has crossed all lines," Putin said. "The aim of the West is to weaken and destroy Russia."
"They are openly saying that in 1991 they managed to destroy the Soviet Union and now is the time for Russia itself."
Putin also accused the West of using "nuclear blackmail" and warned that if his country's "territorial integrity is threatened Russia will use all the means at its disposal."
Putin's decree will mean that Russian soldiers will have their contracts extended indefinitely, except in cases of dismissal of the military.
The measure is expected to see 300,000 reservists called up, according to Defense Minister Sergei Shoigu, who said that conscripts will not be affected by mobilization.
The rights group Vesna announced that there would be protests across Russia on Wednesday opposing mobilization.
It tweeted that Putin's decree would mean that "thousands of Russian men—our fathers, brothers and husbands—will be thrown into the meat grinder of war. What will they die for? Why will mothers and children shed tears? For Putin's palace?"
Update 09/21/22, 3:15 a.m. ET: This article has been updated with further details.