When Vladimir Obukhovsky speaks of Josef Stalin, his voice drops a tone in reverence. The 23-year-old is too young to remember life under the Soviet dictator—let alone Russia's Communist system—but he yearns to see the red flag fly over the Kremlin once more. "Communism is the sole system under which our country had it all," says Obukhovsky, the leader of the modern-day Komsomol, the Soviet-founded Communist youth organization. "Today's authorities have destroyed everything that was built up by the Soviets."
Obukhovsky isn't the only one who longs for the return of Russia's Soviet past. More than a quarter of a century after the collapse of the Soviet Union, Communist ideas remain extremely popular in Russia, where nostalgia for the social safety nets provided by the Soviet system is widespread. As Russians struggle through an economic crisis that has plunged many into crippling poverty, support for the Communist Party is growing in the lead-up to September's parliamentary elections. Among other things, on its platform this fall is the nationalization of natural resources, as well as the state takeover of the tobacco and alcohol industries to finance more social spending. The party is also pledging to introduce a progressive tax rate to replace the 13 percent flat tax enacted by President Vladimir Putin more than a decade ago. "Why should a cleaner who gets a minimum wage be taxed the same as an oligarch?" asks Gennady Zubkov, a regional Communist Party lawmaker. "This is unacceptable."
Last September, in a result that shocked Russia's carefully controlled political system, the Communist Party's Sergei Levchenko was elected governor of east Siberia's Irkutsk region, defeating his rival from the ruling United Russia party. Levchenko's win marked the first time a Putin-supported candidate had been defeated since the Kremlin reintroduced direct elections for regional governors in 2012. Local Communist Party activists say their true margin of victory was so great that Kremlin-friendly election officials were unable to rig the vote in favor of the candidate from the ruling party, a move that critics allege is commonplace throughout Russia.
Growing support for Communist rule
In May, the Moscow-based Levada Center polling organization, widely regarded as the most accurate indicator of the public mood in Russia, reported a 6 percent increase of support for the Communist Party—up from 15 percent to 21 percent from the previous month. In February, the same pollster found that more than 50 percent of Russians favored a return to a Soviet-style planned economy.
Though Westerners might be more familiar with Boris Nemtsov, the Kremlin critic who was gunned down last year, or Alexei Navalny, the charismatic anti-corruption activist, the Communists are the second largest group in parliament. For millions of Russians, the party represents the genuine opposition to Putin and United Russia. This especially holds true outside big cities, in the provinces, where anti-Putin activists such as Navalny often struggle to get their pro-democracy message across. The Communist Party, with its massive resources, including $22 million in annual funding from the federal budget, has few such problems.
Take Volzhsk, for example. The town is the second largest population center in Mari El, an impoverished area some 500 miles from Moscow. Infrastructure in the town is largely unfit for use, with dusty, rough-hewn tracks in the place of sidewalks, potholed roads and crumbling public facilities. "That's our local cinema," says Andrei Kalugin, a Communist Party candidate for parliament, as he stands outside a charred husk of a building in town. "It's called Homeland. It burned down three years ago. Apparently, there is no money to fix it up," he adds, laughing at the obvious symbolism.
Putin's supporters may laud the country's longtime leader for "raising Russia up from its knees," as they often put it. But in Volzhsk, and elsewhere in Mari El, it's difficult, if not impossible, to square those grandiose claims with the gritty reality. "Over the past 15 years, Russia has seen factories close, roads fall into disrepair, and many people are unable to purchase homes," says Sergei Kazankov, another Communist Party candidate in Mari El. "People still remember the Soviet Union, when apartments were provided by the state and when there were jobs for everyone. People don't forget these things so easily."
Party members blame high-level corruption for the pitiful state of affairs; Mari El is the sixth poorest region in Russia, where monthly salaries average just 22,000 rubles a month (about $342). In Volzhsk, salaries are even lower. "I earn 5,000 rubles a month, and my public utilities payments come to 10,000 rubles," says Svetlana, a middle-aged, part-time caretaker at a rundown sports center. Like many people in the region, Svetlana, who asked that her surname not be published, has no love for United Russia. "I support the Communists, of course," she tells Newsweek. "How could I not, the way we live today?"
Recently, the Communist Party's rhetoric has become sharper and more focused, especially when it comes to state corruption. By the Kremlin's own admission, corruption costs Russia some $30 billion a year. The Communists haven't directly accused Putin of involvement, but senior party members have lashed out at members of his inner circle. The Communists have also launched an online petition to force parliament to ratify Article 20 of the United Nations Convention Against Corruption, which stipulates automatic criminal charges for government officials unable to explain discrepancies between their spending and their official incomes. "Those close to the president clearly enjoy preferential treatment and get rich through embezzlement and kickbacks," says Valery Rashkin, the head of the Communist Party in Moscow. "Corruption today is a cancerous growth on the body of Russia. If we don't remove it, it will become fatal."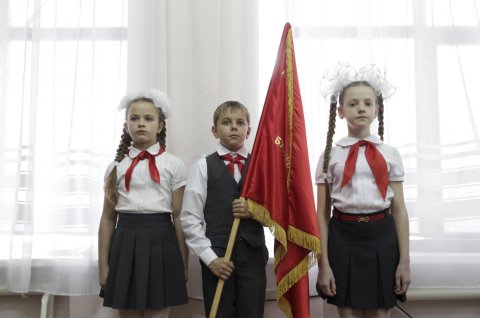 'Political program is a fake'
While few doubt the sincerity of low-level activists, critics allege that the party has no real intention of challenging Putin, and that its veteran leader, Gennady Zyuganov, is content to provide symbolic opposition in exchange for the millions of dollars in funding that come with heading the country's largest opposition bloc. As evidence, critics cite the Communist Party's enthusiastic support for Putin's foreign policy, as well as for legislation aimed at clamping down on civil liberties. "The Communists have long accepted the rules of the game," says prominent Russian political analyst Dmitry Oreshkin. "They...are allowed to criticize the authorities because the Kremlin knows this is not going to lead to radical change. Putin holds the key—and the key is money."
Former members of the Communist Party are even harsher. "The Communist Party is an empty shell, a simulacrum," says Anatoly Baranov, who was expelled from the party in 2007 as part of a large-scale purge of dissenters. "Its political program is a fake and one that no one intends to implement."
Communist Party officials angrily refute such claims. "In all elections, both national and regional, we raise the red flag and move forward for victory," says Rashkin. "We are also the most active opposition party when it comes to street protests."
Unlike elsewhere in Eastern Europe, where leftist movements have modernized and adopted social-democratic ideas, Russia's modern-day Communist Party has resisted such reforms—aside from attempts to become more business-friendly and a controversial embrace of Russian Orthodox Christianity. Images of Lenin and Stalin dominate party offices and banners, and the party's official symbol remains the hammer and sickle. "We will always promote the names of Stalin, Lenin and other Soviet heroes," says Rashkin.
It is a policy that's in step with public attitudes. Despite well-documented evidence that he sent millions to their deaths in the gulags, Stalin's popularity has rocketed amid Russia's confrontation with the West over Ukraine and Syria. For the first time this year, a majority of Russians (52 percent) indicated in an annual opinion poll that they considered Stalin's bloody rule "probably" or "definitely" a positive thing. "In Russia, we say no one judges the winner," says Obukhovsky, the young Komsomol leader. "And Stalin won. He defeated time, he defeated his own death, and he defeated his enemies. And that's why we, the younger generation, are proud to carry banners bearing his name."
With the 100th anniversary of the 1917 Bolshevik Revolution looming, Russia's Communists are confident that history is on their side. "Sooner or later, by whatever means," insists Obukhovsky, "the Communist Party will come to power again."