The atmosphere in the studio was tense. On February 27, seven candidates in Russia's presidential election were standing in front of the cameras for a televised debate. Vladimir Zhirinovsky, a fiery nationalist politician, and Ksenia Sobchak, a well-known liberal journalist and prominent socialite, were arguing about the collapse of the Soviet Union—and things quickly spiraled out of control.
"Get her out of here," Zhirinovsky screamed. "She's a crazy fool."
Sobchak then picked up a glass of water and hurled its contents at Zhirinovsky.
"[She's] scum!" Zhirinovsky shouted as water dripped down his face. "A disgusting broad! A lowdown whore!"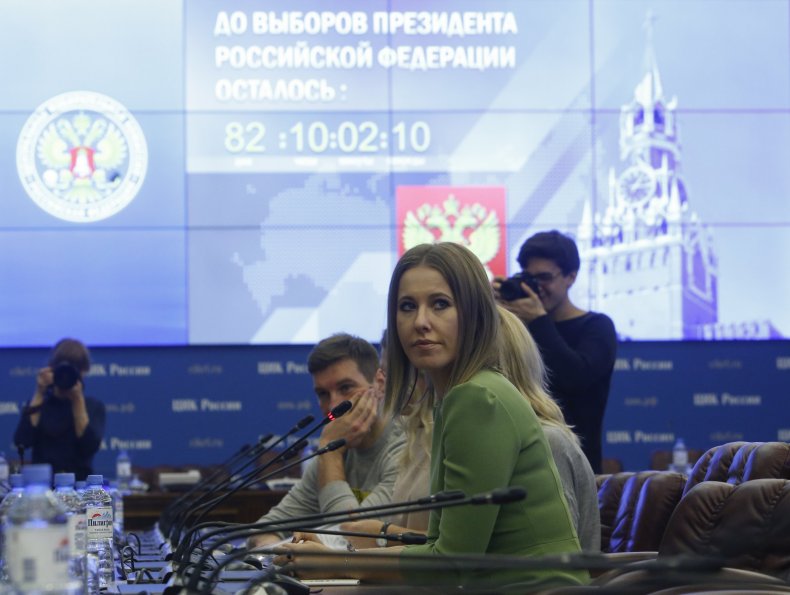 The moderator tried to calm things down, with little success.
The debate, broadcast by state-run Channel One, made headlines and triggered debates about Zhirinovsky's actions. Notably absent from the discussion: Vladimir Putin, Russia's president, who was not in the studio that evening.
When Russians vote in their presidential election on March 18, none of the seven candidates who participated in the debate have any chance of unseating him. After almost two decades in power, the ex-KGB officer has total command over state media, while the government controls the election committee, which counts the votes and decides who makes it onto the ballot. Putin is currently polling at 69 percent, while his nearest nominal rival, Communist Party candidate Pavel Grudinin, is at just 7 percent.
Related: Why Putin's corruption crackdown may be a pre-election show
Russia's longtime leader has never demonstrated much fondness for campaigning. But this year, his apparent lack of interest has sunk to new lows: Not only has he declined to take part in presidential debates, he has failed to publish a platform laying out his policy priorities. Even his campaign spots have been created without his input, forcing producers to use archival footage of the president.
"What's happened to Vladimir Putin?" asked Moskovsky Komsomolets, a popular Russian tabloid, in an article about the president's "sluggish" re-election campaign. "Doesn't he think election issues are important? Is he ill? Or is he just tired?"
No one knows why Putin's re-election efforts have been so lackluster. But they are perhaps having an effect on voter participation. A recent public opinion survey by the Levada Center, an independent pollster, indicated that just 28 percent of Russians definitely intend to cast their vote, while another 30 percent will "probably" do so. Some analysts have predicted a nationwide turnout of around 45 percent. The last presidential election, in 2012, saw a 62 percent turnout. In 2008, it was 70 percent.
"Many people don't see any point in voting because they think their vote won't count for anything," said Grigory Melkonyants, co-chairman of Golos, an independent election-monitoring group. "They think that everything has been decided in advance."
Underwhelming voting figures would be a major blow for the Kremlin, which reportedly wants to see a big turnout to bolster Putin's image as "national leader." Citing insiders, Russian media reported last year that the presidential administration is aiming for Putin to win at least 70 percent of the vote, with a minimum 70 percent turnout.
"The Kremlin is planning to base the legitimacy of Putin's new six-year term on a high turnout," said Leonid Volkov, chief of staff for Alexei Navalny, the opposition figurehead who is barred from running for public office due to a fraud conviction he says was trumped up to stop him from challenging Putin.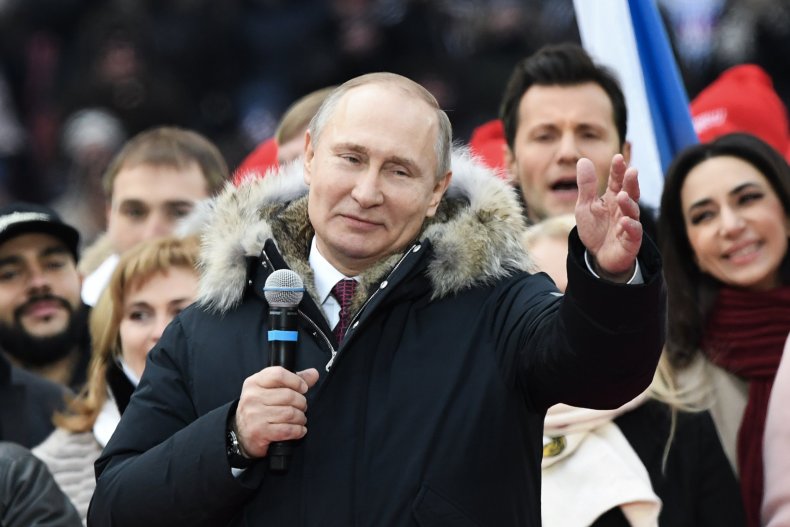 And so the Kremlin is having to get inventive. The authorities are advertising the elections on an unprecedented scale, placing reminders to vote on milk cartons, cash machines and billboards throughout Russia. According to a leaked Kremlin document reported on by Russia's RBC media outlet, the presidential administration is planning to offer iPhones and iPads for the best ballot box selfies, as part of a bid to create a "holiday-like atmosphere" at polling stations. Famous athletes, comedians and actors will help promote this "Photo at the Polls" competition.
Other plans to brighten the voting day experience including sporting events and nonbinding referendums on local issues at polling stations. A factory in central Russia has even printed up a handy guide for its workers about what to do on Election Day. The guide includes a telephone number for workers to call so they can inform the factory after they have voted. The final instruction? "Celebrate!"
But the authorities are also using harsher tactics to get the vote out. Education officials have threatened university students with expulsion from their dorms unless they register to vote, according to Russian media reports. "It's important for me that you fulfill your obligation to your motherland," a lecturer told students in Ulan-Ude, a city in Siberia, according to an audio recording posted to YouTube. "I'm going to stand with a list and cross you off one at a time." She also threatened to drag students to the local polling station "by the scruff of the neck."
Officials have strong-armed tens of thousands of Russians, including high school teachers and other government employees, into attending Putin's sole campaign rally, which took place March 3 at Moscow's vast Luzhniki Stadium, according to reports on social media and opposition websites. "Organize yourselves into groups of no less than four, and photograph yourselves when you arrive at the stadium," read an email sent to the employees of a Moscow-based company. "Do not leave until the president has appeared onstage."
An unknown number of people were even paid 500 rubles ($9) to attend the rally after answering an ad on a popular "rent-a-crowd" website. Meanwhile, officials at least one polling station in Moscow were ordered to boost numbers at the rally, according to a Newsweek source, who asked for anonymity because of the issue's sensitivity. Andrei Kondrashov, Putin's campaign spokesman, denied anyone had been forced to attend the rally.
Critics say the Kremlin's tactics echo those employed by Soviet authorities to ensure high turnouts at political rallies and in single-candidate elections, when voting days were promoted as community events and usually scare supplies of meat and vegetables were sold at stations. "People are irritated by all of this. It reminds people of the [Soviet leader Leonid] Brezhnev era," said Dmitry Oreshkin, a prominent political analyst. "The majority of aren't people aren't against Putin, but they think, We are patriots and there's no reason to act like this with us."
A popular online video has also warned of the consequences of not voting. The slickly produced short film, which features professional actors, plays on the country's widespread fears of gays. In one scene, the main character goes into his kitchen, where a tattooed man dressed in a pink T-shirt is filing his nails. "I'm a gay on a homestay," he says, after which the man's wife reminds him that under a new law, Russian families are obliged to take in gay people who have split up with their partners. "And if he doesn't find anyone, you'll have to be with him."
The man then wakes up and, panicking, urges his wife to come with him to vote at the local polling station. "Or it will be too late!" he says.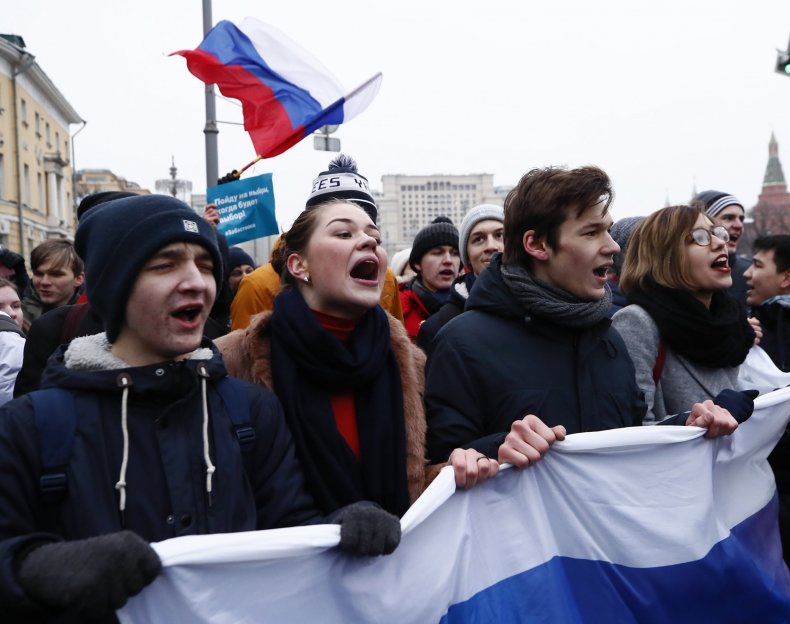 No one knows who produced the video, which millions of people have watched since it was posted to various social media accounts in mid-February, but opposition figures say it is part of the Kremlin's campaign to boost turnout. Both the government-controlled election committee and Putin's election campaign team deny any connection to it.
The video has spread across Russian social media as Navalny has urged his supporters to boycott the polling stations. "What they are offering us can't be called elections," he said in a recent online video address. "Only Putin and the candidates he has personally selected, those who don't represent even the smallest threat to him, are taking part. To go to the polling station now is to vote for lies and corruption."
Navalny's campaign staff has also been training election monitors in an effort to combat what opposition figures allege is the widespread practice of vote-rigging, used to increase Putin's numbers and overall turnout. The tactic isn't new. Some Russian regions regularly report turnouts of over 80 percent—figures that analysts say are artificially inflated by electoral malfeasance. During the 2012 presidential election, Chechnya, a southern Russian republic, reported a turnout of 99.59 percent, with 99.82 percent of voters backing Putin.
Some 3,000 volunteers have so far answered Navalny's appeal for election monitors in Moscow alone, said Sergey Boyko, who heads the opposition leader's campaign headquarters in the Russian capital. "Even if we aren't able to prevent vote falsification, then at least we will be able to record it," he said. "Only in this way can we get a true picture of how people vote.