Putin Claims Russia Does Not Have 'Propaganda Machine' Like the West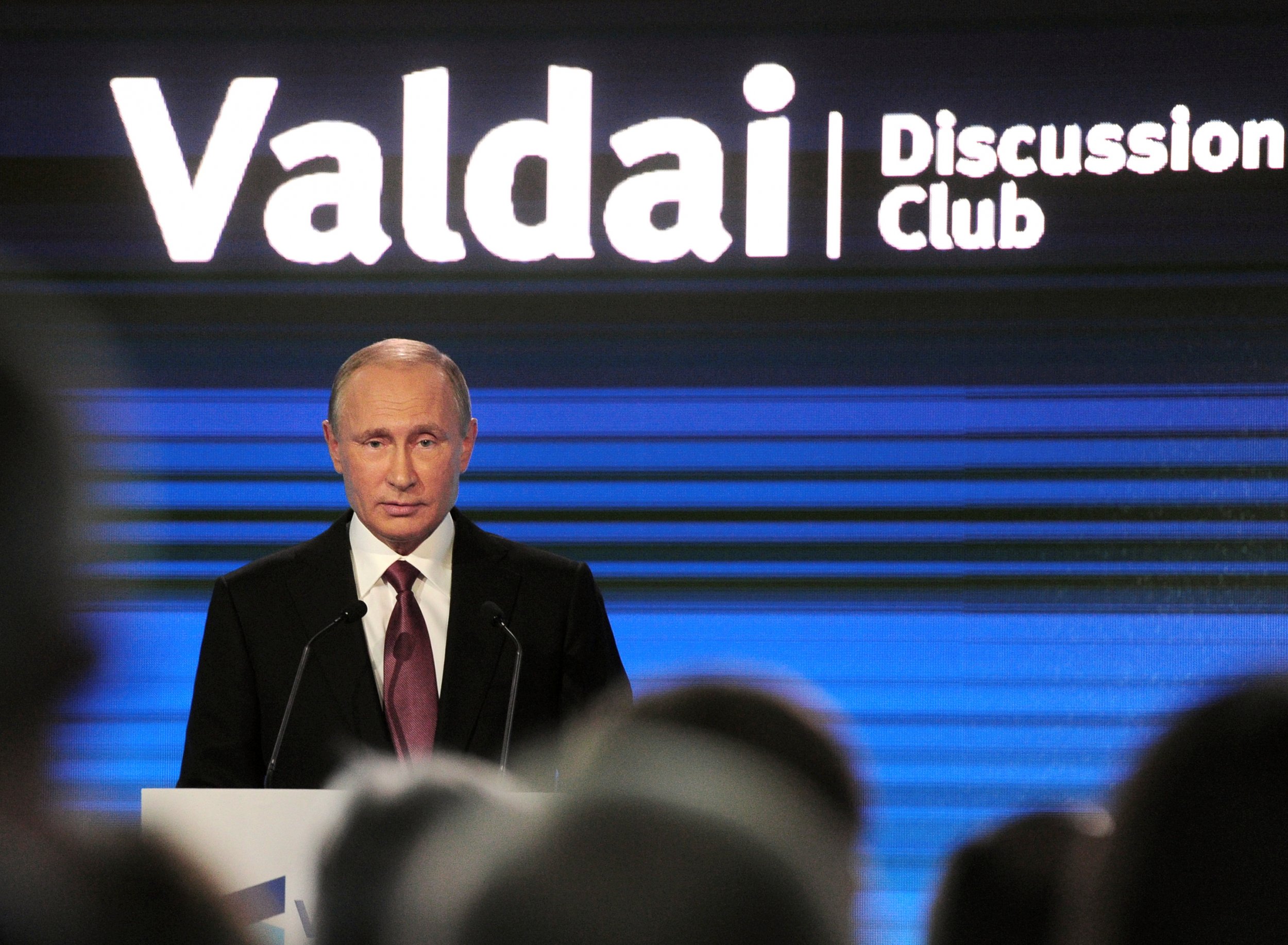 Updated | Russian President Vladimir Putin said he "regrets" that his country does not have a propaganda machine, but alleged that the West does, Russian daily newspaper Kommersant reports.
Putin, whose three terms as president since 1999 have seen a large state takeover of Russian media, used a speech at the annual Valdai Club summit in Sochi on Thursday to address allegations that the Kremlin has tried to influence western electorates to vote in ways favorable to Russia. Most recently the U.S. Democratic Party has accused Putin of attempting to influence the presidential election there, suggesting he would prefer they elect the Republican candidate, Donald Trump.
Putin dismissed this, hailing the U.S. as a "great nation" and implying that only a "banana republic" could be manipulated. The Russian leader also said that in the West "people sense an ever-growing gap between their interests and the elite's vision" as reflected by European governments losing referenda and protest votes gathering momentum in elections.
The British government lost its campaign of calling on Britons to vote to remain in the EU in the summer, while anti-establishment parties such as France's National Front have turned into genuine contenders for power.
Such fringe, anti-EU movements have gathered momentum across Europe, many of whom also advocate for a strong relationship with Moscow, while also allegedly receiving backing from Russia. Putin remarked in his speech that such groups are now "pushing the political heavyweights aside."
However he accused those who claim "foreign, usually Russian, propaganda" for this, of engaging in "hysteria."
"Friends and colleagues, I would like to have such a propaganda machine here in Russia, but regrettably, this is not the case," Putin said. "We do not have mass media outlets such as CNN, BBC and others. We simply do not have this kind of capability yet."
Russia Today (RT), Moscow's main state-funded TV broadcaster overseas has a sizeable budget, which Russian business newspaper Vedomosti estimated at $307 million dollars, though a legal representative of the channel says its annual budget was 17 billion rubles ($270 million.) The BBC World Service's budget from the U.K. Foreign Office of $298 million was stopped in 2014, and the service was funded from the license fee, leading its former director, Peter Horrocks, to express concern that the broadcaster would lose ground to RT. However, the British government said in 2015 that it would "invest £85 million each year by 2017/18 in the BBC's digital, TV and radio services around the world," as part of a national defense review.
According to Reporters Without Borders, the U.K., where the BBC is based and the U.S., where CNN is based are ranked 38th and 41st in the world for press freedom. Russia is ranked 148th.
This article has been updated to include information from RT regarding their budget, and details of the British government's 2015 spending plans regarding the World Service.