Russian President Vladimir Putin is changing his military strategy in the Kremlin's war on Ukraine, experts say, ramping up the brutality to avoid losing a weeks-long conflict it was supposed to have won within days of its invasion.
John Herbst, former U.S. ambassador to Ukraine, told Newsweek that nearly five weeks since the February 24 invasion, Putin is shifting to new tactics—including establishing sieges and attacks on civilian locations—amid stiff Ukrainian resistance and low morale among Russian troops.
"We've seen massive bombardment of clearly civilian locations, and so that's the tactic that has become more prominent as Russian forces have bogged down across the country," said Herbst, senior director of the Atlantic Council's Eurasia Center, and U.S. Ambassador to Ukraine from 2003 to 2006.
Russian forces have been besieging and shelling the port city of Mariupol for weeks. The mayor of Mariupol Vadym Boychenko warned on Monday of an imminent "humanitarian catastrophe" if more evacuations are not possible.
Ukraine and Russia resumed peace talks Tuesday in Istanbul.
As talks began, Kremlin spokesman Dmitry Peskov said, per Russian state news agency Tass: "As for the fate of the negotiations, this is a really interesting question. Today or tomorrow you and I will understand whether there is something promising or not."
Peskov said Russia's "special military operation," the official language for its war on Ukraine, would continue if talks fell flat.
Has Putin Given up on Kyiv?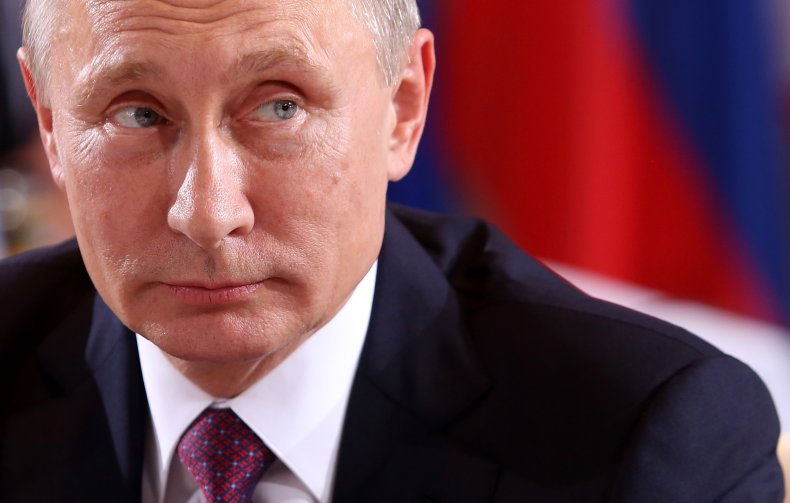 Shortly after Putin launched a full-scale invasion of Ukraine, U.S. intelligence officials expressed concerns that the capital city of Kyiv could fall to Russian forces within days.
Three U.S. officials told Newsweek previously on the condition of anonymity that they expected the city to fall to incoming Russian forces within 96 hours, and that Ukraine's resistance would be effectively neutralized soon thereafter.
Ukrainian defense minister Oleksii Reznikov said in a statement on March 21 that Russia "no longer dreams of capturing Kyiv" amid signs of weakened and slowed Russian advance toward the capital.
Herbst suggested that Putin hasn't necessarily given up on seizing the capital, but lacks the resources to do so.
"I would hesitate to say he has completely given up on taking Kyiv, I just don't think he has forces there to achieve that in the near term," said Herbst. "The Russians are not in a position right now to take Kyiv."
The Pentagon on March 17 said that as Ukraine's forces continue to put up determined resistance, Moscow appears to be suffering from shortages, and commanders are struggling to sustain their troops in combat.
Nikolai Petrov, senior research fellow at Chatham House's Russia and Eurasia Programme, expressed similar sentiment.
"Putin's initial plan failed to large extent due to Ukrainians' heroic resistance," Petrov told Newsweek. "I think that the Russian army is unable to take Kyiv and most probably will not try to do this."
'Much More Brutal' Strategy
Petrov acknowledged a switch to a "much more brutal" military strategy, with the establishment of sieges, such as in the hard hit city of Mariupol. Former CIA director David Petraeus said Sunday that the city appears poised to fall to Russian forces.
Herbst said that Russian forces began to try to establish a siege around Kyiv too, although they had far fewer forces in place in terms of comparison to the size of the city, and the size of the defense.
Speaking to Newsweek, Mathieu Boulègue, a research fellow at Chatham House's Russia and Eurasia Programme, said he believes Kyiv is "still in the balance."
"I don't think there's ultimately a decision made to take over Kyiv or not, because it would take months of siege," he said.
"There is no siege to be made at the moment because the Russian forces do not encircle the city fully, and do not control all the approaches around Kyiv, because they are being very contested by Ukrainian forces."
Kremlin Unlikely to Advance
Boulègue said in military terms, the Kremlin is at a stage where there is very little chance to achieve anything more than they already have.
"They can't commit many more troops that would represent a game changer, or more military equipment and hardware than they already have," said Boulègue. "They don't have a surge of sort of willingness to fight from soldiers, because there is very little morale and very little will to fight."
Russia has also diluted its forces by spreading out throughout the Ukrainian territory, instead of concentrating their attacks of specific axes of advance, he said.
"They've chosen to spread out and thin out their troops, leaving them open to mistakes, ambushes, and counter-offensives from Ukrainians. And on the other hand, Ukrainians are starting to push back, but they don't have enough capacity to completely repel the invader."
What Will Putin Do Next?
Russia now needs to calculate where it wants to go, and Putin needs to figure out what he wants to do next, because the country lacks the troops and materiel "to achieve all of the tactical operational goals," Boulègue said.
He noted that as Russia is unable to take over many more urban centers, Mariupol is an "easy target" for Russia to "show a victory."
"It's a smaller city. It's been pounded to the floor for the past few days, and this is where a lot of troops are concentrated in Ukraine," he said.
"I think, what we are seeing for this next 2-4 weeks of the conflict, we will have the simultaneous fall of Mariupol, more push inside administrative borders of Donbas, and then once this is achieved, probably a form of freezing of the conflict in terms of positions."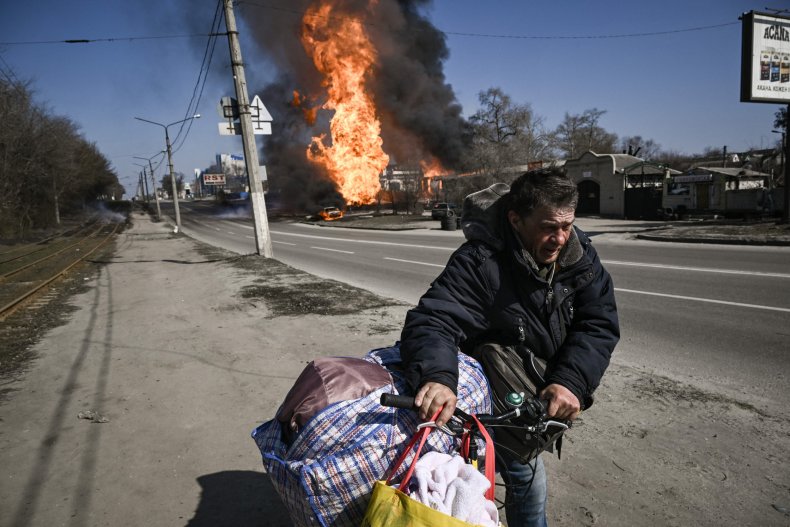 Russia is likely to then subsequently declare that operations have achieved what they wanted in the first place, he said.
"Of course, this is a lie, but they need to save face, and moving on then to a potential diplomatic settlement, whatever that would look like. But it's easier for the Kremlin to turn a form of defeat and actual defeat into a military victory, because it would still hold Ukrainian territory, they would still have invaded parts of Ukraine," Boulègue added.
Herbst meanwhile expressed doubts that Putin will seek peaceful negotiations with Ukraine. "Putin has zero interest at this stage in seeking a negotiated peace—he still wants to control the country," Herbst said.
The former ambassador highlighted that while Putin has permitted negotiations at a low level, the Russian president's own statements imply he is not willing to compromise.
"That suggests that those negotiators are not speaking for the head of the country, and therefore there's nothing to it," he said.
Newsweek has contacted Russia's Ministry of Foreign Affairs for comment.
Follow our live blog for updates on the Russia-Ukraine conflict.
Updated, 3/30/22 3:05 a.m. ET, with a request for comment from Russian MFA.
Updated, 3/29/22 5:37 a.m. ET, with comments from the Kremlin spokesman.