Putin Says Sepp Blatter Deserves a Nobel Prize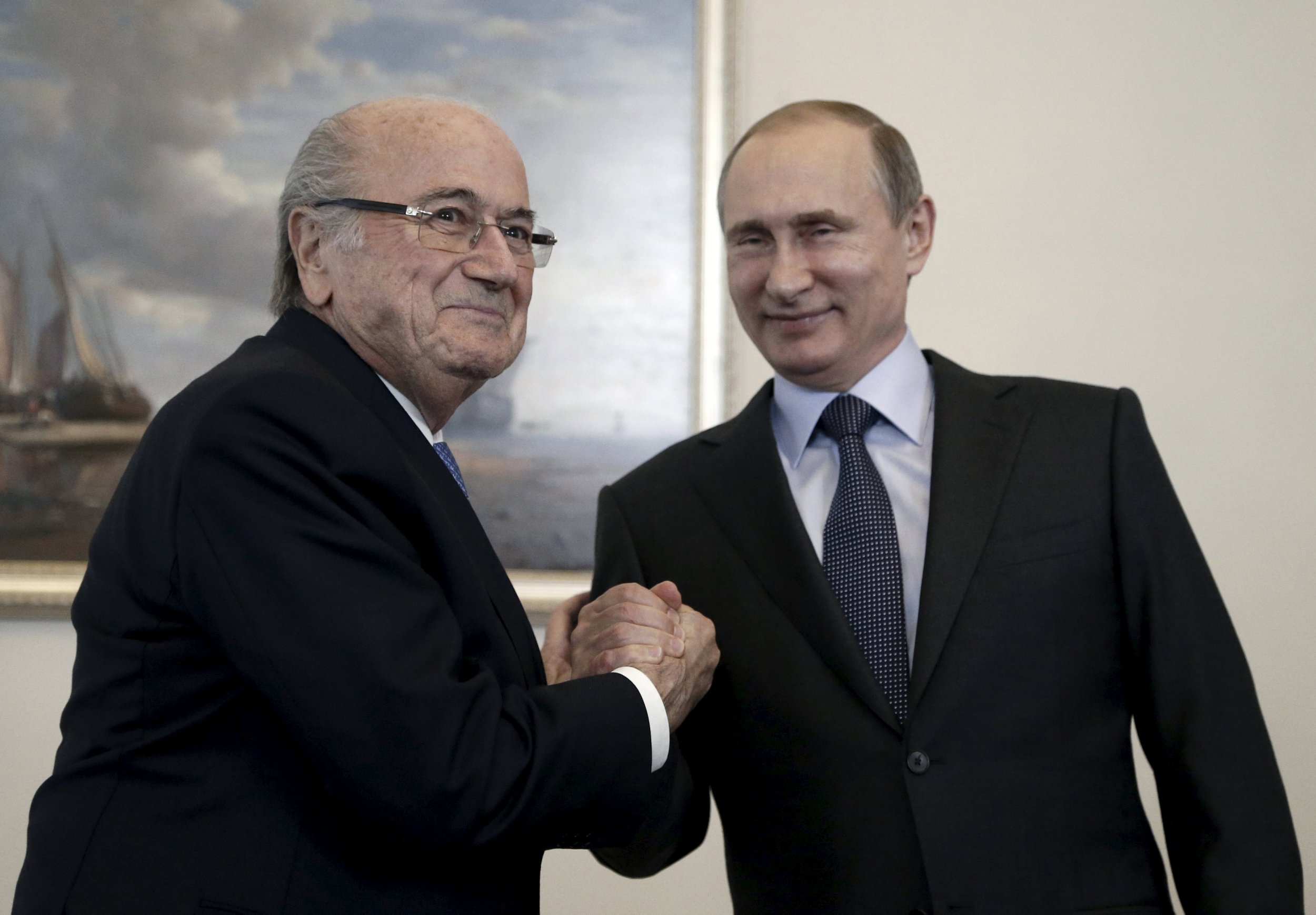 Russian President Vladimir Putin has suggested that longtime FIFA boss Sepp Blatter, who recently announced he was stepping down from football's global governing body amid a massive corruption probe, deserves a Nobel prize for his leadership.
Speaking with Swiss broadcaster RTS Monday, Putin called the U.S. federal investigation into alleged bribery and corruption at FIFA "unacceptable" and an overreach on the part of the United States, according to a translation of the interview by the Kremlin, Putin added that people like Blatter, 79, who lead international sporting federations or the Olympic Games, "deserve special recognition" because they make an " enormous humanitarian contribution to the development of good neighborly relations between people and states."
"If there is anyone who deserves the Nobel Prize, it's those people," said Putin, not specifying which category of the prize he'd like to see Blatter claim. Blatter, who has led FIFA since 1998, was initially re-elected to another term as president of FIFA in late May but shortly thereafter announced he will be stepping down from his position. His successor will be elected in February.
The Justice Department announced its FIFA investigation in May, indicting 14 FIFA officials and executives for offenses including racketeering, wire fraud and money laundering conspiracies.
Newsweek subscription offers >
In his RTS interview, Putin speculated whether the investigation "is not a continuation of the fight for the [World Cup] championship in 2018 and 2022," to be hosted by Russia and Qatar respectively The U.S. entered a bid to hold the games in 2022. A separate investigation by Swiss authorities will examine the bidding process for both championships.
Putin said he doesn't believe Blatter is personally involved in the corruption scandal.
Economic turmoil in Russia has forced the country to scale back on its World Cup preparations, The Guardian reports, with the government cutting its budget by $530 million and abandoning construction on a number of hotels and training facilities. Russia spent an estimated $51 billion on the 2014 Sochi Winter Olympics, the largest amount ever spent by an Olympic host country, according to the International Olympic Committee.
Putin Says Sepp Blatter Deserves a Nobel Prize | World