Putin Says Trump Is Considering Allowing Separatist Ukrainian Territories to Vote on Their Future, Report Claims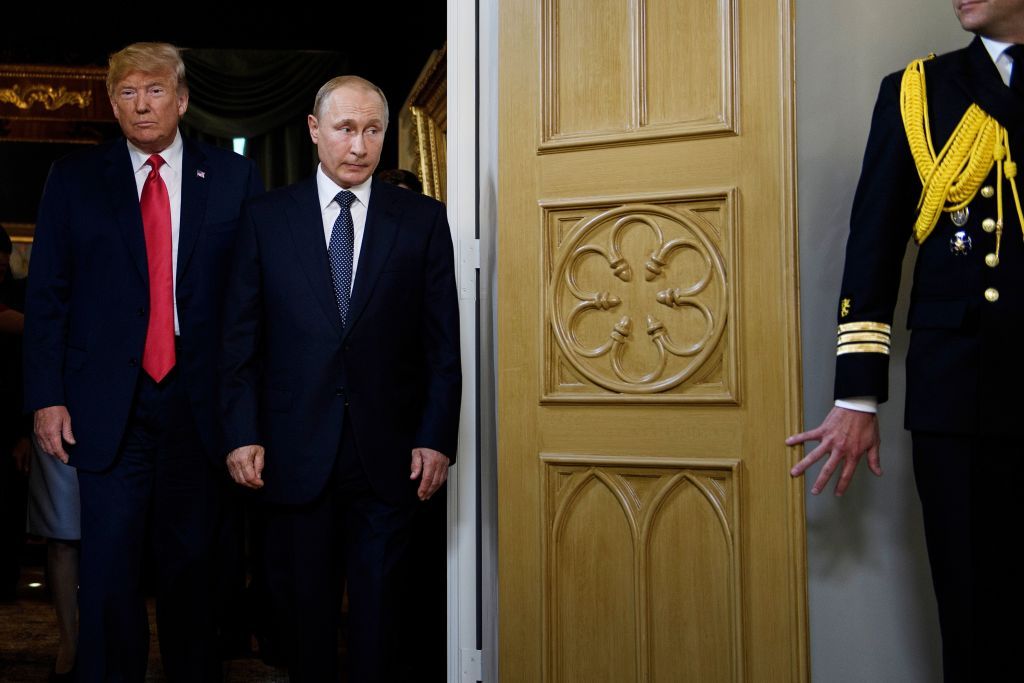 Russian President Vladimir Putin claims that President Donald Trump is considering a plan that would allow separatist Ukrainian territories to hold referendums to decide their fate, according to two anonymous sources who spoke to Bloomberg.
The Kremlin leader allegedly revealed the news during a closed-door speech on Thursday with top Russian ambassadors, saying that he had agreed not to publicly disclose details of the plan at Trump's request. However, he purportedly claimed that Trump is currently considering the suggestion after their private one-on-one meeting in Helsinki Monday.
Putin's reported plan would see residents cast their votes in territories that have moved to separate themselves from Ukraine. The polls would be carried out in full compliance with international standards, the sources told Bloomberg. Kremlin spokesperson Dmitry Peskov wouldn't confirm the claims, saying only, "New ideas were discussed."
The White House did not immediately respond to requests from Newsweek for comment.
If the sources' and Putin's claims are accurate, this would mark a significant change from the stated position of the U.S., which fully backs Ukraine in the conflict. Wary that such a diplomatic shift was possible, Ukrainian leaders reportedly sought guarantees from the U.S. government prior to the summit in Finland.
"We received clear assurances from the American side that Ukrainian interests will be confirmed and protected [at the summit]," an anonymous Ukrainian diplomat told Reuters last week. "It is important for us that no nasty surprise happens behind our backs."
Little is known about the details of Trump's private discussion with Putin. Even top officials in Washington seem unaware of the specifics of what was agreed upon between the two leaders. However, White House press secretary Sarah Huckabee Sanders tweeted Thursday, saying that Trump agreed with Putin to "working level dialogue" between Russian and U.S. "security council staffs" and that the Kremlin leader has been invited to come to Washington in the fall.
Despite strong criticism from across the political spectrum, the president has continued to hail the meeting as "a great success," citing Ukraine as one of the issues on the agenda. "I look forward to our second meeting so that we can start implementing some of the many things discussed," Trump tweeted on Thursday.
Prior to the summit, Trump distanced himself from taking a firm stance on Ukraine, suggesting it was open for discussion. However, national security adviser John Bolton emphasized last month that the U.S. does not consider Crimea to be part of Russia.
Speculation has grown surrounding the president's position on Crimea and other separatist Ukrainian territories since the Group of Seven (G-7) summit in Canada last month. Reports following the event claimed that Trump suggested Crimea was part of Russia because the people there speak Russian. He also allegedly called Ukraine one of the world's "most corrupt countries."
Russia and Ukraine have been at odds since 2014, following Moscow's annexation of Crimea. The move led to separatist movements rising up in eastern Ukraine's Donetsk and Luhansk. Both regions have declared independence, and the U.S. and European allies accuse Russia of sending weapons and troops to bolster separatist fighters.
Moscow claims its annexation of Crimea was legitimate, referencing a 2014 vote that has been dismissed by much of the international community. Similar referendums were held in Donetsk and Luhansk but were also dismissed by the U.S., Europe and Ukraine as a "farce." Nevertheless, separatist leaders maintain that the majority of the people in their regions want to be separate from Ukraine, and would likely vote to join Russia instead.