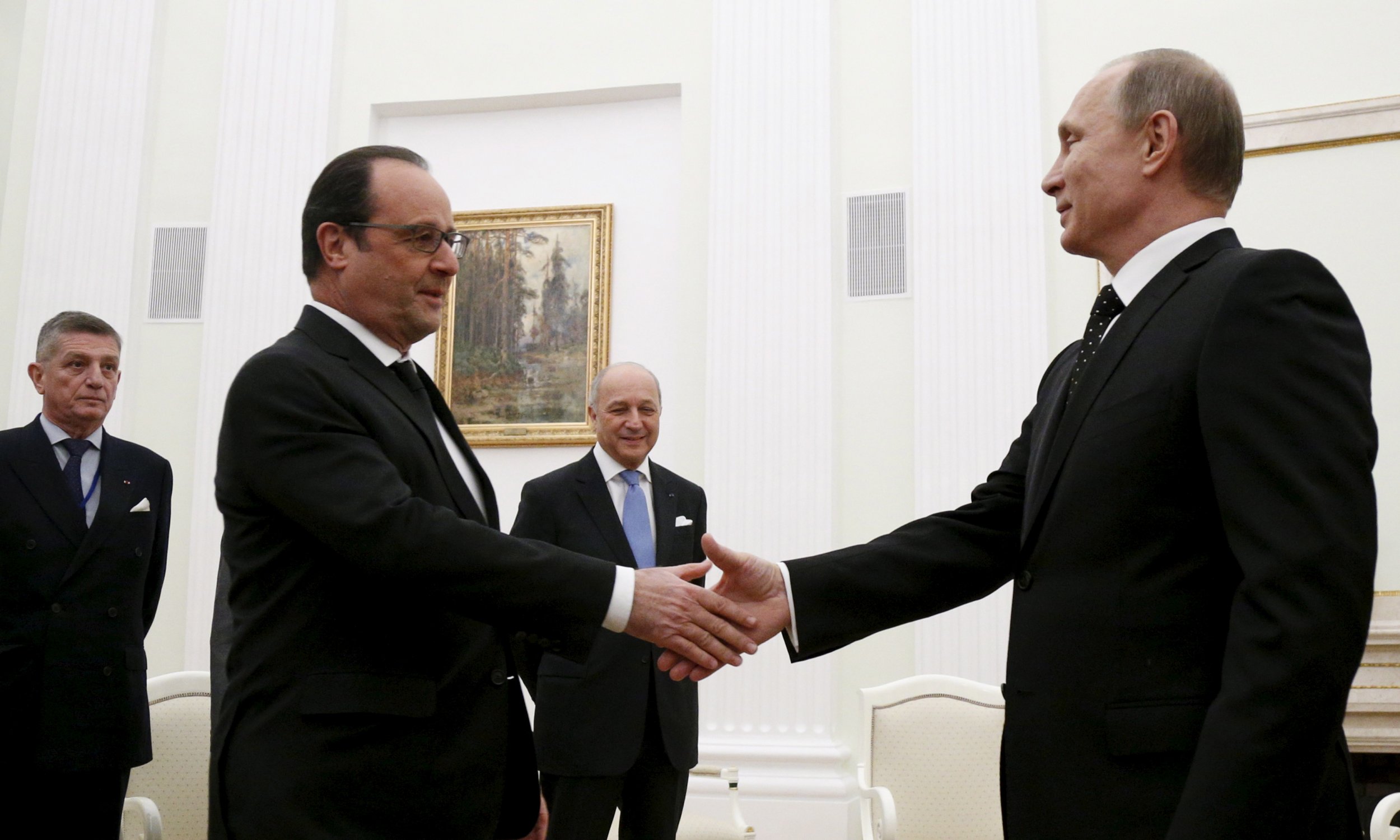 Updated | MOSCOW (Reuters) - Russia will keep cooperating with the United States and its partners to fight Islamic State in Syria, but that cooperation will be in jeopardy if there are any repeats of Turkey's shooting down of a Russian jet, Russia's Vladimir Putin said.
Speaking after talks in the Kremlin with French President Francois Hollande, Putin voiced lingering anger at Turkey's actions, saying he viewed the downing of the jet as an act of betrayal by a country Moscow had thought was its friend.
But he said he would order Russia's military to intensify cooperation with the French armed forces - including exchanges of information about targets - and viewed that as part of creating a broader international coalition bringing together Russia and Western states.
"We are ready to cooperate with the coalition which is led by the United States. But of course incidents like the destruction of our aircraft and the deaths of our servicemen... are absolutely unacceptable," Putin said at a news conference, standing alongside Hollande.
"And we proceed from the position that there will be no repeat of this, otherwise we'll have no need of cooperation with anybody, any coalition, any country."
He said he and the French leader had "agreed how we will cooperate in the near future, on a bilateral basis and with, as a whole, the coalition led by the United States.
"We are talking about a designation of the territories against which we can conduct strikes, and where it is better to refrain from strikes, about the exchange of information on various issues, and the coordination of our actions on, so to speak, the battlefield," Putin said.
On bilateral cooperation with France, he said the aim was to "establish constructive work by our military specialists to avoid duplication and avoid strikes on those territories and groups which are themselves ready to fight terrorism."
"We view this as the formation of a wide anti-terrorist coalition under the aegis of the United Nations," Putin said.
The Russian leader said, under the cooperation already established with the U.S.-led coalition, Russia's military had passed on details of the flight plan of the jet that was shot down this week.
"Why did we pass this information to the Americans? Either they were not controlling what their allies were doing, or they are leaking this information all over the place," Putin said.