Putin Is Sending Troops to Ukraine Border, Not Withdrawing, U.S. Says
Despite assurances from the Kremlin that Russian forces were being pulled back from the Ukrainian border, U.S. officials believe that the country is actually adding additional soldiers, not withdrawing them.
The news came Wednesday from a senior U.S. official within the Biden administration, who told the Associated Press (AP) that Russia increased its presence on the Ukrainian border by at least 7,000 troops. Some of these soldiers had arrived that same day, the official said.
The reported military strengthening comes even as Russian President Vladimir Putin kept the door open for a potential peaceful end to the standoff, having previously said that Russia decided to "partially pull back troops" from the border. Russian Foreign Minister Sergey Lavrov also weighed in, stating during a meeting with Putin on Monday that diplomatic talks "can't go on indefinitely, but I would suggest to continue and expand them at this stage."
Lavrov added that the possibility of negotiations between the U.S., Ukraine and Russia "are far from being exhausted."
Despite this, U.S. officials, along with President Joe Biden himself, have expressed concerns that Russia is continuing to gear up for a potential invasion. The most recent estimates stated that Putin had amassed around 150,000 soldiers at the Russian border, which surrounds Ukraine on three sides.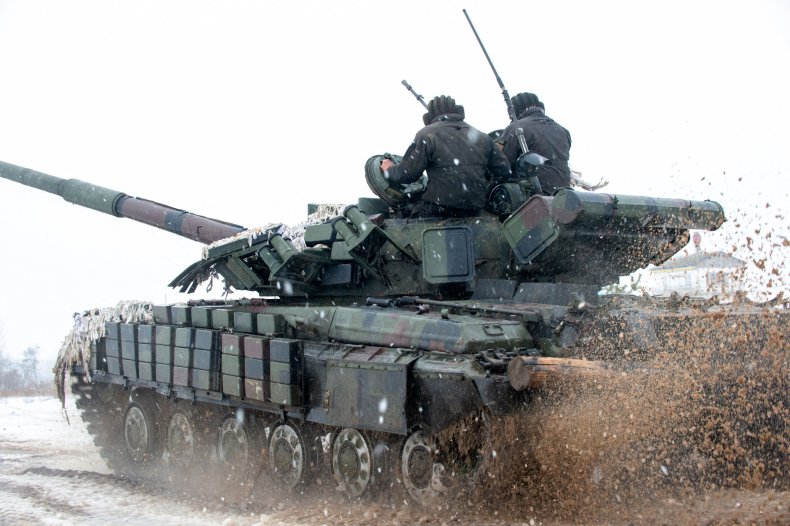 As a precaution, the Pentagon has continued to send forces to surrounding countries should Russia strike. This includes an additional 3,000 U.S. troops who were sent to neighboring Poland last week to assist with NATO defenses.
While Biden has previously reiterated that he did not intend to send American soldiers into Ukrainian territory, the president has stated that "the United States will defend every inch of NATO territory with the full force of American power."
"An attack against one NATO country is an attack against all of us," Biden added. The president continued by promising that the U.S. would give diplomatic solutions "every chance."
Despite the seemingly continuing build up of Russian troops, the Kremlin made efforts to show off the movement of soldiers away from potential invasion areas.
A video released from the Russian Defense Ministry reportedly showed a train full of armored military cars traveling away from Crimea, an area in the Black Sea that Russia annexed from Ukraine in 2014. Intelligence experts feared Russia could use Crimea as one of its bases to launch a potential invasion.
Kremlin officials also announced that tanks were being sent back to their original bases in Russia following the end of military exercises.
Even with these assurances, the U.S. official who spoke to the AP reportedly told the outlet that Russia was using false claims of atrocities from Ukrainian soldiers to potentially justify a war.
This includes: "Reports of unmarked graves of civilians allegedly killed by Ukrainian forces, statements that the U.S. and Ukraine are developing biological or chemical weapons, and claims that the West is funneling in guerrillas to kill Ukrainians," according to the AP.
Other top-ranking U.S. officials have expressed similar skepticism that Russia was actually scaling down its forces.
"We haven't seen a pullback," said U.S. Secretary of State Antony Blinken. "[Putin] can pull the trigger. He can pull it today. He can pull it tomorrow. He can pull it next week. The forces are there if he wants to renew aggression against Ukraine."
This sentiment was echoed by State Department spokesperson Ned Price, who added the U.S. has seen "more Russian forces, not fewer."
As Russia's intentions remained unclear to foreign officials, Ukrainian President Volodymyr Zelenskyy, who has also shot down claims of a Russian withdrawal, led his nation in a "Day of National Unity" on Wednesday. This included urging Ukrainians to take to the streets with national flags in a show of patriotism against Russia.
"We are united by [a] desire to happily live in peace," Zelenskyy said during a national address. "We can defend our home only if we stay united."
With the threat of an invasion apparently still possible, the U.S. has continued to threaten Russia with the use of sanctions in an effort to deter them from military action.
Newsweek has reached out to the White House for comment.
Update (02/16/2022, 8:30 p.m. ET): This story has been updated with additional information.