Putin Shores Up Cuba, Venezuela Ties as Tensions with U.S. Worsen Over Ukraine
Russian President Vladimir Putin has vowed to bolster ties with Latin American partners in a series of phone calls to his counterparts in Cuba and Venezuela at a time when tensions with the United States were simmering over Ukraine.
The talks came amid questions as to whether Moscow might seek to shore up its military presence in the Western Hemisphere to offset pressure it feels from the U.S. and its NATO alliance in Eastern Europe.
On Monday, Putin spoke with Cuban President Miguel Díaz-Canel via telephone. The Kremlin referred to the talks as an "in-depth exchange of opinions on bilateral cooperation in trade, the economy and investment" and Cuba's presidency called the parlay "a cordial and fruitful telephone conversation."
"The President of Cuba thanked Russia for the humanitarian aid supplied to the republic, including in the context of countering COVID-19," the Russian readout said. "The presidents discussed further coordination of Russia's and Cuba's actions in the international arena in line with the principles of strategic partnership and the traditions of friendship and mutual understanding."
The two men also "reaffirmed their commitment to strengthening bilateral relations and agreed to intensify contacts at different levels."
The Cuban side echoed Díaz-Canel's gratitude for Russian assistance throughout the pandemic as well as his mutual desire to expand relations with Moscow.
"Both leaders reviewed the excellent state of relations between the two countries and discussed the future development of bilateral collaboration in different fields," Díaz-Canel's office said. "They also exchanged on international and regional issues."
The meeting came just days after Putin spoke with another friend in the Western Hemisphere, Venezuelan President Nicolás Maduro. Their discussion Thursday "covered topical issues of Russian-Venezuelan cooperation and the implementation of joint projects in trade, the economy, energy and other sectors" as well as cooperation in countering the spread of COVID-19, according to the Kremlin.
Putin and Maduro also "reaffirmed their commitment to close coordination in international affairs in keeping with the principles of strategic partnership that underlie bilateral relations." As Venezuela, like Cuba, faced U.S. sanctions and Putin himself faced threats of being blacklisted by Washington over the crisis emerging in Ukraine, the Russian leader "expressed his unwavering support for the Venezuelan authorities' efforts to strengthen the sovereignty of the country and ensure its socioeconomic development."
Maduro, like Díaz-Canel, thanked Putin for Russia's support in mitigating the damage dealt by COVID-19 and the two hailed the development of their relations, including "advances on economic, military and health issues, among others," according to the Venezuelan side. The Russian leader, for his part, "expressed all his support and multidimensional backing in defense of the sovereignty and in pursuit of the development of Venezuela."
The Kremlin said that "the two presidents agreed to step up contacts at various levels and Maduro's office said he has been invited to Russia "in order to deepen cooperation between the two countries."
In a tweet following the dialogue, Maduro said he and Putin "exchanged on issues related to existing cooperation in various strategic areas at the highest level, a relationship that is strengthened by the unbreakable union of our peoples."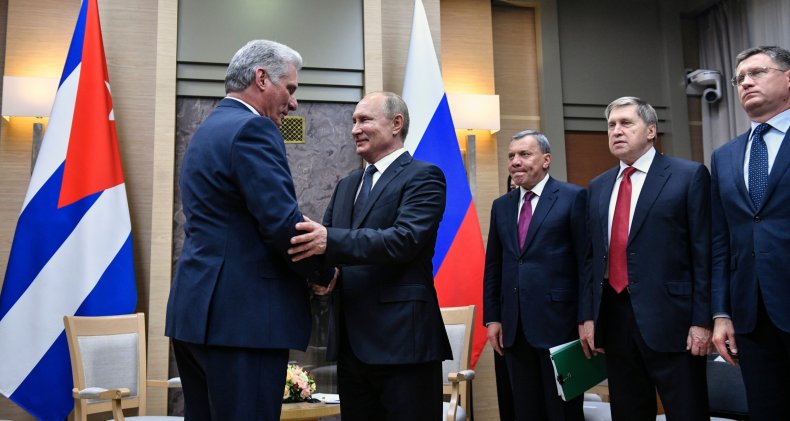 Just two days earlier, Putin phoned another socialist leader whose government has been hit by U.S. sanctions in the region, Nicaraguan President Daniel Ortega. Putin "reaffirmed the unwavering support to the efforts of the Nicaraguan government to ensure the national sovereignty and its readiness to further support the social and economic development of the republic," according to the Kremlin.
"Both sides underscored that importance of close coordination at the international arena within the context of Russian-Nicaraguan strategic partnership," according to the Russian readout.
Moscow has maintained good relations with leftist leaders in Latin America since the Cold War as the Soviet Union sought to forge ties with anti-imperialist movements trying to push back against U.S. interventionist policies in the region. The partnership with Communist-led Cuba proved especially fateful as a plan to deploy nuclear-capable weapons on the island led to the 1961 Cuban Missile Crisis.
The standoff ended with the Soviet Union reversing the decision to send such weapons to Cuba and the U.S. withdrawing its own weapons systems closer to the USSR's borders in Turkey. Such mid-range missiles were later banned by both sides under the 1987 Intermediate-range Nuclear Forces (INF) Treaty.
But in 2019, former President Donald Trump's administration scrapped the agreement, accusing Moscow of being in violation. The U.S. quickly began developing new missiles that would have been restricted under the longstanding deal and Russian officials have raised concerns that such weapons would once again find their way to Eastern Europe, where the U.S. has already deployed advanced defense systems opposed by Moscow in NATO states Romania and Poland.
This dispute has again come to the forefront of international attention as Russia amassed an estimated 100,000 troops on its border with Ukraine, which has sought membership in NATO despite Moscow's concerns of the bloc's further expansion to the east. Amid concerns that military action may be imminent, President Joe Biden's administration has threatened severe sanctions against Russian leadership and has doubled down on military assistance to Ukraine, leaving the Kremlin further incensed and threatening reciprocal measures.
Asked earlier this month if such measures might include Russian military deployments to Cuba and Venezuela, Russian Deputy Foreign Minister Sergey Ryabkov told reporters that such an option could not be ruled out. U.S. Secretary of State Antony Blinken, White House national security adviser Jake Sullivan and Pentagon Press Secretary John Kirby all referred to Ryabkov's remarks as "bluster."
Russian Foreign Minister Sergey Lavrov told reporters Friday that the subject was touched upon when he met with Blinken for talks in Geneva.
And while Russian ambassador to Caracas Sergey Melik-Bagdasarov told the YouTube channel Soloviev.Live that Venezuela's constitution does not allow the country to host foreign military bases, he said the Latin American country would "absolutely" support Moscow if tensions with Washington worsened.
"From the very first minutes of the hysteria, which was sparked by the words of Russian Deputy Foreign Minister Sergey Alexeyevich Ryabkov, in the West and the United States, I have been receiving calls from Venezuelan politicians and cabinet members," Melik-Bagdasarov said. "I have held meetings with them, and they pledged their unequivocal and, in general, unhesitating support, since they have gone through that and are going through it together with us."
"It is this form of unprecedented pressure involving illegal restrictive measures, slander and persecution in the international arena, along with all the means of pressure available to our Western counterparts," the envoy added. "They face it all in full, so they are well aware that the relations between our countries have the possibility of strengthening further on."
As Washington prepares for potential hostilities in Eastern Europe by recalling diplomats in Kyiv, the Biden administration is also set to focus later this year on its Latin America policy as it's scheduled to host the Summit of the Americas in Los Angeles in June.
A senior administration official told reporters Thursday that a decision has not yet been made whether or not to invite Cuba, Venezuela or fellow leftist-led Nicaragua, which is also subject to a number of U.S. sanctions. Given Washington's criticisms of the trio's political systems, however, the official hinted they may be excluded.
"I think the operating assumption is that we look forward to welcoming the democratically elected leaders of the Organization of American States to the summit," the official said.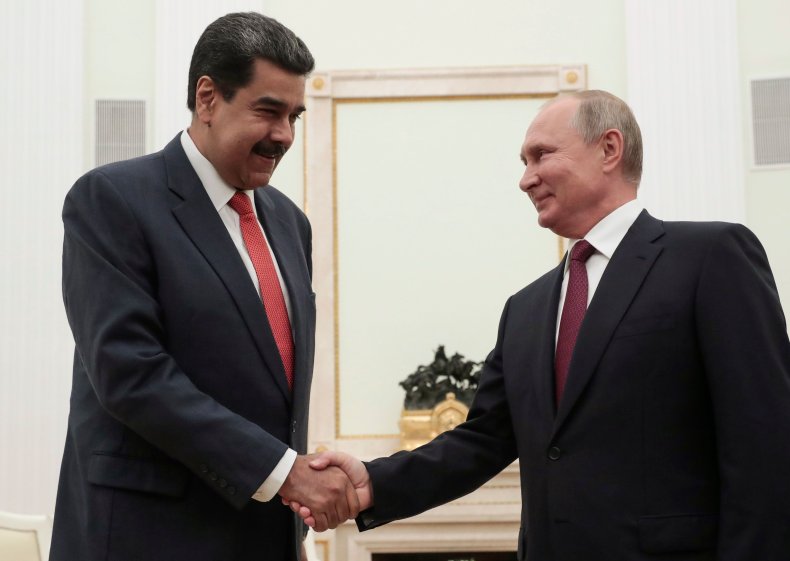 Unlike the U.S. in Europe, Russia has no formal military installations in the Western Hemisphere, but Moscow's growing influence in Latin America has manifested into robust defense cooperation.
Venezuela has especially expanded its relations military-technical ties with Russia. Just a month before the political crisis that erupted in Caracas in January 2019 as U.S.-backed opposition leader Juan Guaidó challenged Maduro's presidency, Russia and Venezuela held joint military exercises that drew criticism from the Trump administration at the time.
Support from Russia and Cuba has been critical to Maduro's government in power for three years despite efforts by rivals to unseat him, including through an abortive April 2019 coup attempt led by Guaidó and a May 2020 failed raid by U.S. private military contractors and Venezuelan dissidents.
Marking three years since the presidential dispute that has divided the international community, Maduro vowed Monday to continue to resist U.S. policies.
"It has been 3 years of imperialist aggression, of damage to the people; also, 3 years of a beautiful Unity, Fight, Battle and Victory! Resisting and fighting is our great commitment," Maduro tweeted. "They will not stop the march of a people with their conscience awake to never be defeated!"