Putin Spokesperson Uses VPN, Giving Him Ability to Bypass Russia Censorship
Russian President Vladimir Putin's spokesperson admitted in a recent interview that he has installed a virtual private network (VPN) on his computer, which could theoretically allow him to bypass internet censorship imposed by the Kremlin.
During an interview with the Belarus-1 TV channel, a state-run media outlet in Belarus, a Russian ally, Kremlin spokesperson Dmitry Peskov was asked whether he uses a VPN. "You installed a VPN, right?" the TV host asked him on Saturday, according to a report by Insider. Peskov quickly replied, "Yes, of course. Why not? It's not banned."
VPNs are increasingly being used in Russia since the start of the war in Ukraine. They encrypt users' data and hide their internet activity from third parties. In this way, VPNs can allow users to gain more privacy and safely access public Wi-Fi hot spots or websites while protecting their online identity. The networks are widely popular across countries that have strict internet censorship, including China and, more recently, Russia.
Peskov did not say why he is using a VPN or what websites he is accessing with it.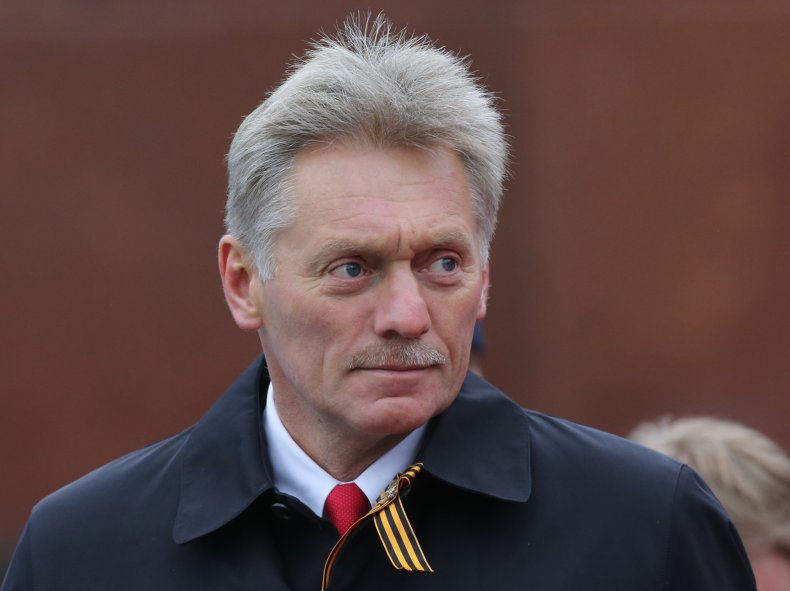 Since Russia invaded Ukraine on February 24, the government has blocked several Western news outlets, including the BBC and CNN. Last month, the government implemented a new law to effectively criminalize any public opposition to the ongoing war.
The Kremlin has also moved to ban Russians from accessing Facebook and Twitter. Facebook was blocked over claims that it "discriminated" against Russian state media, while Instagram was banned after the platform said it would temporarily allow users in Ukraine to post messages calling for violence against Russian soldiers and Putin.
In response, demand for VPN services in Russia has grown by more than 1,000 percent since the start of the war. Using a VPN in Russia is technically legal, but using one to access officially blocked content is not, Axios reported.
"It's no surprise that VPNs and other encryption tools are seeing a major uptick in sign-ups right now," Andy Yen, the CEO and founder of the VPN service Proton, told Axios. "For citizens in Ukraine and Russia, it's the only thing providing a semblance of online privacy and freedom."
Russia, in turn, has tried to block citizens from accessing VPN services across the country, according to a report last month by Interfax, Russia's leading independent news agency.
"To date, about 20 popular VPNs in Russia have already been blocked. They will continue to be blocked," Alexander Khinshtein, chairman of Russia's Duma Information Policy Committee, said in an interview on Duma TV, Interfax reported.
"Roskomnadzor is working, VPNs are blocked every day. It's not such a simple task, but it is being fulfilled," he added. Roskomnadzor, Russia's communications regulator, oversees online access in the country.
Newsweek reached out to Russia's Ministry of Foreign Affairs for additional comment but did not hear back before publication.