Putin to Start War in Moldova 'the Moment They Reach Transnistria': Expert
Russian forces are likely to target Moldova if they are successful in the invasion of Ukraine—or even sooner, according to one expert.
Russia continues to focus most of its military might on gaining control of the Donbas region of eastern Ukraine, which has been a focus of the war from the beginning. Following the failure to take the capital city of Kyiv, Russian forces have increasingly been focused on the fighting in the east.
But the prospect of launching a similar invasion of Moldova, the small country to the south of Ukraine, has been feared for months. Like its embattled neighbor, Moldova was a Soviet territory prior to 1991. It also has a breakaway region along its border with Ukraine, Transnistria, that is recognized by Moscow but not by any other member of the United Nations.
Many have speculated that Russian forces would move to take control of Moldova following a hypothetical victory in Ukraine. But Yuri Felshtinsky, an author, historian, and expert on the geopolitical history of Russia, told Express UK that an invasion of Moldova could begin much sooner.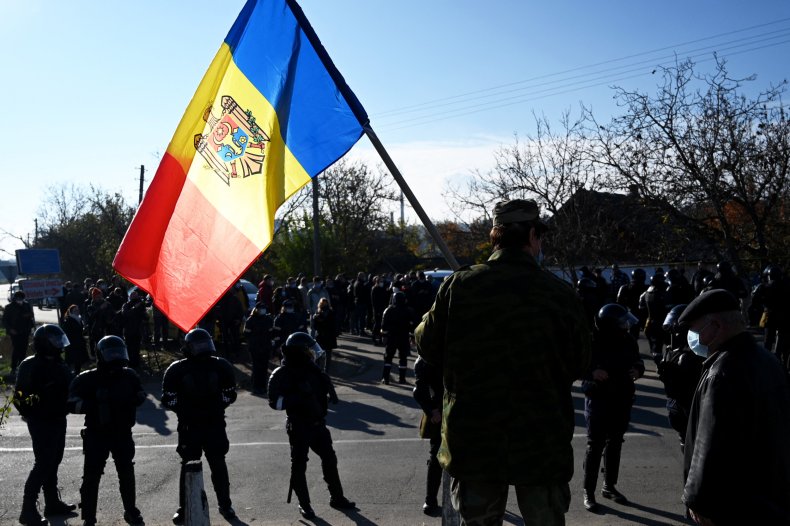 "Even before they are done with Ukraine, if they reach Transnistria in the process, they will start to have a war there," he explained. "Moldova would be in danger the moment Russia moves to Transnistria. If the Ukrainians aren't able to hold them, then they'll reach Transnistria and they will start the war in Moldova. And Moldova, of course, isn't a member of NATO."
Felshtinsky claimed that Putin would never be satisfied with merely securing control of the breakaway Donbas region of Ukraine, which was the pretext for the current invasion, or with any other regions his troops currently control. The groundwork in Moldova, he explained, has already been laid. Around 2,000 Russian peacekeeping officers have remained stationed in Transnistria since the fall of the Soviet Union, and within the last decade they have begun issuing Russian passports to the Russian-speaking population.
"In Moldova, in Transnistria, there are approximately 220,000 Russian-speaking people to whom the Russian government started to issue Russian passports," Felshtinsky added. "They first started doing this in 2014."
Russian officials have in the past dismissed the notion of invading Moldova, with deputy foreign minister Andrei Rudenko saying in April that they "would like to avoid such a scenario."
Moldova's prime minister, Natalia Gavrilita, said in late July that she is "very worried" about the prospect of a Russian invasion, but also added that it "is a hypothetical scenario for now."
Newsweek reached out to Russian officials for comment.