Putin Steps Back From the Brink of War in Ukraine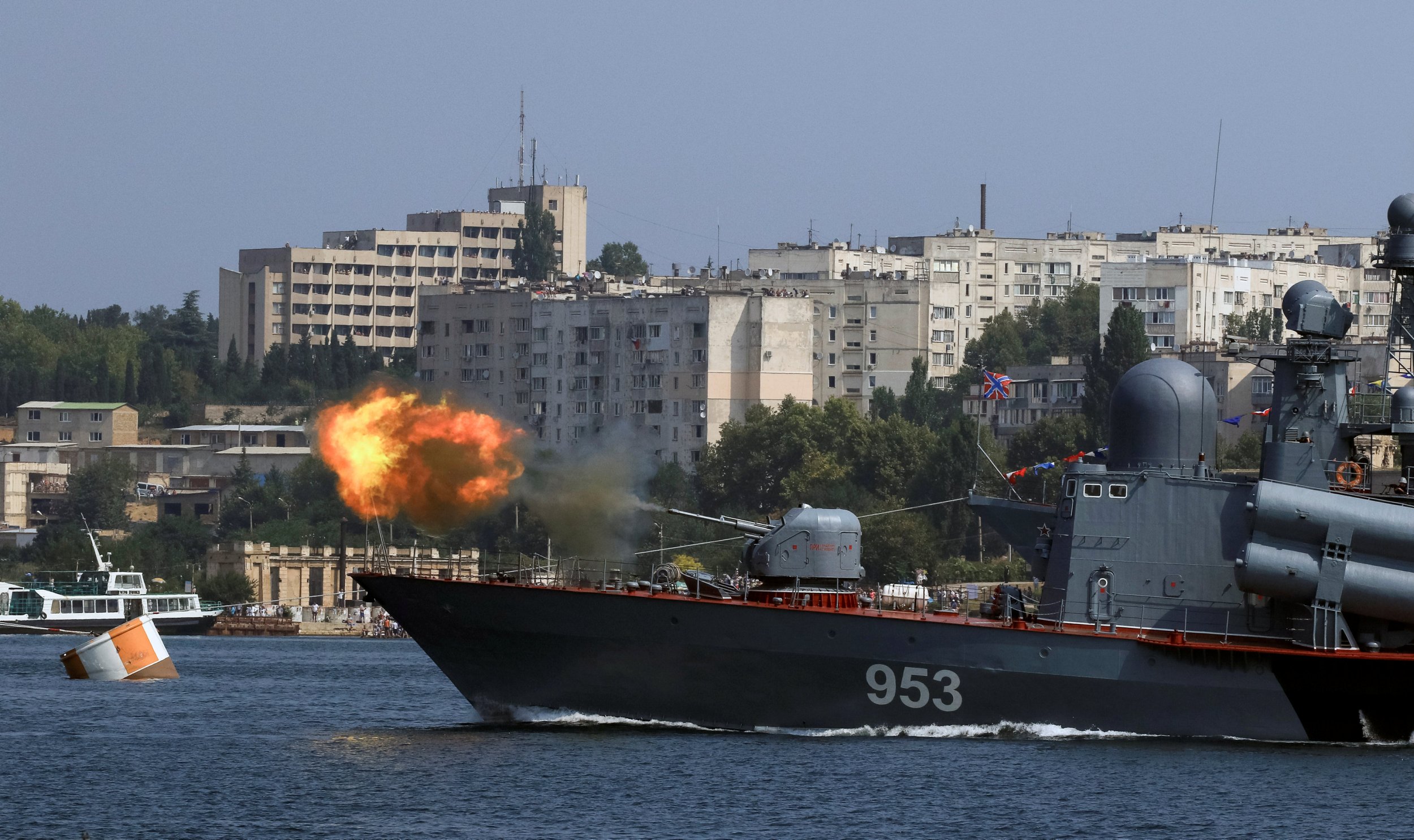 This article first appeared on The Daily Signal.
Kiev, Ukraine—In a familiar cycle of brinksmanship, Russia and Ukraine once again edged toward the brink of open war last week, only for the bellicose rhetoric and military posturing to dissipate rapidly, leaving the conflict in eastern Ukraine no closer to a long-term solution.
Russia's successor spy agency to the KGB, the Federal Security Service (FSB), claimed to have thwarted attacks on August 10 in Crimea, which Russian authorities pinned on the Ukrainian government.
In one incident, an FSB agent died during a raid on a terrorist cell. A Russian soldier also died in a separate, cross-border firefight, the spy agency said.
Following the alleged incursions by Ukraine, Russian President Vladimir Putin sent a chilling message to Kiev, spurring fears of all-out war when he said Russia "would not let such things pass."
Ukrainian President Petro Poroshenko denied Russia's accusations, calling them "insane."
"These fantasies pursue only one goal," Poroshenko said in a statement emailed to journalists in Ukraine. "A pretext for more military threats against Ukraine."
The United States backed up Kiev's denials of involvement. "[The] U.S. government has seen nothing so far that corroborates Russian allegations of a 'Crimea incursion' and Ukraine has strongly refuted them," U.S. Ambassador to Ukraine Geoffrey Pyatt tweeted on August 11.
A war of words followed between Kiev and Moscow, edging the two countries to the brink of a military conflict more serious than the ongoing one in eastern Ukraine.
Heightening fears of all-out war were reports of Russian troop movements inside Crimea, north toward the Ukraine border, as well as the buildup of Russian forces on the border with Ukraine's embattled southeastern Donbas region.
Consequently, Ukraine's military went on high alert, and Ukraine's ambassador to the United Nations requested an emergency closed-door session of the U.N. Security Council last week.
Meanwhile, the spat threatened to derail the interminable talks to ease tensions in the more than two-year-old conflict in eastern Ukraine. Putin said additional meetings among Russia, Ukraine, Germany and France—dubbed the "Normandy Four" format—were "senseless."
Russia has supported two pro-Russian separatist republics in the conflict with the Ukrainian government. According to Ukrainian and U.S. officials, as well as numerous media reports, Russian troops have participated actively in combat against Ukraine's armed forces. Moscow, however, denies having deployed troops to fight inside Ukraine.
Tradecraft
Last week's Crimean incident was textbook Kremlin tradecraft—manufacturing an event to justify a large-scale military intervention.
Ukrainian media highlighted past instances of such operations by Russia, including frequent references to a series of apartment bombings across Russia in 1999. Those bombings boosted public support in Russia for the Second Chechen War, as well as bolstering the profile of Putin, then prime minister.
U.S. government officials and media reports have since suggested Russia's Federal Security Service was likely behind the 1999 bombings, which killed 300, as part of an effort to gin up support for military action in Chechnya.
Some in Ukraine speculated that last week's Crimean provocation might have been a Kremlin gambit to delegitimize Ukraine's post-revolution government in order to pressure Western countries to lift punitive sanctions against Russia.
"Russia will fail to undermine Ukraine's reputation [in] the international arena and press for lifting sanctions with such provocative acts," Poroshenko said.
The U.S. and the European Union placed sanctions on Russia after its illegal annexation of Ukraine's Crimean Peninsula in March 2014.
Russia's Black Sea Fleet, based in Crimea, launched a three-day "anti-sabotage" exercise in the wake of the alleged Crimea incursion. The exercise, in addition to reports of Russian troop movements, prompted Ukraine to place its troops in the east on the "highest level of combat readiness."
Metrics
While the rhetoric escalated between Ukraine and Russia, various intelligence estimates suggested a Russian offensive against Ukraine was unlikely.
Field camps, which would be needed to deploy Russian troops into eastern Ukraine during an invasion, had not been built on Russia's border with eastern Ukraine. Additionally, a civilian intelligence and security firm told The Daily Signal that Russian forces staged on the Ukraine-Russia border have fuel and ammunition for about one day of fighting—insufficient for a large-scale offensive.
Ukrainian officials, however, are not taking the Russian threat lightly.
Ukraine has about 100,000 troops deployed to its eastern territories. This is roughly on par with the 45,000 pro-Russian separatists and regular Russian troops deployed inside eastern Ukraine and the approximately 45,000 Russian troops staged across the border in western Russia.
Ukraine has about 10,000 troops deployed in southern territories near the Crimean border; Ukrainian officials estimate Russia has about 45,000 military personnel inside occupied Crimea.
So far, the war in Ukraine has remained quarantined to the embattled Donbas region and has not spilled over into open conflict between Russia and Ukraine. After two cease-fires, the prospect of open war between Russia and Ukraine has faded incrementally.
At times, however, it seemed the two countries were on the brink of a major conflict.
In August 2014, Putin told European Commission President José Manuel Barroso, "If I want to, I can take Kiev in two weeks."
In September 2014, Kiev residents were instructed to use the city's subway system as a bomb shelter. Spray-painted signs pointing to the nearest bomb shelter became common sights on the sides of buildings throughout the capital city as well as cities across the country.
Reborn Fears
Last week's spat over the alleged terrorist plots in Crimea temporarily revived dormant worries of a major Russian offensive. Those worries paralleled a sharp uptick in the overall violence of the ongoing conflict in eastern Ukraine.
The war is at its most violent level in a year. The cease-fire signed in February 2015, called Minsk II, markedly reduced the overall intensity of the conflict. Yet the war never really ended.
Instead, it devolved into a static back-and-forth of artillery fire and small unit incursions, mostly fought from trenches and from within abandoned, bombed-out villages along front lines approximately 200 miles long.
Casualties, including military and civilian deaths, are still a weekly occurrence.
As part of the Minsk II cease-fire's terms, heavy weapons and rocket systems are supposed to have been pulled back a prescribed distance from the front lines. Yet the Organization for Security and Cooperation in Europe, the multinational group charged with monitoring the cease-fire, says the banned weapons are still frequently used.
According to U.N. data, 57 percent of the conflict's 73 civilian deaths in July were due to heavy weapons presumably banned from the conflict under the cease-fire's terms.
A wave of fresh violence in the Donbas followed last week's flare up in Crimea, which fed into fears of a larger offensive in the making.
On August 14, the Ukrainian military reported that combined Russian-separatist forces launched a barrage of more than a hundred 122 mm artillery shells within one hour at Ukrainian positions near the village of Lebedynske, outside the southern industrial city of Mariupol.
That same day, the Ukrainian military reported nine heavy armor attacks against its positions in the area around Mariupol, as well as separate artillery attacks and firefights northward along the length of the front lines.
Cooling Off
The crisis at the Crimean border brought the Ukraine war briefly back into Western media headlines and editorial pages. But as it dissipated, the war quickly was overshadowed by news from the Olympics, the U.S. presidential campaign trail and the fight against the Islamic State militant group (ISIS). Putin also added to the media noise drowning out the Ukraine conflict.
On August 9, the day before the Crimea incident, Putin hosted Turkish President Recep Tayyip Erdoğan for a meeting in Moscow. And on Tuesday, Russia launched airstrikes in Syria from an air base inside Iran.
Once again, Putin's diplomatic and military moves left foreign affairs experts and military analysts reading the tea leaves to speculate about the Russian president's larger strategy.
The perpetual worry in Kiev is that Western resolve to deter Russian aggression will cave in the face of the EU's economic appetite to end punitive sanctions against Moscow and the U.S. desire to court Russian cooperation in military operations against ISIS.
One week on, the threat of a Russian offensive on Ukraine appears to have cooled off. On August 15, Russian Foreign Minister Sergey Lavrov said Russia would not cut diplomatic ties with Ukraine over the Crimean incident.
"For now the main thing is not to give in to emotions, not to slip into taking some extreme actions, but to try to stabilize the situation with restraint and concentration," Lavrov said following talks with his German counterpart, Frank-Walter Steinmeier, in the Russian city of Yekaterinburg.
Lavrov and Steinmeier also discussed restarting the Normandy Four peace process, in an apparent move to walk back Putin's threat to withdraw from the talks.
Nolan Peterson, a former special operations pilot and a combat veteran of Iraq and Afghanistan, is The Daily Signal's foreign correspondent based in Ukraine.